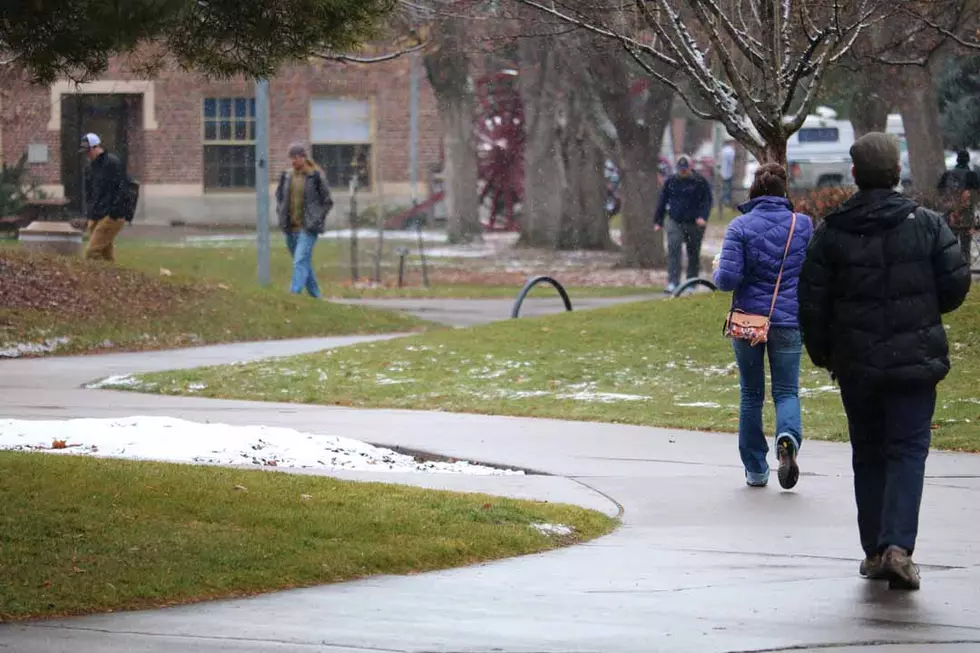 UM to shift to online classes, Minor League Baseball delayed under virus fears
University of Montana students cross campus before class. UM and other Montana universities were instructed Thursday to move to online classes by March 23. (Martin Kidston/Missoula Current file photo)
The Montana commissioner of higher education on Thursday directed schools under the Montana University System to shift all classes to online and implement other measures to stem the spread of the COVID-19 virus.
Commissioner Clayton Christian issued the order in a morning email and gave schools under the state system until March 23 to implement the changes.
"These decisions are in effect until further notice," Christian said. "Our COVID-19 challenge remains fluid, however, and as our campus communities prepare for spring break, it is our responsibility to establish the current course of action while also preparing for new circumstances as they emerge."
Thursday's announcement is the latest to impact Montana as the number of infected cases continues to grow across the country. Some states, including Oregon, have prohibited gatherings of more than 250 people while Ohio set the threshold at 100 people. It also ordered an extended spring break for K-12 schools.
Disneyland will close and Broadway theaters will go dark.
Christian said the decision to shift to online classes was made for reasons of health and safety.
"I do not take these decisions lightly," he said. "I am committed to supporting the educational progress of our students and minimizing disruption to campus life whenever possible."
Also with Thursday's order, campuses were asked to implement appropriate social distancing measures, including theater performances and other academic gatherings. Students and faculty were asked to monitor their emails for future announcements.
Christian said all state campuses will remain open and operational.
"If and when we consider a return to face-to-face instruction we will provide as much advance notice as possible and clear instructions for an orderly return to normal operations," he said.
Both the University of Montana and Montana State have taken measures to address concerns over the virus. UM has asked students to review their plans for spring break and has implemented an incident team to plan for any potential contamination on campus.
On Thursday, it also cancelled the annual Buddy DeFranco concert and other theatrical performances.
"While it was a difficult decision to cancel the Buddy DeFranco concert, a long-standing and much-beloved event, administrators are working to act in the best interest of the UM and Missoula community," UM Interim Dean John DeBoer said. "Under the guidance of both the governor and the commissioner of higher education, all Montana University System campuses have been directed to limit events hosted on campus."
Montana State this week also announced the cancellation of the National Conference on Undergraduate Research, along with school-sponsored international travel.
Most major sporting events have suspended their games, including Major League Baseball and the NBA. The NCAA has canceled March Madness and the Big Sky Conference men's and women's basketball tournaments.
On Thursday, the Missoula Paddleheads announced changes to the Minor League Baseball season - their first under the new brand.
"We support these decisions as the safety of our fans, players, coaches, staff, and community is of the highest priority," said Matt Ellis, vice president of the Missoula Paddleheads. "As facility managers for Ogren Park Allegiance Field, we can report that due to weather and scheduled facility maintenance we have no planned events until late April so the facility will remain closed to public events until further notice."
The Missoula PaddleHeads season is not scheduled to begin until June 19.