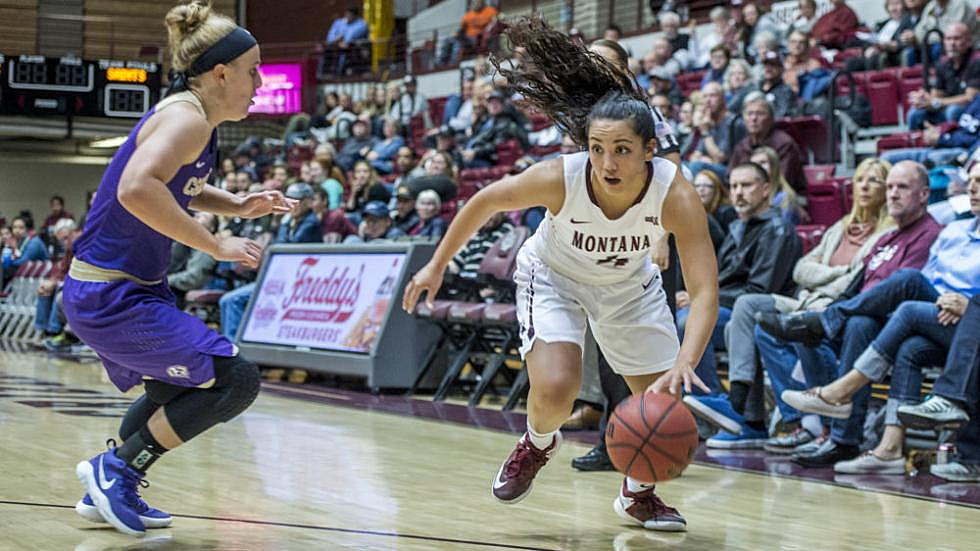 Montana women's basketball: Lady Griz hold off Carroll, 55-48
If the goal of Montana's first exhibition game was to get extensive playing time for most of the active players on the roster while being tested by a well-coached team, then Monday night's game at Dahlberg Arena was a success.
It was a bonus that the Lady Griz came out on top, holding off Carroll 55-48 behind 13 points from Madi Schoening and a presence from the 3-point line that was largely missing last season.
"I think it was good for us to be tested like that. I was curious to see how we'd respond to that situation," said second-year coach Shannon Schweyen.
Leading 11-9 late in the first quarter, Montana closed the period with eight straight points on baskets from four different players to build its lead to 19-9.
The lead reached 13, 33-20, midway through the second quarter on a 3-pointer by Sierra Anderson, but that would be as large an advantage as the Lady Griz would enjoy.
Montana led 35-25 at the half.
Carroll, which was also counting Monday's game as an exhibition, outscored Montana 14-10 in the third quarter and 23-20 for the second half.
The Saints cut the lead to two early in the third quarter and to three early in the fourth, but a basket by Mekayla Isaak, followed by a 3-pointer by Schoening extended Montana's lead to 50-42, and it would remain seven or more the rest of the game.
"I thought we did a nice job in the first half not letting them get a lot of easy looks," said Schweyen. "They started heating up a little bit in the second half, and we let them back into it.
"They knocked down some threes and made some big plays. The girls responded well and didn't let them take the lead."
With Taylor Goligoski in warmups and on the bench for another game, Schweyen went with a starting lineup of McKenzie Johnston, Sierra Anderson, Schoening, Hailey Nicholson and Isaak.
Johnston finished with eight points, seven rebounds and six assists while playing all but three minutes.
It was Montana's bench that provided an early spark. Gabi Harrington and Emma Stockholm, in just 26 minutes between them, went 6 for 7, 4 for 5 from 3-point range.
"Gabi came in and gave us a huge lift off the bench. Emma came in and gave us a lift off the bench, so we had lots of good things from a number of kids," said Schweyen.
Harrington and Stockholm both knocked down 3-pointers in the second quarter, and Harrington converted a three-point play at a time when Montana appeared to be taking control.
The lead was 10 at the half, but that evaporated quickly. Montana turned the ball over on its first four possessions of the third quarter, and back-to-back 3-pointers by Brittney Johnson and Oona Harrington trimmed the margin to 35-33.
Johnston and Jace Henderson answered with baskets to up the lead to six, and that's where it stood entering the fourth quarter.
"We just threw it right to them four times in a row, and it was somebody different every time," said Schweyen. "We've got to get better at passing and seeing what's open and reading what's open."
Mikaela Olson opened the fourth quarter with a triple to make it 45-42, and the Saints had two more possessions to cut deeper into the lead or pull even, but that would be as close as Carroll would get.
The Saints made just two baskets the final nine minutes of the game.
"We got what we wanted and needed out of this game. They're a good basketball program with good players," said Schweyen. "They run good stuff. They know what they're looking for and are disciplined."
Eight of the 10 players who got on the court for Montana scored. Schoening was the only one to reach double digits, but Harrington finished with nine, and Johnston and Stockholm both added eight.
The Lady Griz, who averaged just four 3-pointers per game last season on 25.7 percent shooting from the arc, went 8 for 20 (.400) on Monday and finished with a 39-28 rebounding advantage.
Hannah Dean led Carroll with eight points, seven rebounds, four blocks and four steals. The Saints play at Utah on Thursday night in the second of their three road exhibition games.
Montana will host Black Hills State on Tuesday, Nov. 7, at 7 p.m. in its second exhibition game.