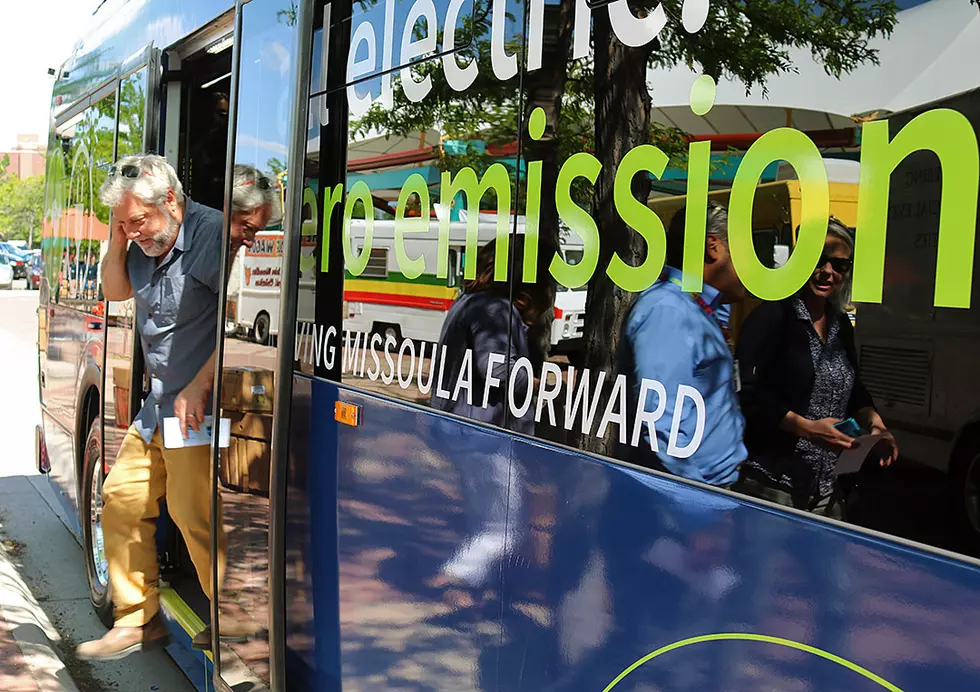 It's electric: Mountain Line's new blue bus powered by green technology
City Council president Bryan von Lossberg steps off Mountain Line's first electric bus after taking a short ride around the city on Wednesday, July 25, 2019. (Martin Kidston/Missoula Current)
Mountain Line took advantage of summer weather and a growing downtown crowd on Wednesday to showcase its newest addition – a gleaming blue electric bus that whispers instead of growls.
As it tooled down the street carrying Mountain Line sponsors and members of the Missoula City Council, one thing was happily absent – the black cloud of eye-burning exhaust that has followed the agency's fleet of diesel buses around town for the past 40 years.
The future of public transportation has arrived.
"Electrifying the municipal bus is probably the single greatest impact we can have in the transportation sector," said council member Jordan Hess. "Look at the number of people on the bus, and it's getting greater efficiency than a diesel bus. Electric has great torque, it's quiet and it has good air quality."
Mountain Line received the first of six electric buses this month and was eager to showcase the new technology. The full fleet of electric buses should arrive by August and start running routes this September.
The Federal Transit Administration awarded the Missoula Urban Transportation District a grant of $2.7 million last year. As the price of the vehicles came down, along with the batteries that power them, they're now at a price point where Mountain Line can begin its transition to carbon-free transportation.
Roughly 60 percent of Missoula's electricity comes from renewable sources.
"Our board of directors wanted us to go in this direction for some time, trying to have a cleaner environment and get away from fossil fuels as much as we can," said Corey Aldridge. "Thankful to some federal grants, we were able to finally make that dream come true."
The buses are manufactured by Proterra – the same company that built the electric buses now in service at the University of Montana. Six charging stations and a new transformer have already been installed at Mountain Line's headquarters on Shakespeare Street.
Aldridge said Mountain Line will gauge the range of the new buses on its routes as the vehicles go into service. The old diesel buses averaged around 4 miles per gallon compared to 20 "miles per gallon" from an electric charge.
It's estimated that electric buses reduce carbon output by around 100,000 tons.
"We're going to try and run them on all routes at some point," said Aldridge. "They won't be dedicated to any specific route. We're going to test them all out. It's going to be a learning experience for us even after we put them in service."
Missoula is the only city in Montana to operate electric buses, and with a plan to transition to more renewable sources, operating these electric buses could net the city some environmental savings.
That fits well with Missoula's goal to go carbon free by 2030 and ween itself of dirty forms of 20th century power, including coal, oil and gasoline.
"We're just moving in the right direction," said Missoula Mayor John Engen. "We're all about renewables and tempering emissions. We live in a bowl and anything that doesn't contribute to making that bowl a mess, we're all for."