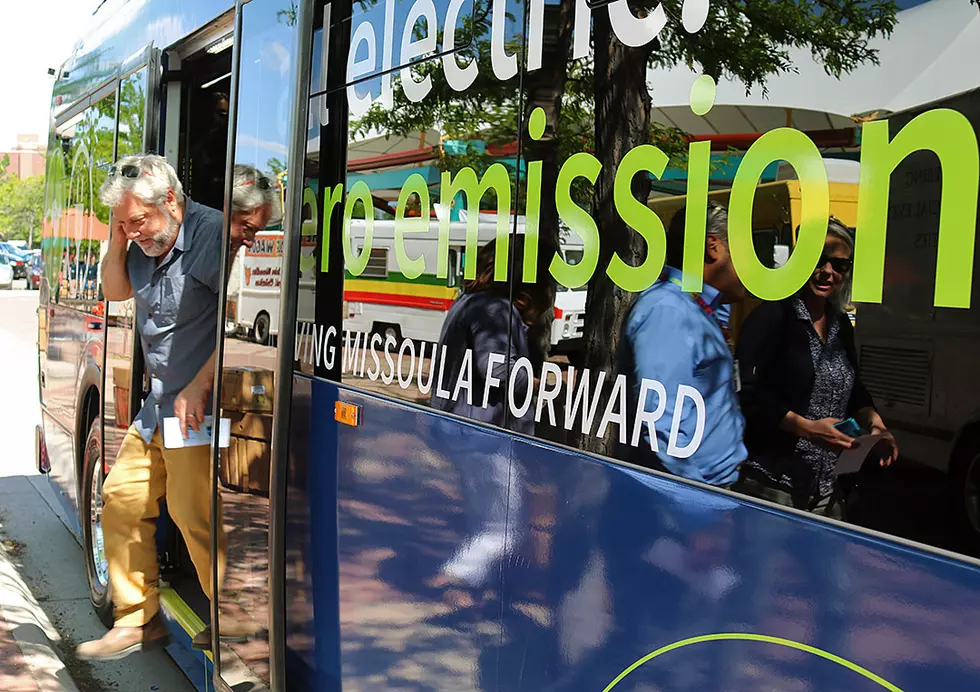 Mountain Line lands $39M grant for new maintenance, operations facility
Martin Kidston
(Missoula Current) Mountain Line's plans to build a new maintenance and operations facility in Missoula to house its growing fleet of electric buses got a boost this week by a $39 million federal infrastructure grant.
The agency has for the past few years cited its need for a new facility and was pleased it was selected for funding.
"Mountain Line is thrilled to get this vote of confidence from the Federal Transit Authority," Mountain Line CEO and general manager Corey Aldridge said in a Friday statement. "Our biggest need right now is a new facility to better serve a rapidly growing Missoula, and this funding will allow us to fulfill that need."
Mountain Line, which is operated by the Missoula Urban Transportation District, has been at its current northside facility for the past four decades. In recent years, the agency has seen a sizable increase in riders and the size of its fleet, thanks in part to free ridership.
However, the current facility has become a barrier to growth. The funding will enable the agency to build a new facility capable of growing with Mountain Line over the coming decades. The agency has not announced a facility location.
"This award comes at a pivotal moment for Mountain Line and Missoula," said projects and planning manager Colin Woodrow. "This funding leverages local money to meet current space and programming needs and addresses Missoula's growing demand and Mountain Line's future growth, as well as reaching other key strategic goals, including those shared by the city and county."
Both the city and county have adopted goals of achieving 100% clean electricity in the coming years while the city's transportation goals look to boost public transit and cut back on carbon emissions and traffic congestion.
The new maintenance and operations facility will be fully electric, which also adheres to the agency's goals of creating a vehicle fleet that emits no tailpipe emissions by 2035 – the same year as the city and county's clean electricity goals.
"Mountain Line has been a great partner with the city," Missoula Mayor Jordan Hess told the Missoula Current. "Mountain Line has been expanding services and electrifying and doing all sorts of great programming for years, but they haven't had the infrastructure background to support that growth. This new facility money will really enable them to continue to grow and serve the community."
Mountain Line's funding announcement came the same week that the city learned that it will receive a $24 million grant aimed at infrastructure and safety improvements in the downtown district, leading Hess to call it "a great week for Missoula."
Mountain Line isn't a stranger to federal support. Since 2017, the agency has successfully applied for several Federal Transit Authority awards to fund its transition to a battery-electric fleet, including an $11 million grant last August for the purchase of 10 new electric buses.
Funding a larger facility will lay the groundwork for the transit district to deliver additional service, including the city's goals of launching a bus rapid transit system within the Brooks Street corridor, agency officials said.
Sen. Jon Tester was a prominent player in drafting the bipartisan Infrastructure Investment and Jobs Act that freed up money for Mountain Line and the downtown transportation project. Sen. Steve Daines voted against the measure, though he did write a letter of support for Mountain Line's grant.
"I'm certain that the support we received from community partners and elected officials helped us get across the finish line this year," says Aldridge.
The agency has not announced a location for its new facility. Last year, it had hoped to purchase land off Scott Street near city-owned property, but that effort didn't pan out and the agency has not revealed where it's looking or when it expects to make a decision.