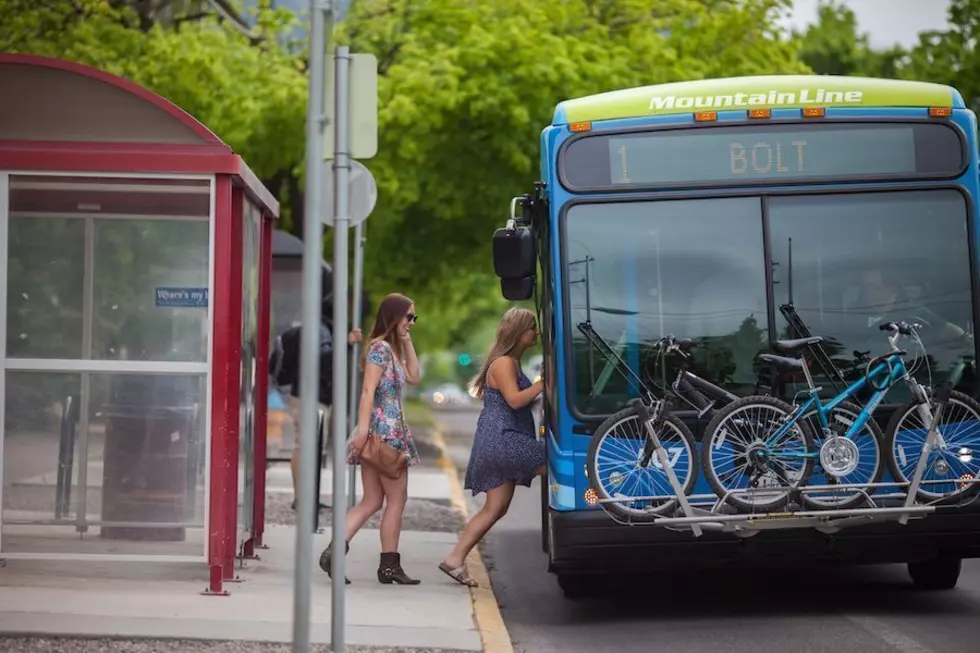 Mountain Line unveils strategic plan for Missoula's public transit future
Mountain Line set new passenger records in 2015, with nearly 300,000 additional rides.
Urban growth and the need to expand the city's public transit system around it has Mountain Line and local transportation officials looking to the future, and exploring ways to fund the costs.
Mountain Line unveiled its 2018 strategic plan to members of the Transportation Policy Coordinating Committee on Thursday. The plan looks to take the current bus system to the next level, including faster service, adjusted routes and longer operating hours.
As presented, the plan includes both short- and long-term networks that would increase frequency and expand certain routes. It would do so in conjunction with Missoula's growth plan while targeting areas eyed for urban development along key corridors.
"This is what is necessary if you want to achieve the modal targets in your long-range transportation plan," said Michelle Poyourow, a senior associate with Jarrett Walker and Associates. "As a city, you've set ambitious targets for transit ridership and non-drive-alone transportation. But it would require raising more money for transit."
The short-term network would add Sunday service on most routes, and longer hours on Saturdays. It would also add earlier and later service on weekdays and create a new 15-minute route between the Capt. John Mullan Neighborhood and downtown Missoula.
The short-term proposal would also realign Route 7 onto Brooks Street for faster, more direct service, and create more direct lines on Route 2 and 11 for faster trips.
"This is the network we recommended based on public and community input, and based on existing adopted goals of the city," said Poyourow. "It's the plan we recommended for the next five years, based on available funding and the ability to make infrastructure changes."
The short-term network would cost roughly $4 million more to operate than the existing $6.7 million system. It would also require five additional vehicles and the infrastructure needed to store and operate them, including an expanded downtown transfer center.
Poyourow said the short-term network would follow projected growth trends to make development more affordable and sustainable.
"We can respond positively and echo parts of a growth plan that are very transit oriented, but we can also give some feedback about where the growth may be less transit oriented, or where transit may not succeed," she said. "We think you're doing a really good job of having that conversation in the community."
As the population grows and Missoula becomes more dense, the plan also eyes a long-term network. If achieved, it would provide high-frequency service with crossing routes, mirroring services deployed in larger cities.
It would also cost 2.5 times more to operate than the existing system.
"Once you have this much service, you can arrange it into a frequency grid," said Poyourow. "It means people can go from anywhere to anywhere on that network with one easy transfer. It's the kind of network you start to see in bigger cities, and it's the plan for when Missoula becomes a more urban place, especially in its core."
Mountain Line updated its current system after community partners provided roughly $460,000 to cover the agency's bus fares, or 9 percent of its budget. Those same partners, along with new ones, have covered fares through 2020, sustaining Zero Fare for another three years.
As a result of Zero Fare, ridership on the transit system as grown exponentially, said Mountain Line General Manager Cory Aldridge.
"We've seen a 70 percent increase in ridership over the past three years," Aldridge said. "Past investment by the community has created these awesome results. Future investment in public transit will create an even more connected, livable community."
While the short- and long-term networks proposed in Mountain Line's 2018 strategic plan reflect community input, Missoula County Commissioner Jean Curtiss said they overlook certain elements of the community.
She said Partnership Health Center, the Health Department, the Food Bank and the library aren't directly served by the proposal.
"When the county invested in Zero Fare, our goal was to help folks who needed the help the most," Curtiss said. "There's an income issue – a social justice issue. I'd like to see that added to what the goal of having public transportation should be."
Aldridge said such issues are challenging and not easily solved, especially with a transit system that's intended to serve the larger population.
"Where some of the organizations have decided to locate makes it very hard for transit to serve," he said. "What we've asked organizations to think about when they're planning for the future is to locate along our transit routes, rather than expecting transit to come to them. We put service where it does the most good for the most people."
The committee took no action on the plan Thursday.