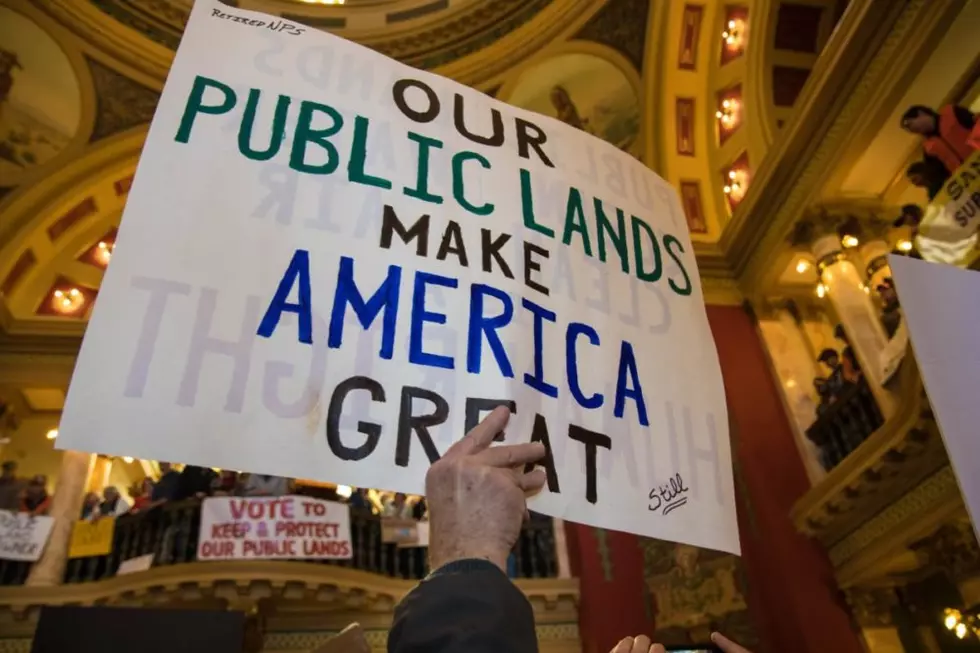 Reader opinion: Public lands make Montana great; rally planned at state Capitol
(Cole Grant/UM Legislative News Service)
Conservation of our public lands is critical to our quality of life. I am grateful to have been able to live and recreate near public lands all of my life.
As a young girl, once all the hay bales were stacked, my dad would announce that it was time to head to the mountains. The panniers held a week of provisions and our family of four would ride horseback to Rainbow Lake in the Beartooth Mountains to fish, hike and enjoy the peace and quiet before school started in the fall.
As a young woman, I backpacked and skied, and later when I was raising my young boys, we camped and hiked on public lands throughout the Western states. We enjoyed canyon lands, mesas, rainforests, mountains, and the Big Sky Country in Montana.
Terry Tempest Williams declares, "Our public lands — whether a national park or a monument, wildlife refuge, forest or prairie — make each of us land-rich. It is our inheritance as citizens of country called America."
It is my honor to represent House District 91 in the Montana State legislature, which includes the Rattlesnake, downtown and into the university area. Protecting this "inheritance" is a message I heard loud and clear as I knocked on doors discussing issues of importance to voters. Missoulians and Montanans are strong on the value and importance of this legacy. Keeping public lands in public hands is clearly a top priority.
Outdoor recreation is now the biggest sector of Montana's economy. Annually, it generates over $7 billion in consumer spending and supports 70,000 jobs that pay $2 billion in wages. Public lands are crucial for the clean air and water that make our communities livable, and they are what makes the outdoor recreation economy thrive in Montana.
Protecting lands that are open to all, which provide clean air, fresh water, hunting, fishing, camping and other recreational opportunities, is mandatory. I continue to enjoy hiking and cross-country skiing, and it is important to me to share this legacy with my grandchildren.
Conservation groups across Montana have organized to work together on public land policy. To launch the legislative session, the third public lands rally is being held on Jan. 11 at noon in the rotunda at the capitol in Helena. This will be a way to celebrate our outdoor way of life that Montanans enjoy and to message to lawmakers how important this inheritance is to all of us.
Gov. Steve Bullock will be the keynote speaker. Other speakers include Dr. Shane Doyle, an educator at Montana State University, an enrolled member of the Crow tribe, and an ardent defender of national monuments during Secretary Ryan Zinke's 2017 national monument review.
Ryan Busse, the vice president of sales at Kimber Manufacturing, an avid sportsman and member of the Backcountry Hunters and Anglers' Board of Directors, as well as the former chairman of the Montana Conservation Voters' Board of Directors, and Maggie Carr, co-owner of Dropstone Outfitting and a Choteau native who's built her business on public access to the spectacular Bob Marshall Wilderness and Rocky Mountain Front, will participate also.
Our public lands are woven into the fabric of our lives. They are central to our history, our identity, and our booming outdoor recreation economy. Public lands belong to all Americans. I hope my fellow legislators will join me in standing up for our public lands at the rally and throughout the session.
We cannot allow special interests to control the fate of our public lands. And we certainly can't let "our inheritance" be sold off to the highest bidder.
Connie Keogh represents House District 91 in Missoula.