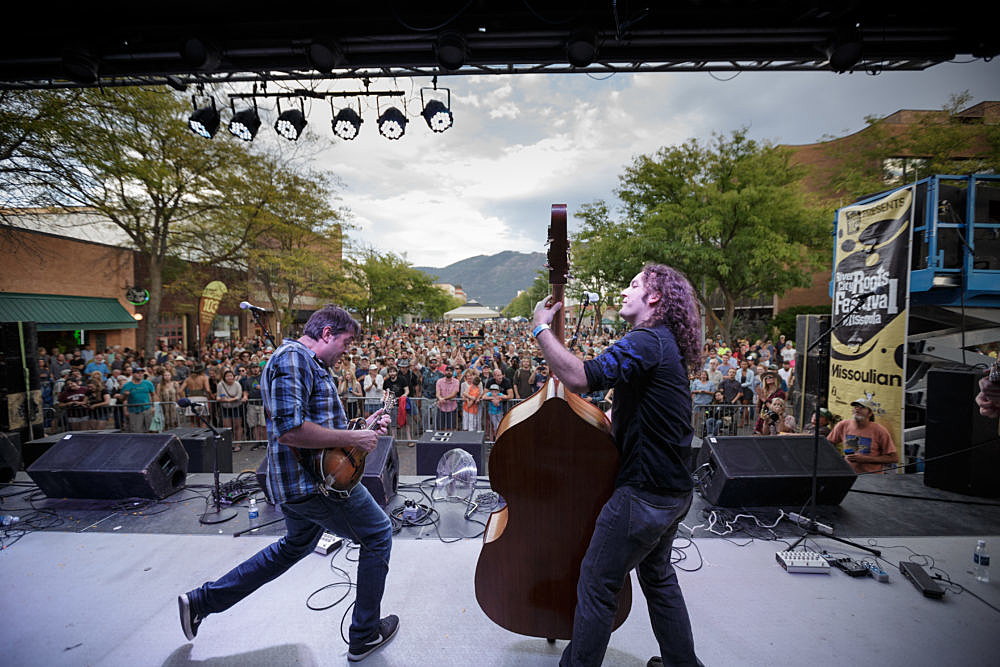 If you have spent any time in downtown Missoula, it's likely you have experienced one or more of the amazing community events that take place in the heart of Zootown. Caras Park, Missoula's Town Square, is home to nearly 100 festivals and community events each year, and the weekly Saturday Morning Markets bring life, vibrancy, people and commerce to our city center.
The Missoula Downtown Association (MDA) is contracted by the City of Missoula to manage Caras Park, and the MDA is responsible for planning and producing 30 community events that draw more than 200,000 individuals to downtown Missoula.
The Out to Lunch Summer Series was created by the MDA in 1986, and this year marks its 32nd consecutive season. Held each Wednesday through August 30 from 11am-2pm, Out to Lunch is the longest-running outdoor food and music festival in Montana.
The program offers live music and lunch offerings from 22 different food trucks and vendors. It's also free and with free children's activities every week.
The Downtown ToNight Summer Series was created in 2001 with the goal of showcasing live entertainment in the evenings and to take some pressure off of Out to Lunch and the Caras Park concerts that were creating angst with residents of the Riverfront Neighborhood.
Now in its 17th season, Downtown Tonight runs every Thursday from 5:30-8:30 pm through August 31 and features adult beverages in addition to live music, free children's activities and food offerings at 22 different locations.
One of downtown's largest events is the River City Roots Festival, Missoula's Signature Celebration of our community. Always the last weekend in August before school starts, the 12th annual Roots Fest will take place Friday & Saturday, August 25-26, 2017.
Live Americana music, a juried art show, local food and beverage offerings, a four-mile run, and a park full activities and performances for Missoula's youth come together to showcase all that is good in the Garden City. It's a great ending to the summer and an extraordinary way of welcoming UM students and their families to our community.
Roots Fest is also admission free and draws nearly 15,000 attendees each year. For an overview of this year's music and art lineup, visit www.rivercityrootsfestival.com.
Other community events produced by the Missoula Downtown Association include Winter BrewFest in February, Garden City BrewFest in May, and the Parade of Lights in December. This year and from here forward, the MDA will also plan and produce the annual Festival of Trees in late November and early December. Created by Mountain Home Montana in 1999, the Festival of Trees will continue to bring holiday life and light to the heart of Missoula for years to come.
Events produced by the MDA offer a double benefit to downtown. They bring people, commerce and customers to the street and sidewalks of downtown, which benefits our locally-owned businesses. Events also help the MDA fund other projects and programs that benefit downtown, including the purchase and maintenance of 100 flower baskets, the light bulbs and electricity for 150 holiday decorations, and maintenance and marketing of the Downtown Gift Card program, to name a few.
Above and beyond MDA events, downtown Missoula is home to some incredible community events created and managed by other non-profit organizations. Examples include last month's Missoula Marathon and the Celtic Festival and this month's Symphony in the Park on Sunday, Aug. 13.
Other major events such as the Big Sky Documentary Film Festival (February), the International Wildlife Film Festival (April) and First Friday Gallery Night each draw thousands of residents and tourists alike to the streets of downtown Missoula throughout the year. These event attendees shop in our retail stores and dine in our restaurants, which greatly boost our Downtown economy.
Events bring life, vibrancy and people together for all kinds of reasons, and downtown Missoula welcomes the opportunity to bring new and growing events to the core of our city. Recent developments in the area of live entertainment have brought a significant increase in visitors to the marketplace. Concerts at the Wilma, Big Sky Brewing and KettleHouse Amphitheater draw a significant number of attendees, many of whom stay overnight as well.
As one example, the weekend of August 11-13 will draw close to 40,000 event attendees in just three days, including the Western Montana Fair on Aug. 8-13; Missoula Osprey Games on Aug. 11-17; the Primus and Clutch concert on Aug. 11 at the KettleHouse Amphitheater; the Pat Benatar and Melissa Etheridge concert on Sat., Aug. 12 at the Kettlehouse Amphitheater; The Decembrists concert on Aug. 12-13 at Big Sky Brewing; Slayer, Lamb of God and Behmoth in concert on Sat., Aug. 12 at the KettleHouse Amphitheater; and Missoula Symphony in the Park Sunday, Aug. 13 in Caras Park.
Events are good for our community. We hope you are enjoying all the options you have for entertainment. After all, Missoula is a mecca of arts, culture and entertainment. For more information on what's happening in downtown Missoula, follow this link.
Linda McCarthy is the executive director of the Missoula Downtown Partnership, a collaboration of the Missoula Downtown Association, the Business Improvement District and the Missoula Downtown Foundation.