Have you ever given much thought to Millard Fillmore? Probably not. Neither had I.
The 13th president of the United States, 1850-1853. Whig Party. Raised on a farm in rural New York. Family anything but wealthy. Despite that, went to law school and practiced in Buffalo. Elected to U. S. House of Representatives, became vice president and finally, president.
The subject came up on one of our snowbird trips to Arizona. We stopped for gas and a bite to eat in a small town in Utah, along I-15, about midway between Salt Lake City and St. George.
As is my tendency (much to the annoyance of my darling wife), I inquired of the waitress about the town's history. She wasn't sure, but returned a short time later (having asked other employees) near bursting with newfound knowledge. The town and county, she proclaimed, were named after Millard Fillmore: Fillmore, the town, and Millard, the county.
But why? I asked. No clue. But she did know the town was the first capital of Utah.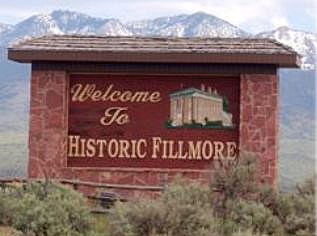 According to the official Fillmore, Utah municipal website, "The community was named by an act of the Utah Territorial Legislature signed by Brigham Young in 1851, honoring President Millard Fillmore." It was a "thank you" to Fillmore for signing the documents creating Utah Territory.
"The original Statehouse building stands today as the oldest existing governmental building in the state and is maintained by the state of Utah as a historic site and museum," according to city officials.
A fellow by the name of Ladd R. Cropper offers up more on Fillmore's history. He chose the town as the subject of his 1954 master's thesis at BYU.
"Fillmore was chosen as the first state capital because it was centrally located in the Beehive State. The town of about 100 had erected homes and a church … within (an adobe) fort. The statehouse was completed … in 1855."
It was a wild place in its early days – so wild, wrote Cropper, "many of the pioneers began to contend one with another. … Their sinful ways were so serious that president Brigham Young came down from Salt Lake City in 1856 (telling) them unless they put away their sins there would be a separation and the righteous would be separated from the ungodly."
A little research reveals the town is surrounded by extinct volcanoes, lava formations and "excellent fossils." It has a history of agriculture and mining. At one time, there was both a flour mill and a cheese factory.
Fillmore was the birthplace of some of the state's earliest newspapers: the Millard County Blade and the Deseret News (before it moved to Salt Lake City).
Speaking of reading material, the "Garden of Eat'n" (yes, that was the name of our delightful dining spot in Fillmore) offered some tableside essays, including one called "857 Habits of Highly Irritating People." I won't share my wife's comments, but suffice it to say, they were aimed at me.
In any event, I recommend both the reading material and the chicken-fried steak (gravy on the side, please).
Where was I? I lost my train of thought. Oh, yes – interesting town names.
It turns out Fillmore is just one of dozens of Utah towns with fascinating back-stories.
The state's mining history is reflected in names like Copperton and Coalville. Others reflect Mormon principles and values: Providence and Bountiful, for example. The town of Veyo derives its name from Virtue, Enterprise, Youth and Order.
One of the most unusual stories concerns the town of Lynndyl, in good old Millard County. According to a great article by Dale Van Atta, published in the Deseret News back in 1977, the town's name originated with an old shoe.
"Railroad legend says a lady telegrapher was once asked by a Salt Lake associate where she was. Since the town hadn't been named, she looked at her shoes, which she had taken off her tired feet, and saw the maker's imprint, Lynn, Mass. 'At Lynn' was her reply and it stuck."
It's amazing what you can discover with a simple question. My wife, however, prefers I just sit quietly in the corner booth and eat my chicken-fried steak.
Jim Harmon is a longtime Missoula news broadcaster, now retired, who writes a weekly history column for Missoula Current. You can contact Jim at harmonshistories@gmail.com.