He was born in Mix Run, Pennsylvania, in 1880. He died in Florence, Arizona, in 1940.
Over the 60 years in between, he made quite a name for himself.
Tom Mix (Mix Run was named after his great-great-grandfather) was an artillery sergeant, a deserter, a bartender, a drum major and a sheriff, among other things.
But his skills as a cowboy led him to fame and, along the way, a few visits to Montana.
At age 30, he got a job handling horses for Selig Pictures and soon he was writing, directing and acting in more than 100 movies. In 1917, Fox Films signed Mix to a deal to star in a half dozen silent films a year, cementing a career as one of the greatest cowboy stars in cinematic history.
Millions of kids grew up watching Tom Mix and his horse "Tony" at Saturday afternoon matinees. There were a fair number of adults who wouldn't miss a Tom Mix movie either.
My dad, Lee Harmon, ran into one of those fans, the infamous Dunn Creek Nell, while working as a movie usher in the early 1930s at Libby's Dome Theater.
"During all the old Westerns with Tom Mix, she'd get up and stand and yell, 'Come on Tom! Get 'em, Tom!' I'd have to go down and try to quiet her down." Dad continued, "The only way I could quiet her was by saying, 'Nell, if you don't shut up, I'm going to throw you out that door!'  She'd give me a look, and she'd settle down for five minutes and then we'd be back at it again!"
Mix's first talking movie, "Destry Rides Again," opened at Missoula's Rialto on Sunday, June 19, 1932. The theater and the Sentinel newspaper sponsored a "Tom Mix parade" on Higgins Avenue the day before, handing out prizes to youngsters for the "best cowboy regalia." The big winner was "young John Robbins of West Pine Street (wearing a) silk shirt, chaps and a 10-gallon hat and seated atop a dashing pony."
There was also a contest to guess "the first two words spoken by Tom Mix in his first talking picture." Clarence Hill, who lived on Phillips Street in Missoula won, guessing: "Hello kids."
Sound, as it turned out, was his downfall. Tom Mix's voice "had been damaged by a bullet to the throat and repeated broken noses" over the years and wasn't well suited for either radio or the new "talkies."
He decided to capitalize on his fame and showmanship, touring the country, first with the Sells Floto Circus and later with his own traveling show, the Tom Mix Circus, both of which traveled to Montana in the 1930s.
The 80-truck caravan began arriving in Missoula from Coeur d'Alene on Sunday afternoon, June 2, 1935, creating a holiday atmosphere along the route. Crews set up a "veritable city of white tents" on the city's west side. The Office Supply store on Higgins Avenue offered advance sale tickets.
Mix always had his aging horse "Tony" with him. In a press release prior to that Missoula performance, Mix described "Tony," then 27 years old, as "a tough rascal to begin with and promises to set a record for longevity." He also brought along "Tony Jr." and a hundred other horses trained to perform "various feats" for the crowds.
The shows featured high-wire acts, "Sahara" (billed as the largest elephant on Earth), clowns, singers and dancers – but the big draw was Tom Mix and "Tony," along with his famous "High School Horses." The movie star appeared at least five times during the long shows, working with various acts, to keep his fans happy.
The next day, before departing Missoula for shows in Butte and Bozeman, the "silver screen six-gun artist and horseman" agreed to speak to a combined meeting of the local Rotary, Lions and Kiwanis clubs.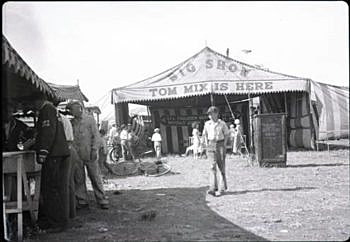 He credited kids across the country for making him successful and able to put together such a traveling show, which employed hundreds of people who might otherwise have been "on the relief rolls" during the Depression. He stayed to shake hands with every guest as they left Missoula's Grill Cafe.
A few days later, on the road near Three Forks, the truck carrying "Sahara" collided with a cow and overturned. The giant pachyderm, according to press accounts, "romped blithely through the brush … dived into the Jefferson (river) … and cavorted gaily about in the ripples" until finally being caught and returned to the highway. "Sahara" went on to perform her "usual tricks in the afternoon performance" in Bozeman.
In 1938, Mix decided to make a promotional trip to Europe, leaving the stateside operation of his circus to a daughter. But without Mix, the circus soon failed and that was the beginning of the end for Mix.
Two years later, Mix died in a car accident near Florence, Arizona, when the car rolled and "a large aluminum suitcase containing money, traveler's checks and jewels … hurtled forward and struck him, breaking his neck."
There's a memorial marker at the site along Arizona Route 79.
Jim Harmon is a longtime Missoula news broadcaster, now retired, who writes a weekly history column for Missoula Current. You can contact Jim at harmonshistories@gmail.com.