From atop the peak named in his honor, Alex Diekmann's devotion to Montana's mountains and plains will live forever.
The late Trust for Public Land project manager was immortalized last week when the U.S. House, on a 400-3 vote, designated an unnamed 9,755-foot promontory in the Madison Range as Alex Diekmann Peak.
The U.S. Senate had already approved the measure, which now awaits President Donald Trump's signature.
Diekmann's friends, family and coworkers were gratified by the move, for which they worked since his death in early 2016.
"Alex was lesser known to folks beyond Bozeman. But the work he did as an unrivaled dealmaker with the Trust for Public Land in the Yellowstone region and the northern Rockies was extraordinary," said Bozeman writer and Mountain Journal editor Todd Wilkinson, who was among those advocating for the designation.
In a column shortly after Diekmann's death, to cancer at age 52, Wilkinson wrote of his friend and neighbor:
"Diekmann the conservationist wasn't seeking immortality or accolades for his efforts. He believed in public lands and the public having access to them in perpetuity. He invited us to know and act upon the power of thinking beyond generations for the public good. He showed us what selfless perpetuity means."
During 16 years with the Trust for Public Land, Diekmann worked on more than 55 projects, helping to conserve 100,000-plus acres. His efforts led to protections for the Taylor Fork in the Greater Yellowstone Ecosystem, river access at Glacier National Park, and wildlife corridors in the Cabinet-Yaak Ecosystem.
His work also took in the Haskill Basin near Whitefish, the Whitefish Lake Conservation Project, Three Dollar Bridge, and restoration of O'Dell Creek in the Madison Valley.
Diekmann completed work to protect 23,000 acres of forestland around Whitefish, including the Haskill Basin conservation easement, even as he struggled against his cancer's aggressive spread.
Whitefish Mayor John Muhlfeld counted Diekmann as a friend.
"His passion for conservation was relentless, but more importantly, Alex was an incredible friend, father, brother and husband, and we will forever be reminded of his legacy when we go out and experience the lands in northwest Montana that Alex helped protect in perpetuity," Muhlfeld said in a statement after the bill's final passage.
His wife, Lisa Diekmann, also made note of the designation in a prepared release.
"This is a great way to start the new year," she said. "I hope that the efforts of senators Tester and Daines, Congressman Gianforte, and Alex's friends and colleagues who have worked tirelessly to designate this peak in memory of Alex and his commitment to conservation and collaboration, will be an inspiration for others."
Many saw the bill's bipartisan sponsorship and support as a reflection of Diekmann's own commitment to work across political, as well as geographic, boundaries.
All of Montana's congressional delegation sponsored and worked for the measure's passage.
"Alex Diekmann was a champion for Montana," said Democratic Sen. Jon Tester. "Alex will forever be remembered for his contribution to conservation and Diekmann Peak will be a destination for sportsmen and women to celebrate our outdoor heritage. This was truly a bipartisan effort by the entire Montana congressional delegation to get this bill on the president's desk."
"Alex Diekmann leaves a legacy of conservation across Montana and the Northern Rockies that will continue to benefit the United States for generations to come," Republican Rep. Greg Gianforte said.
"Alex Diekmann's work will have a lasting impact on conservation and outdoor recreation in Montana," said GOP Sen. Steve Daines. "Now to the president's desk for signing. I look forward to climbing Alex Diekmann Peak in Alex's honor."
Added Diekmann's former colleagues at the Trust for Public Land: "The naming honors his brilliance and passion in protecting Montana's most important places and his patience and tenacity in bringing together often disparate partners, across iconic Montana landscapes."
The bill was formally supported by not only TPL, but the city of Whitefish, the Madison River Foundation, Montana Trout Unlimited, the Montana Association of Land Trusts, the American Fly Fishing Trade Association and the Gallatin County Commission.
Diekmann started his career back East in finance. All that changed when he moved with his family to Bozeman after his wife took a job as executive director of the Yellowstone Park Foundation. He signed on with TPL's Bozeman office shortly thereafter; his impact was immediate and far reaching.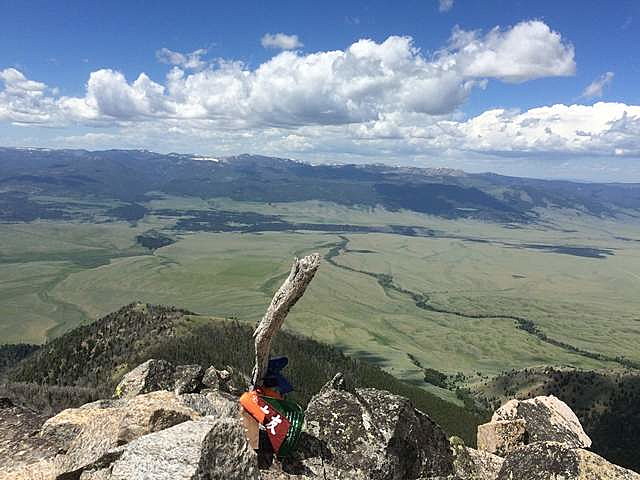 The newly named Alex Diekmann Peak overlooks the Madison Valley, 2.2 miles west-northwest of Finger Mountain on the western boundary of the Lee Metcalf Wilderness.
In advocating for the peak's designation, Diekmann's friends Wilkinson, Muhlfeld and conservationist Craig Mathews described the mountain as "nondescript, not overly conspicuous," but said it was nonetheless "encircled by a magical panorama that holds within sight everything we love about Montana.
"Snow-capped, chiseled mountains standing against time; unblemished natural beauty; a backcountry holding mystery and wildlife diversity unparalleled in most of the Lower 48; working private landscapes below where ranchers have made stewardship part of their legacy; and public lands, forever accessible to us and descendants we'll never know."
Besides honoring a remarkable conservationist, Alex Diekmann Peak has "profound symbolism for our time," his friends wrote in letters to the editor of the state's newspapers when the legislation was first proposed. "Its power emanates from the perspective it offers, the lessons it imparts to younger generations in Montana who may wonder why it's important in these divisive times to look past differences and unite for a common good."
Diekmann's own words, in fact, tell the story of the peak's bipartisan naming:
"It's amazing what can happen when Montanans converge and delight in the panorama that reminds us who we are."