Montana Sen. Steve Daines on Thursday said he'll conduct a hearing on sexual harassment in the U.S. Forest Service in response to the resignation of Tony Tooke, the agency's chief, who was accused of sexual misconduct with subordinates.
Daines cited a PBS NewsHour investigation that found widespread complaints of sexual harassment within the agency and corresponding allegations that officials failed to respond – or responded with retribution against the victims.
"Harassment of women in the Forest Service has been a problem for years," the PBS report said. "As far back as 1972, women have joined together to file class action complaints and lawsuits about gender discrimination and sexual harassment."
But "the problem goes much deeper," the journalists discovered.
"In interviews with 34 current and former U.S. Forest Service women, spanning 13 states, the women described a workplace that remains hostile to female employees. They complained of a pattern of gender discrimination, bullying, sexual harassment and assault by crew members and supervisors. Three women said they were raped after-hours by co-workers or interagency firefighters while working for the Forest Service. Many women alleged retaliation after reporting these incidents."
In Thursday's announcement, Daines said he is  "distraught and angered that this happened in Montanans' own backyard."
Many of the women interviewed by PBS said the worst offenders work in the Forest Service's wildland firefighting division, which also has the greatest gender disparity. At last count, 6,633 fire employees are male, while just 890 are female.
Female firefighters reported numerous instances of sexual abuse and rape, and almost no repercussions for those accused of the crimes. In fact, some offenders were promoted.
Often, the victims suffered retribution and left the agency. The retaliation ran the gamut, the women said: verbal threats, bullying notes, duties stripped, negative performance reviews, and demotions.
One of the firefighters said she was raped while on duty at a fire in Montana in 2016. She resigned after reporting the rape to police.
"We all live in this fear … So if I have to speak up, I will. But it's frustrating because there's so many more out there who are not talking," the woman told NewsHour.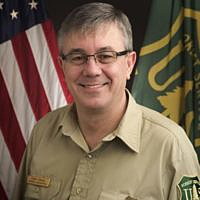 Daines said Tooke made "the right decision" by resigning late Wednesday, after allegations surfaced that he had inappropriate relationships with subordinates before being appointed chief last August.
"Strong leaders are needed to change the culture of the organization and I believe Mr. Tooke's resignation was the right decision," Daines said. "I plan to use every tool to ensure all bad actors are held accountable."
Daines is chairman of the Senate Agriculture Subcommittee on Conservation, Forestry, and Natural Resources; a member of the Senate Appropriations Subcommittee on Interior, Environment, and Related Agencies; the Senate Committee on Energy and Natural Resources; and the Senate Committee on Homeland Security and Governmental Affairs' Permanent Subcommittee on Investigations, all of which combined have jurisdiction over land management agencies and harassment in the federal workforce.
Also Thursday, Agriculture Secretary Sonny Perdue announced that Vicki Christiansen will serve as interim chief. (Tooke's resignation was effective immediately._
Christiansen is a relative newcomer to the Forest Service, and was working as deputy chief of state and private forestry in the agency's Washington, D.C., office.
She joined the Forest Service in 2010, after 30 years working as a wildland firefighter, fire manager and as the state forester in Arizona and Washington.
In the past seven years, she has also served as the Forest Service's deputy director of fire and aviation in D.C., and as the interim regional forester based in Missoula.
Perdue, who on Wednesday accepted Tooke's resignation and thanked him for 40 years of service to the Forest Service, preceded the announcement of Christiansen's appointment by saying the week has been "difficult" for the agency.
Tooke announced his abrupt and unexpected resignation in a late-afternoon email to Forest Service employees on Wednesday.
He referenced the PBS investigation of sexual harassment problems within the agency, as well as a separate internal investigation of the sexual misconduct complaints against him.
The allegations "naturally raised questions about my record and prompted an investigation, which I requested and fully support, and with which I have cooperated," Tooke wrote. "I have been forthright during the review, but I cannot combat every inaccuracy that is reported in the news media."
"What I can control, however, are decisions I make today and the choice of a path for the future that is best for our employees, the Forest Service and the U.S. Department of Agriculture. I must also think about what is best for my family. Therefore, I have decided that what is needed right now is for me to step down as Forest Service Chief and make way for a new leader that can ensure future success for all employees and the agency."
Read more about Tooke's resignation, as well as the complete text of his email to employees, here.