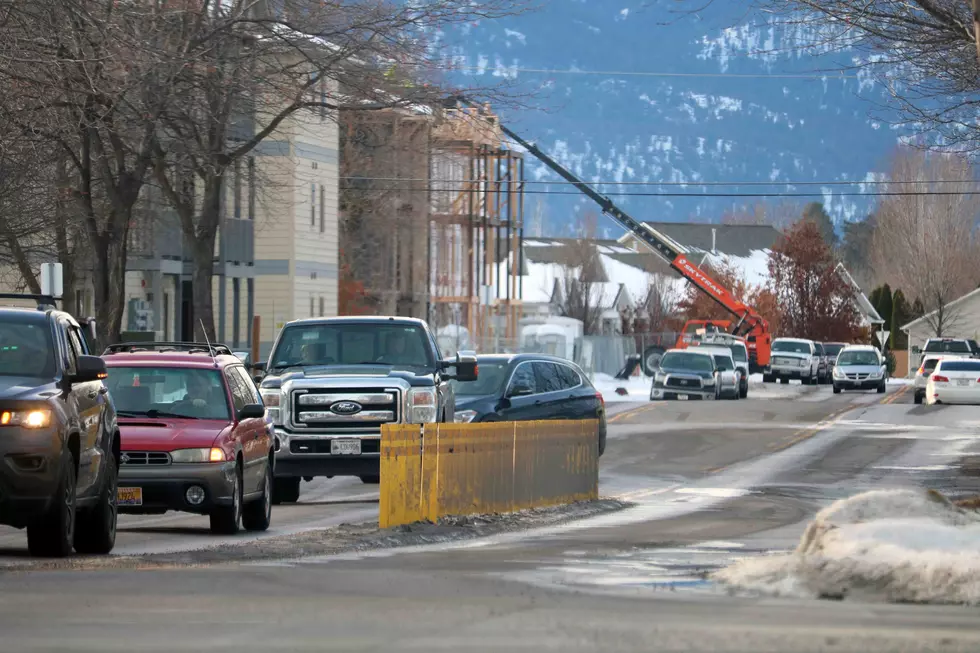 Private capital for Montana's early-stage tech companies on the rise, but housing still a challenge
Housing construction near Reserve Street. (Martin Kidston/Missoula Current)
Martin Kidston
(Missoula Current) The amount of capital invested into young Montana technology companies has grown many times over in the last 10 years, giving early-stage firms a leg up as they look to compete in a larger market.
But while the amount of investment has grown, so too has the demand for housing in the state's larger cities, and already it has emerged as a potential barrier to economic growth, capital or not.
The details surfaced this week as university officials and entrepreneurs sat down with Sen. Jon Tester to begin developing a strategy as Montana looks to vie for federal funding to launch a rural technology hub.
Growth in the level of capital invested into early-stage Montana tech companies could play well on the state's resume.
Garrett Leach, an associate for Next Frontier Capital, said just $220 million was invested into early-stage Montana businesses between 1995 and 2014, amounting to around $10 million a year. After Next Frontier was founded in 2015, the level of investment has grown to $1 billion.
"That's a 10x annualized increase in the availability of venture capital invested in the state," Leach said. "That's capital to help entrepreneurs grow and scale businesses, taking ideas from the lab to the market."
While Next Frontier is based in Bozeman, it has invested in early-stage companies across the state, including Submittable, based in Missoula.
It also helped seed Blackmore Sensors and Analytics in Bozeman, which is developing a LiDAR system for use in autonomous driving. The company has since been purchased by Aurora as it pursues autonomous trucking.
Other early successes include S2 Corp. – a bandwidth analyzer with applications in electronic warfare, signal intelligence and signal processing – and Bridger Photonics, which has developed gas mapping LiDAR technology to identify and measure methane leaks in the oil and gas industry.
"These are three successes originating from just one lab at Montana State University that highlight how the combination of private capital, excellent entrepreneurs and government funded research can create companies with real impact and value right here in Montana," Leach said.
While the investment of private capital is essential for nurturing businesses in the state and helping them grow to compete on a national scale after moving from the lab to the market, the other essential component is housing the workforce.
Economists with the Bureau of Business and Economic Research at the University of Montana for the past several years have warned that the housing challenges facing the likes of Missoula and Bozeman could hinder economic growth, especially when workers struggle to find or afford housing.
Businesses have found it difficult to recruit and retain workers, even after the Montana University System prepares them for jobs in emerging technologies. The lack of a healthy housing inventory has played a hand in rising prices, and it's an issue facing a number of larger Montana cities across the state.
The challenges aren't lost on Nathan Greenfield, vice president of engineering and IT at Bridger Photonics. The company was launched in 2006 and has since moved beyond research and development to begin manufacturing the products it created.
That has created new jobs in logistics, technology, cyber infrastructure and manufacturing, among others. But recruiting and retaining employees in the state's hot housing market hasn't been easy, he said.
"While we've got what we consider to be good wages and good jobs, we're being outpaced by letting people stay in town and the neighboring areas. That's been our biggest issue in being able to stay local," said Greenfield. "We have transitioned to be more of a manufacturing company that builds the systems we design. Those jobs can't be remote. They can't be handled by anyone being able to come in a few days a week."
In Missoula, the city has taken a number of steps in an effort to address the housing crisis. While it has subsidized a number of price-restricted projects, it's also taking steps to reform its zoning codes in hopes of clearing the slate for the private market to meet local demand.
Gov. Greg Gianforte also convened a housing task force last year, and a number of bills are before the Legislature that could help or hinder housing efforts at the local level.
Gianforte on Tuesday urged the Legislature to pass reforms he believes will increase the supply of affordable workforce housing.
"Housing is a top priority for Montanans. I hear it over and over from folks throughout the state," Gianforte said. "To increase the supply of affordable workforce housing, we can't keep doing the same thing we've done year after year after year. The state can't. And local governments can't. It hasn't worked."