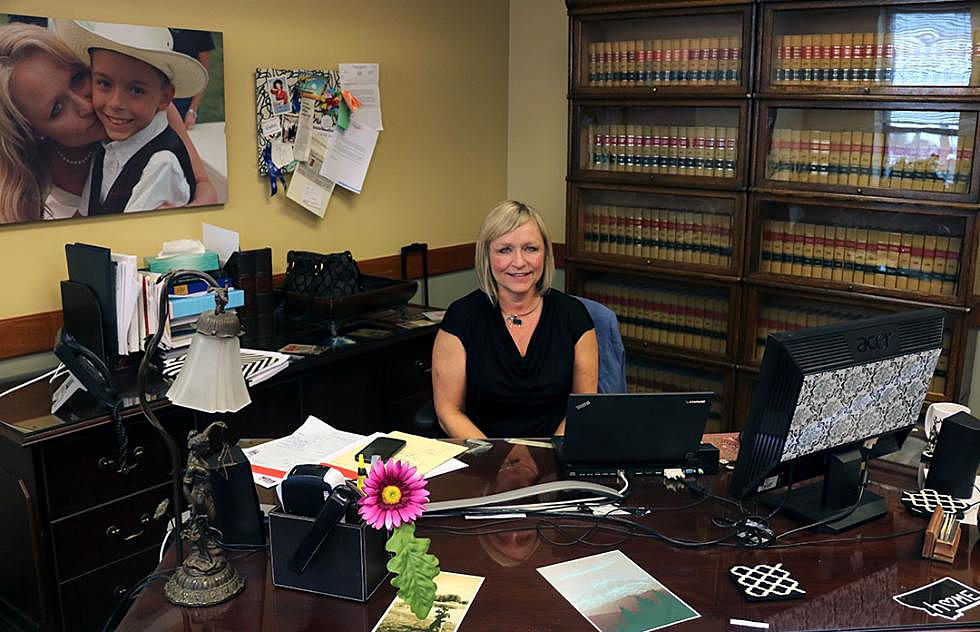 Missoula County's top prosecutor to launch diversion program aimed at low-risk offenders
Missoula County Attorney Kirsten Pabst has unveiled the makings of a new national program she believes can help address child protective and drug cases by targeting low-risk drug offenders before they enter the criminal justice system. (Martin Kidston/Missoula Current)
The Missoula County Attorney's Office saw an increase in adult felony cases in 2017 and filed a record number of child neglect cases, something that has increased in each of the past few years.
And that has Missoula County Attorney Kirsten Pabst concerned, especially when it's tied to drug abuse.
"The increase in dependent and neglect cases mirrors the number of meth cases," Pabst said. "It tracks it very closely, and it's telling us something. We need to take a look at the way meth affects a person's ability to parent, and to provide adequate care for their kids."
Seated in her downtown office on Tuesday, Pabst unveiled the makings of a new program she believes can help address the issue by targeting low-risk drug offenders before they enter the criminal justice system.
The diversion program, as she described it, is still being crafted, though it has already won a technical assistance grant from the American Prosecutors Association and the Bureau of Court Innovation.
A workflow session is planned this week with the APA and community partners, including Missoula Correctional Services, the Confederated Salish and Kootenai Tribes, and local treatment facilities.
"It's going to be geared toward drug offenders and folks who are wrestling with addiction that wouldn't otherwise, but for their addiction, be part of the criminal justice program," Pabst said. "I do anticipate working with folks struggling with addiction and parenting."
While city and county partners have been working on a jail diversion program for the past few years, Pabst said diversion efforts led by prosecutors occur earlier in the process with the goal of identifying low-risk offenders before they see the inside of a courtroom or jail cell.
The program is trending in larger cities, though it hasn't taken root in Montana, a fact that would make Missoula County the first in the state to adopt the measure. As her office crafts its plan, Pabst said, it's looking at similar programs in Milwaukee, as well as a newly unveiled program in Oregon.
"Historically, there have been law enforcement diversion programs overseen by cops and first responders, and court diversion programs, but this idea of a prosecution-led diversion program is fairly new. It's trending in the nation," said Pabst. "For the most part, we're hoping to get them early and get them treatment."
According to Milwaukee County's early intervention program, research demonstrates that the delivery of swift services and intervention offers the greatest opportunity for public safety when it's focused on low-risk offenders.
Such strategies also make the best use of criminal justice funding and resources by reducing the cost of processing cases for those who are less likely to reoffend. The funding is then placed in resources aimed at those who pose the greatest community risk.
"If you can adequately screen using a scientifically proven tool to identify low-risk offenders early on, you can save criminal justice dollars on them and improve their chances of succeeding if you get the treatment early," Pabst said. "If you can take those criminal justice dollars and invest them in the higher-risk people, the data tells us that you'll reduce recidivism in that group as well."
Drug crimes represented 18 percent of the charges filed by the Missoula County Attorney's Office last year, while endangerment – including that of a child – represented 17 percent of all charges, according to the latest report.
Released last week, the figures suggest that child protective cases are at an all-time high in Missoula County. The office filed 195 new dependent and neglect cases last year – up from 191 in 2016 and 110 in 2012.
As do other cities, Pabst believes a prosecutor-led diversion program can help address the trend.
"There's some really good tools out there that have been used and proven to be reliable, and we're going to start small to see how it works," Pabst said. "We only have so many hours in a day, and theoretically, if we can take 10 percent of our case load and make it so we don't have to go to trial and prep for trial, then we can focus on the higher-risk offenders, which has been my objective all along."
Pabst added that this week's session with the American Prosecutors Association and its team from New York will help the Missoula office establish its own program.
"What we need to figure out is the financial piece on the coordinator," said Pabst. "We'll need a coordinator to oversee it. I'd like to hire someone not just with that public administration background, but with that treatment and addiction background to kill two birds with one stone."