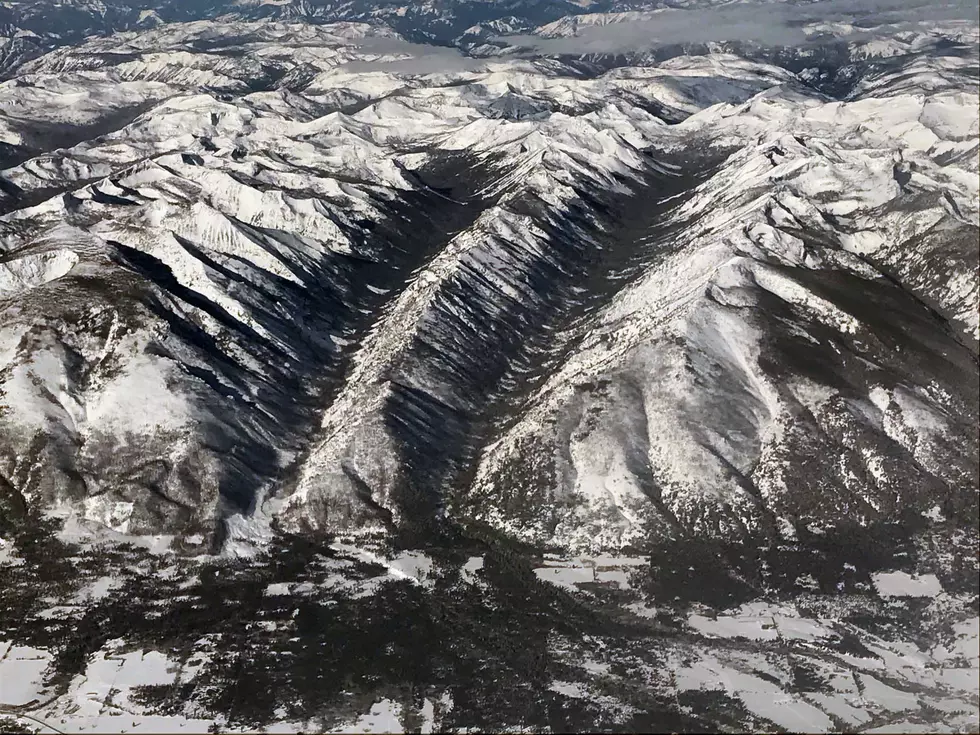 Miners begin hunt for rare-earth elements in Bitterroot headwaters
The Bitterroot Mountains hold the snow in early spring. (Martin Kidston/Missoula Current file)
Laura Lundquist
(Missoula Current) Mining companies with Canadian roots have notified the Bitterroot National Forest of its intent to start mining exploration near the confluence of the West Fork of the Bitterroot River and Sheep Creek.
On Tuesday, the Bitterroot National Forest announced that U.S. Critical Materials and U.S. Critical Metals Corp. had sent a Notice of Intent that they will begin exploring for rare-earth elements on their Sheep Creek claim this year.
The Forest Service requires companies to submit Notices of Intent to give the district ranger enough information to decide whether the proposed activity requires a plan of operations. Such plans are required when activities will likely cause, or are causing, significant disturbance or damage to the environment.
Dan Pliley, West Fork District Ranger, determined that U.S. Critical Materials and U.S. Critical Metals Corp. didn't need a plan of operations for the work they proposed, which is a continuation of work that was proposed last year.
Workers won't be using mechanized equipment and will create little to no surface disturbance, according to the Notice. Proposed exploration activities include continued sampling using hand tools, soil and stream sediment sampling, rock chip sampling, mapping and sampling of adits, ground geophysical surveys, and helicopter or drone-supported geophysical surveys. The teams expect to be finished on or before October 20.
The companies are asking to travel beyond a Forest Service gate on FS road #5677.
The 7-square-mile Sheep Creek Columbite Deposit Mine Site lies in the headwaters of the Bitterroot River, approximately 38 miles south of Darby and 20 miles southwest of Lost Trail Pass. Deposits of rare-earth metals were discovered in the area in 1953, and the site has been studied and sampled since the early 1960s.
At the end of January, U.S. Critical Materials Corp. announced it had discovered "the highest-grade (rare-earth element) deposit in the United States" among its 223 mining claims near Sheep Creek.
Samples showed the deposit contains 9% total rare-earth oxides, a notably high percentage. After having its analysis confirmed by a Canadian laboratory, the company called the discovery a "multibillion-dollar resource value," according to the Jan. 31 release.
"Rare earth elements," 17 elements of the periodic table, are heavy metals that have various electronic and magnetic properties that make them useful in an ever-expanding array of electronic components, magnetic materials, lasers, industrial processes and, particularly, rechargeable batteries used in electric vehicles.
Mining can produce more rare earth minerals than recycling e-waste or extracting minerals from coal ash and existing mine waste. But it generates large volumes of toxic and radioactive material, due to the co-extraction of thorium and uranium, which can pose threats to the environment and human health. And extraction uses one of two methods: drilling or open-pit mining.
This is what bothers many Montanans about having a large mine - potentially an open-pit mine - in the headwaters of the Bitterroot River. Montana Trout Unlimited and the Montana Chapter of Backcountry Hunters and Anglers have both expressed concern.
U.S. Critical Metals Corp. was incorporated in July 2019 in Vancouver, British Columbia, Canada, by Darren Collins, and U.S. Critical Materials Corp. was incorporated in Nevada on April 20, 2021.
US Critical Metal Corp.'s assets consist of four agreements, each providing the right to acquire interests in five projects, including the Clayton Ridge Lithium Project in Nevada, the Sheep Creek Rare Earth Project in Montana, and the Haynes Cobalt, the Long Canyon Uranium and the Lemhi Pass Rare Earth projects in Idaho.
Contact reporter Laura Lundquist at lundquist@missoulacurrent.com.