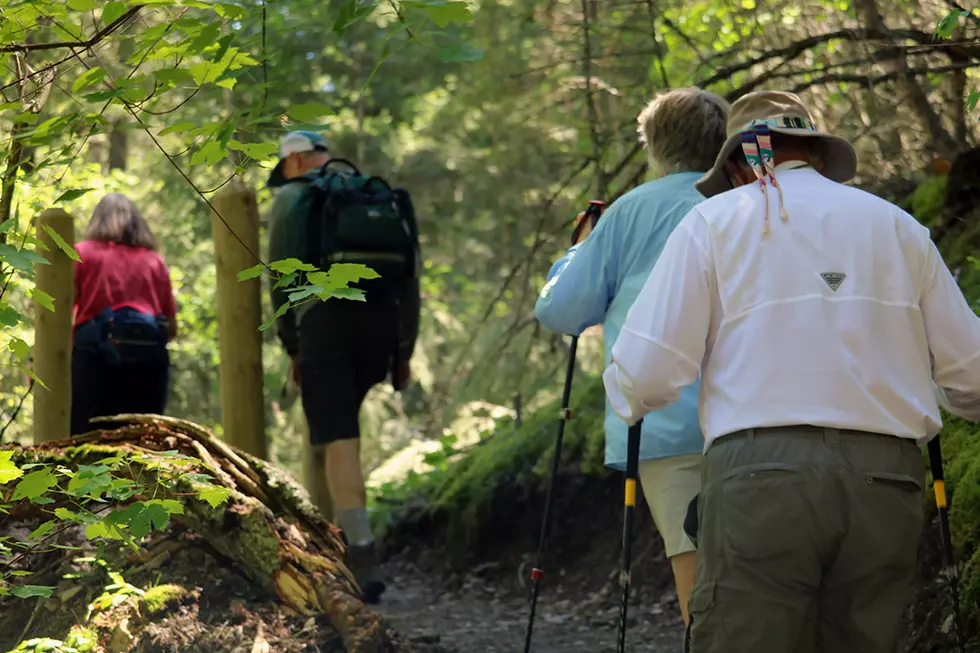 By resolution, Missoula City Council urges Congress to reauthorize troubled LWCF
Hikers set out on a newly opened trail in Missoula over the summer. The City Council adopted a resolution urging Congress to reauthorize the Land and Water Conservation Fund, saying it holds a wide range of benefits to the local community. (Missoula Current file photo)
Members of the Missoula City Council on Wednesday unanimously adopted a resolution urging Congress to reauthorize the Land and Water Conservation Fund, saying it supports local jobs and holds benefits beyond the nation's public lands.
The fund expired in September and remains locked in Congress. While bipartisan legislation exists to restore it, Congress has yet to act, though the City Council remains hopeful that will change with expressed support from communities across the country.
"I try to be restrained in coming forward with these (resolutions)," said City Council president Bryan von Lossberg. "But I think this is a non-controversial one. All of Montana's congressional delegation – both Sen. Daines and Tester and Rep. Gianforte – have expressed support for the fund in various forms."
Montana's congressional delegation has pledged to work together to fully restore LWCF, stating the opportunity to do so might present itself after the midterm elections. Daines has said the fund costs taxpayers nothing and holds benefits that "extend from coast to coast."
Tester, who was reelected to his third term in November, has expressed similar sentiments.
"The Land and Water Conservation Fund is arguably the best tool we have to increase public access to our public lands," Tester said in a September press call.
Gianforte, who also survived his reelection bid, voted in the House Natural Resources Committee in September to reauthorize the fund. He said the program has invested in 42,000 projects nationwide that bring a range of benefits, from expanding public access to preserving ecosystems.
"I know how important LWCF is to Montana, and I support its permanent reauthorization," Gianforte told the committee. "I will continue being a strong voice for the LWCF, as it helps preserve and expand Montanans' access to our public lands."
The city's resolution also iterates the fund's importance, calling it a critical tool in conserving national parks and historic sites, watersheds, working forests and wildlife habitat.
To the surprise of some on City Council, it also has benefited city parks, trails and open space. All told, the program supports state and local assets that contribute $7.1 billion annually to the economy and buoys 71,000 jobs.
"The reason I brought this forward and wanted to get this out there – the LWCF expired at the end of September," von Lossberg said. "There's an opportunity to reauthorize and fund it. There's bipartisan legislation that exists in Congress that would do that. I think it's worth the city weighing in."
According to the resolution, the state has received more than 775 grants under the program, including 18 to the city of Missoula. Over the past 53 years, the fund has supported a number of city parks, including Caras, and helped add to the city's non-motorized trails, such as the Milwaukee and Bitterroot commuter system.
"Recreating on our open lands is probably the biggest economic driver in the state of Montana," said council member Julie Armstrong. "This bill expiring disproportionately affected our state, in particular. It has support from every one of our elected legislators and congressmen and senators."