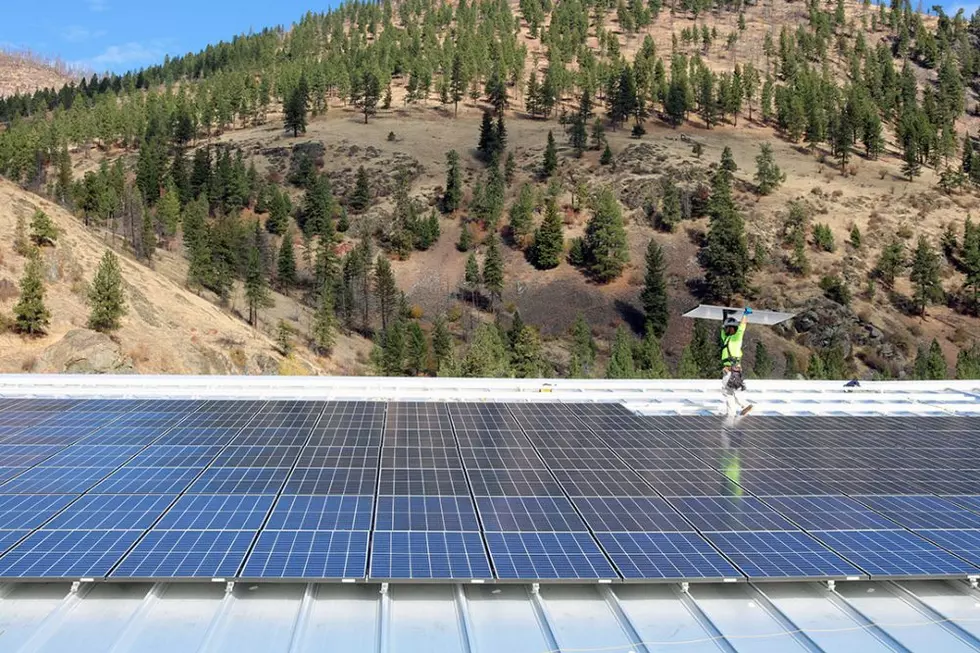 Missoula County considers proposal for rooftop solar array on detention center
Missoula Electric Coop and Kettlehouse Brewery joined forces for a large solar installation in Bonner several years ago. Missoula County is looking to install an array on the roof of the Missoula County Detention Center. (Missoula Current file photo)
A rooftop solar array at the Missoula County Detention Center could help supply the facility with 20% of its total electricity, a significant figure given that it consumes one third of all the electricity used by county government.
To get there, however, commissioners and the investor, Serock Energy, must flesh out the details of the contract and its funding arrangements, and do so by the end of this month before the current 26% investment tax credit expires.
Diana Maneta, the county's energy and conservation coordinator, said Serock is looking to take advantage of the tax credit as part of its investment in the detention center.
"As a public entity, the county couldn't take advantage of that tax credit on its own, but it can indirectly by working with a private investor who makes the investment in the equipment," said Maneta. "It's a novel arrangement for Montana, but it's common in other states as a way to make renewable energy investments more cost effective for local governments and, by extension, for tax payers."
The detention center uses more energy by far than any other county facility. Maneta said it represents about 33% of the county's total energy consumption. But it also has a large flat roof with no shading, making it a good candidate for a solar array.
With its goals on carbon neutrality in government operations and a community goal of achieving 100% clean electricity by 2030, the county began looking at a solar array on the jail earlier this year. It contracted On Site Energy to complete an assessment and design.
That design, estimated at around $450,000, suggested that an array at the detention center could produce 472 kilowatts of DC electricity, or 372 kilowatts of AC electricity. Added up and it accounts for about 20% of all the electricity consumed by the facility.
"It would make it, if installed, the largest rooftop solar array in the state by a good margin," said Maneta. "It would be a non-export system, meaning all the energy generated by the array would be used on site by the detention facility. It would never be exported to the grid, which distinguishes it from a net metering system."
Serock Energy has provided the county with a letter of intent, expressing interest in the project. But county commissioners aren't yet sold on the arrangement, in part due to certain language in the preliminary proposal.
That includes what Maneta described as a 2% escalation rate – an assumption based on estimates that energy costs will naturally increase by 2% each year. But NorthWestern Energy just filed a rate case last year, and it's unlikely rates will increase over the next five years.
"If financing was our only question, we wouldn't do this. We could do a traditional type of financing and get it done," said Commissioner Josh Slotnick. "But this hasn't been done in the state, and if we can pull this off and not put ourselves at risk, we'd be opening the door to other public entities across the state to use this as a financing structure."
With a change in administrations coming in January, commissioners believe that President-elect Joe Biden and House Democrats will likely invest in renewable sources as they get serious about tackling climate change.
That may bring new tax incentives, which the county intends on exploring before it makes a final decision. At the same time, however, they believe the deal with Serock could be a novel and fruitful one if the investor is willing to negotiate aspects of its proposal.
"I don't see this putting ourselves in any positions of great risk," said Commissioner Dave Strohmaier. "There could be some cost savings associated with this. It's precedent setting and could be breaking the ice for other communities across Montana."