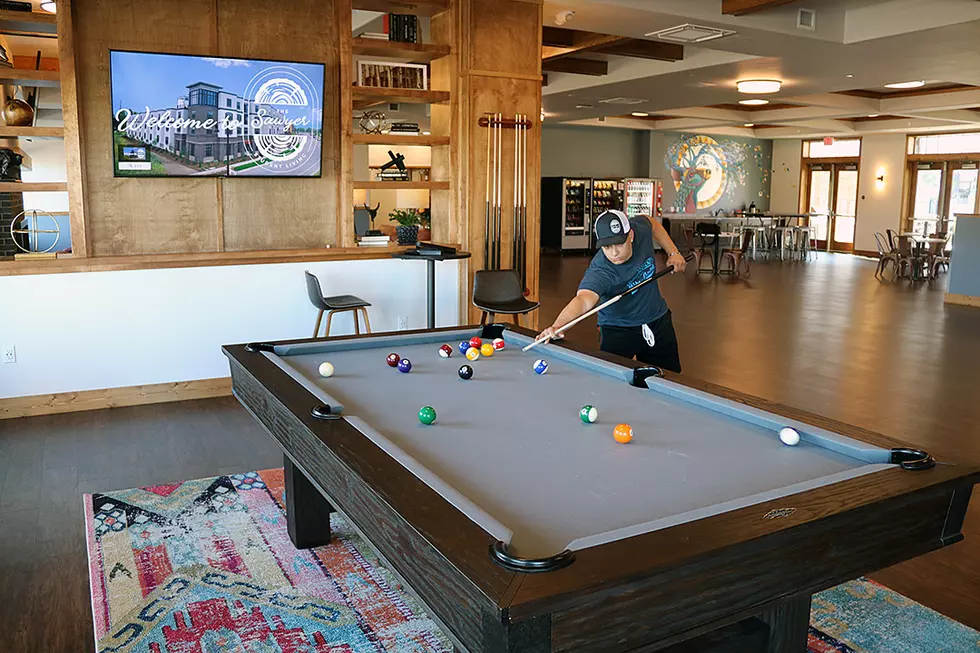 Swanky Sawyer Student Living opens as UM students head back to class
Kasper, a University of Montana dance student from Inglewood, California, shoots pool Monday morning at the new Sawyer Student Living facility in the Old Sawmill District. The residence opened last week, just in time for the fall semester. (Martin Kidston/Missoula Current)
The second student housing project to hit Missoula in as many years opened its doors to residents this weekend, just in time for fall semester at the University of Montana.
On Monday, many of those students had settled in, though others continued to arrive before classes start this week. The courtyard furniture lay in wait, as did the volleyball court, pool table and other swanky amenities.
"We had our big move-in day on Thursday last week, and they're continuing to trickle in leading up to the start of school," said Catie Peissig, manager at Sawyer Student Living. "Over the past couple of weeks, as students are coming back to town or trying to finalize housing arrangements, we've seen traffic pick up quite a bit."
Sawyer Student Living represents the latest addition to the Old Sawmill District, a multi-million dollar infill project near downtown Missoula.
Nearly 15 years in the making, the facility includes 57 units and 218 beds. Rooms range from two to four bedrooms and include a private bath with a shared kitchen and living area.
"We still have availability in our four-bedroom, four-bath floor plan," said Peissig. "Having the building open, they can come in, see what it looks like, explore the amenity space and get a good idea of what it would actually be like to live here."
Nearly eight years ago, city and university leaders joined together in their call for safe student housing, saying too many students living off campus were relegated to old apartments and unsafe living standards.
Last year, ROAM student housing opened in downtown Missoula, followed this week by Sawyer. The two facilities are fancy given yesterday's student housing standards, and both are packed with modern amenities.
Space at Sawyer leases for around $640 a month.
"I ended up moving here because I attended Ballet Without Borders and fell in love with Montana," said Kasper, a sophomore dance student from Inglewood, California. "We're a good four days in and there's already a sense of community."
While it took years to break ground after a lengthy remediation of an old lumber mill, the Old Sawmill District has evolved into an urban hub within walking distance of downtown Missoula.
The project includes a number of completed condo units and Cambium Place, which houses a number of businesses. Other projects on tap include a restaurant and tech campus, along with an active senior living center.
Overall, the district will include around 700 residential units and 150,000 square feet of commercial space.
"Students have a contagious energy and excitement that will bring a different kind of vibrancy to the neighborhood," said Peissig. The Sawyer has some unique offerings that I think residents and all students will be able to enjoy."