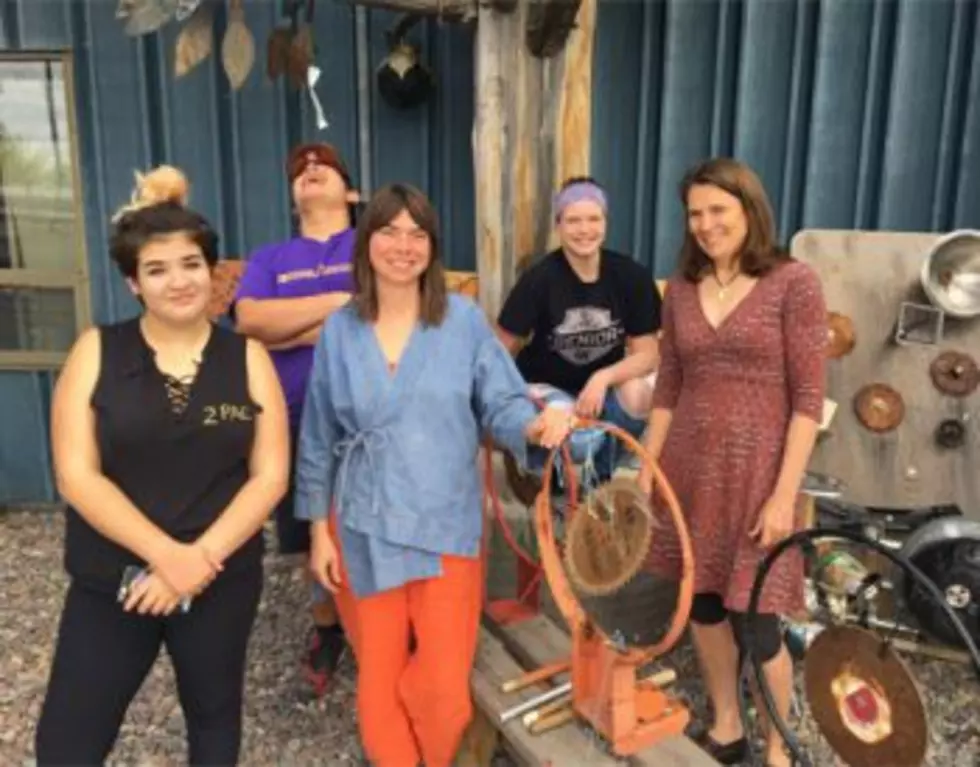 Sustainable Missoula: Sustainability is human, too
Katie with Home ReSource's 2018 Youth Intern Program participants.
I am an educator, an ecologist, a social worker and a mother. Right now, I serve as the Executive Director at Home ReSource, a Community Sustainability Center.
In 2003, Home ReSource was founded by two University of Montana Environmental Studies students who worked the magic, pulled the hairs, and sweated the litres that go into starting a non-profit organization because they felt so strongly about reducing the waste generated by the building industry and because they knew that many of those materials have value, and are needed in the community.
They started a retail store that meets its environmental sustainability mission by keeping, everyday, two and a half tons of material out of the landfill, reducing pollution and the demand on natural resources that new materials create and providing people with green jobs. It is a powerful model of sustainability.
The ecologist in me has long been familiar with this now heavily-used concept. Healthy ecosystems are self-sustaining because the system's materials-use loop closes back on itself, so that whatever is being used in the moment will still be available and productive in the system later (though maybe not in the same form).
I was attracted to working for Home ReSource because of the powerful positive climate and environmental impacts the organization generates by helping the community reduce, reuse and recycle (thereby saving energy, keeping materials local, and reducing resource extraction) and by the organization's triple-bottom-line business model which puts social and ecological "profit" on equal footing with its economic profit.
The social worker in me was less familiar, but intrigued, with how sustainability plays out in the social and economic milieu. When I worked in wildlife conservation, the trend was to increasingly recognize and include the importance of people living well and thoughtfully on the landscape.
Environmentalists were struggling with the shift from the belief that the healthiest landscapes were often those where "man is a visitor and does not remain", to considering how to manage working landscapes for people and wildlife; and from rugged, usually privileged, individuals saving charismatic species to collaborative efforts that teach co-existence with the entire arc of native wildlife population.
I made the shift to social work in response to feeling weary over consistent conflict over the means to achieve conservation ends and because I was hungry to find a way to meaningfully include people, the vast and glorious diversity of us, in the effort to keep the natural world that connects and sustains us all functioning.
I quickly came to understand why environmentalists, myself included, were labeled "elitists," as we champion a cause that extends far into a future that many don't have the resources to even imagine, and promotes benefits, like solitude in wild nature, that many will never enjoy. When pushed, many default to the argument that we can have many jobs or a healthy environment; that we can meet human resource needs or the needs of native species, but not both.
This perspective is a sobering one, especially in its potential to set up the dichotomy that to obtain one of the worthy goals of sustainability - healthy landscapes or social justice - inherently reduces the resources available to the other.
It is a false dichotomy, and my experience at Home ReSource has proven that out. Our story turns that implied zero-sum mindset of people vs. the environment on its head. Here, the more waste we keep out of the landfill, the bigger our positive environmental impact. And the more we do those things, the more work we have sorting, cleaning, and stocking materials; the more employees and a greater diversity of staff we need, allowing more customers that shop and donate and are exposed to a successful green business; the more affordable materials that are available to the community; the more people who learn about reuse; the more money and materials that stay in the local economy; and the more people who feel connected and engaged in their community add up to powerful, positive cultural change.
One of the programs that strengthens this sustainable loop is our Work Programs, through which we hire and offer green-building-skills training to people who are experiencing barriers to employment such as developmental and physical disabilities, youth, elders, histories of incarceration, addiction, or trauma and that frequently tumble them into (or arise out of) a cycle of poverty that would break the best of us.
This leading edge of "sustainability" looks gritty and rough - the work is dirty and tiring and rather endless, and from a management perspective, the challenges and benefits of broadening our community, enduring random lectures, no-shows, and experiencing devilish humor, fierce loyalty and bitter heartbreak are incalculable. But at the end of the day we provide meaningful work with dignity that comes with genuine belonging to a tough and scrappy tribe.
Many of our work program participants have previously gotten the message that they don't have value; that they are the throw-aways of the human world; that there is no place for them; that they don't belong and have no power. And there can be no more foolish, significant or wasteful waste than not keeping each precious individual secured within and contributing to the loop of human ecology.
The mother in me will always worry about my children's future - and, if not mine, then yours. I carry a load of grief (about loss of natural systems and native wisdom, persistent discrimination and oppression, climate change, war, systemic human degradation to name few) and fear about how today's challenges will unfold tomorrow. The mother in me is determined to use my power to alchemize the zero-sum mindset that grief and fear dispatch into a bounty of purposeful action and connection that propels us to a brighter future.
As we recreate our food, waste, energy and transportation systems to be sustainable in the environmentally accepted sense of that word, we must also recreate our power systems to make them socially sustainable - just - in their very design. At Home Resource, we are working to build and model an integrated model of sustainability with equal and mutually supporting emphasis on social, environmental, economic, and community sustainability.
Whatever we call it, we need to start with a closed system for people and materials, where no person falls off the precipice of dignity, caring or the ability to support themselves and materials are not used with no thought to where they come from or where they go. Sustainability is not about how we manage waste once we create it, but about not accepting the concept of "throw-aways," human or material, in the first place.
Getting to that end is not optional if we hope to achieve the bright future that we all envision for future generations, it is an imperative; one that asks us to work our very hardest for whatever good we can do in our lives each day and then open ourselves to the songs that the stars sing of a sustainable and just vision even on the darkest of nights. We will recognize the tune. We just need to take it up and sing.
Katie Deuel is the Executive Director at Home ReSource. This Sustainable Missoula column is brought to you – via the Missoula Current – every week by Climate Smart Missoula and Home ReSource.
Sustainability Happenings
As COVID-19 has altered many community events, some have moved on-line or found creative outlets. Here we offer ideas about sustainable ways to stay involved in our community. If you like these offerings, consider signing up for Climate Smart's eNewsletter here. And sign up for Home ReSource's eNews via their homepage here.
Weekly through September 3. Montana Renewable Energy Association's Summer Series. Thursdays at 12:30 p.m., join in on virtual lunchtime presentations about renewable energy topics. More details and RSVP here.
August 15-September 30. Bike to Barns farm tour. Join CFAC exploring local farms and flavors on a self-guided 15-mile bike tour through Missoula's Orchard Homes and Target Range neighborhoods. Register here by September 15.
September 10, 4 – 5:30 pm. Decarbonize Your Money: Investments, Banking, Offsets. Hosted by Families for a Livable Climate, this happy hour Zoom panel discussion will focus on how to decarbonize your money from personal investments, and business or organizational investments, to where you bank. And we will dive into the value of (LOCAL) carbon offsets. See more details and sign up to register.
September 12. Spontaneous Construction (SponCon) at Home ReSource. SponCon is a building contest and celebration of reuse in which teams compete to build their greatest creations out of Home ReSource materials. Register online today!
September 13-26. Missoula in Motion's Commuter Challenge. Create or join your workplace team and log your sustainable trips to win prizes. Yes, working from home counts!
September 21-26. MUD Garden Party. Missoula Urban Demonstration Project is hosting a week of virtual events to demonstrate, inspire, and engage with sustainability projects at home.
Find more activities and events at Missoulaevents.net and on Montana Environmental
Information Center's Conservation Calendar.