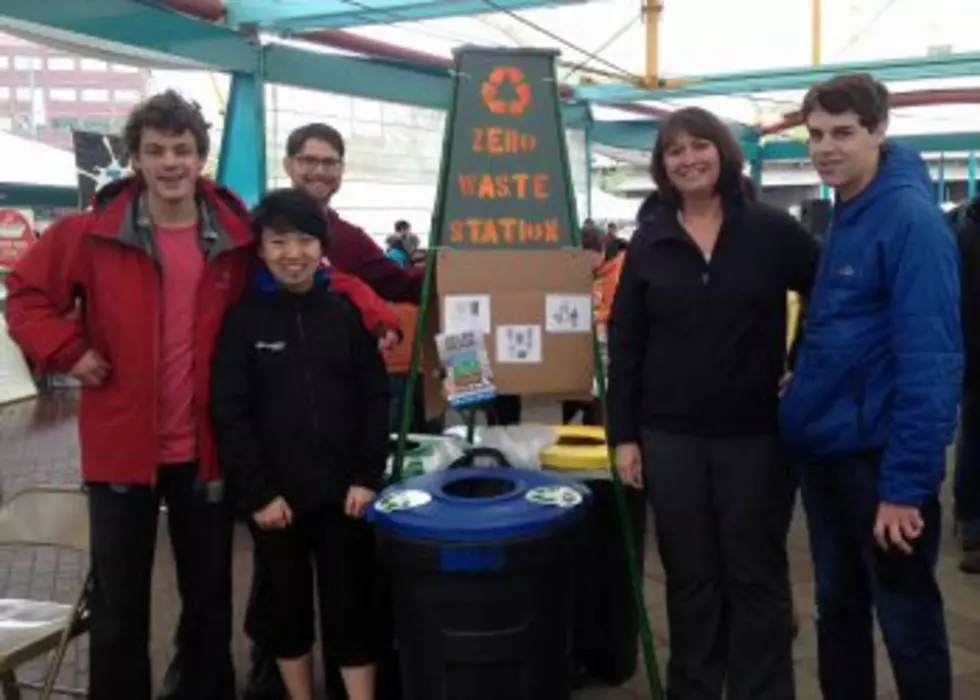 Sustainable Missoula: Zero waste plays major part in fight against climate change
Zero Waste Ambassadors staff a zero waste station during an event. (Courtesy photo)
According to the UN's Intergovernmental Panel on Climate Change, we have about 10 years to make the sweeping transformations needed to keep climate change manageable.
That is a scary prospect, and elicits a sense of urgency in many of us to take action as quickly as possible. Climate experts talk about reducing our carbon footprint by transforming energy systems and reducing transportation; and often fail to mention the important role that zero waste systems play in climate change mitigation.
The direct effects of an increasingly warming climate could significantly impact our quality of life. Local effects of climate change include hotter summers and warmer winters, resulting in a thinner snowpack and early spring run-off. We are likely to see more frequent and intense wildfires, an increased distribution of certain diseases and infestations, and significant health and economic impacts.
Our most vulnerable populations, including low income and elderly residents, will be most strongly impacted by the effects of climate change.
In an effort to lessen our own carbon emissions, we may commit to riding our bike more often or to using solar energy in our homes. In addition to such efforts, we should also consider the emissions associated with our consumption and disposal habits. An estimated forty percent of all global greenhouse gas (GHG) emissions come from extracting, producing, transporting, consuming, and discarding all of the "stuff" and food that we buy and use.
The more we purchase and discard, the more energy we need to make and distribute new materials. We can reduce the demand for fossil fuels by purchasing less, paying attention to the resources used to make the stuff we do buy, considering products designed for a long life, and ensuring best end-of-life use.
The most common end-of-life scenario for stuff we consume is to end up in the landfill. Landfills are a significant source of methane emissions. As organic materials such as food waste, paper, and yard trimmings are placed into the anaerobic environment of a landfill, they release methane as they break down.
Methane is an incredibly potent GHG, as much as 72 times more potent than Carbon Dioxide (CO2) over a 20-year period. Landfill gas capture systems are far from a perfect solution, with a significant amount of GHG and other air pollutants escaping into the atmosphere. In addition, materials that are landfilled or incinerated need to be replaced, bringing us back to the emissions associated with extraction, production, and transportation of the replacement.
The good news is that we have the opportunity to completely eliminate landfill methane production by keeping these materials out of our trash bins, by putting them into the compost or recycling bins instead.
One great aspect of Zero Waste strategies is that there are so many that Missoula residents and businesses can start doing today. By actively following the zero waste tenets of reduce, reuse, recycle, and compost, our community can significantly lower its GHG emissions.
The City of Missoula passed the Zero by Fifty resolution targeting zero waste by 2050, adopted the Zero by Fifty plan detailing how to do it, and  is committed to making sure that individuals and businesses have the know-how (or skills) and infrastructure needed to keep materials from ending up in the landfill. We have many opportunities to get involved in waste reduction efforts, from volunteering to keep building materials out of the landfill with Home ReSource to participating in glass recycling events to zero wasting your own party or event.
Many local businesses provide opportunities to purchase high quality goods, local foods, and sustainable products. Wherever you go, keep zero waste in mind as you work to reduce your carbon footprint.
Leigh Ratterman is the Zero Waste Systems Manager for Home ReSource. This column is part of a 2020 weekly Missoula Current series, Sustainable Missoula, which highlights community sustainability efforts.
Upcoming sustainability events:
Every Friday. Missoula Friday Climate Strike. Noon – 1pm. February strikes are at NorthWestern Energy's Headquarters. Stand in solidarity with climate strikers around the world. Coordinated by Families for a Livable Climate and Sunrise Missoula. More here.
Now through mid-March. Dear Tomorrow Missoula letter writing project, sponsored by Climate Smart Missoula and Families for a Livable Climate. Dear Tomorrow is a global storytelling project focused on sharing personal messages about climate change to inspire action. Details here.
Solar Happy Hour! Wednesday, March 18th, 4:30pm-6:30pm at Imagine Nation Brewing Co. 1151 W. Broadway St. Missoula. Join Climate Smart Missoua, Montana Renewable Energy Association, and Clearwater Credit Union for a laid-back informal happy hour where you will learn all about "going solar."
Run for the Trees. Saturday, April 11th, 10am - 1pm. Run Wild Missoula is partnering with Missoula Parks & Recreation to offer the Missoula community the 28th annual Run for the Trees event. Come out and show your support for Missoula's Urban Forest! Register here.