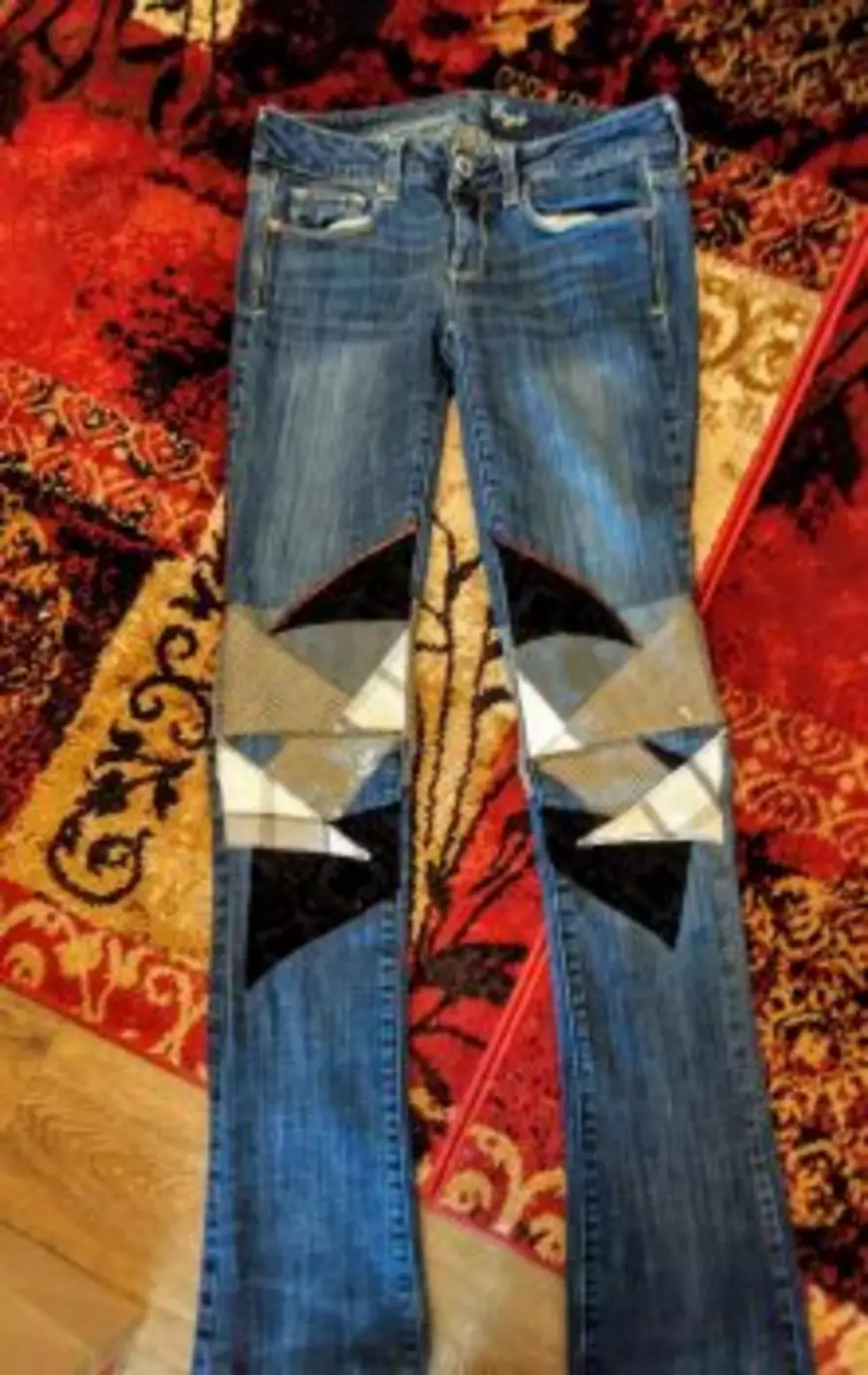 Sustainable Missoula: Repurposing textiles requires creativity, thrift and ethics
A pair of jeans, with fabric scraps to cover holes and add length.
Need and creativity have always been interwoven. Our ancestors learned to create wearable protection and temperature control from the skin and hair of animals and the fibers of plants. While meeting the specific needs of their climates, they developed designs which identified who a person was, where they lived, and what they did. Many fiber arts such as embroidery and quilting emerged from the need to preserve resources, including labor, by extending the usable life of textiles.
I grew up in a subculture which placed high value on traditional skills for familial self-sufficiency. My parents taught us to garden; raise animals for food and fiber; to cook; to preserve food through canning and drying; and to create items through sewing, leatherwork, braiding, and woodworking.
My mother found ways to grow vegetables in the tiniest of spaces, combining them with canned and dried foods from the pantry to create nourishing meals on a very small budget. Clothing my mother sewed for me was worn by my sisters and then many cousins before returning to our home for my youngest sister. Fabric scraps became quilts. We'd trace their lines and recite the history of each carefully re-used piece.
I was a very young wife and became a young single mother. My three children learned few of these traditional skills as I didn't have the time or energy to teach them. With my children now grown, I've returned to sewing and am gaining new appreciation for my mother's skill and patience. My motivation is different than hers, but the skills are the same.
I enjoy the creative challenge of using repurposed and left-over fabrics, and extending the life of clothing through embroidery, darning, patching, and minor alterations. My altered and handmade clothing reflects my personality and fits better than any I could buy new. I'm helping my college student daughter save money by repairing her jeans and teaching her to sew new clothing from old bed linens.
The idea that we can easily acquire more clothing, shoes, and other textile goods when our current items become worn, stained, or merely uninteresting is a recent one. As we gain greater understanding of our global economy and the high human and environmental toll of the low prices we enjoy, it becomes clear that there is no endless abundance from which we can continue to draw and that where an item goes after we discard it is part of its cost of creation.
Did the people who created that clothing risk their lives to do so? The answer is more likely to be "yes" than you might think. Did the raw materials come from petroleum, plants, or animals? How were the animals treated and did they die to produce that material? How much water was used to grow the plants and what pesticides were used? What chemical processes were used to change the plant fibers into a form that can be spun into threads and yarns? What dyes were used? Was the water from these processes returned to a drinkable state or cycled back for reuse in that process, or was it discharged as pollution? Who provided the labor? Were they compensated fairly? How was their health affected by the chemicals and processes? Would we consider their working conditions acceptable? Are we willing to be responsible, by our purchasing choices, for all this? What happens to our textiles when we discard them? Will they be re-used or made into something new? Will they rot? For how many generations will they persist in a landfill or as plastic microfibers in our oceans?
Purchasing clothing from companies which take these factors into account and provide transparency in their sourcing and production requires a certain level of economic privilege. There are other, more financially accessible, ways to reduce the impact of our clothing choices. We can do as our ancestors did: continue using what already exists. We can trade or purchase second-hand. We can learn simple repairs and alterations to extend the life of our clothing and repurpose items to our needs. Resources, online and local, can show us avenues to creative expression and reduced waste.
The principles outlined above apply to far more than textiles. Home ReSource is hosting Fixit Clinics every two months through the summer, where you can bring worn or damaged clothing, small electrical items, and small engines such as lawn mowers and weed trimmers. Fixit Coaches will be there with needed tools and supplies to help you learn to repair your items and keep using them, saving your money and the Earth's resources.
Katrina Dalrymple has lived in Missoula since 1997. When she's not at work, she pursues creative hobbies with obsessive zeal and shares her skills with several sustainability-focused nonprofits. Recently, she's been exploring mending techniques as both a practical way to save money and as an art form, and has been teaching these skills at workshops through Montana LINC, Free Cycles, and Home ReSource.
This Sustainable Missoula column is brought to you – via the Missoula Current – every Friday by Climate Smart Missoula and Home ReSource.
Upcoming Sustainability Events:
June 15. Build a Rain Barrel Workshop. Scroll down page to workshops. At the MUD project, 9am to noon.
June 15. Fixit Clinic. On this special pre-Father's Day Fixit Clinic, you can exercise your right to repair with your Dad's favorite broken things. Why buy more stuff when you can choose to give the gift of repair? At the Home ReSource Community Room, 1515 Wyoming St., 11am - 3pm
June 19. Montana Move to Amend meeting. Working on a constitutional amendment to declare that corporations are not persons and money is not speech. All welcome. At the Missoula Public Library meeting room, 501 E. Main, 7pm.
June 20. Free showing of Paris to Pittsburgh, followed by a panel discussion. Hosted by Climate Smart Missoula and Families for a Livable Climate. At The Roxy Theater, 7pm.
View more climate and energy events via Climate Smart Missoula's Calendar.
There are many more conservation events for 2019 at this link.