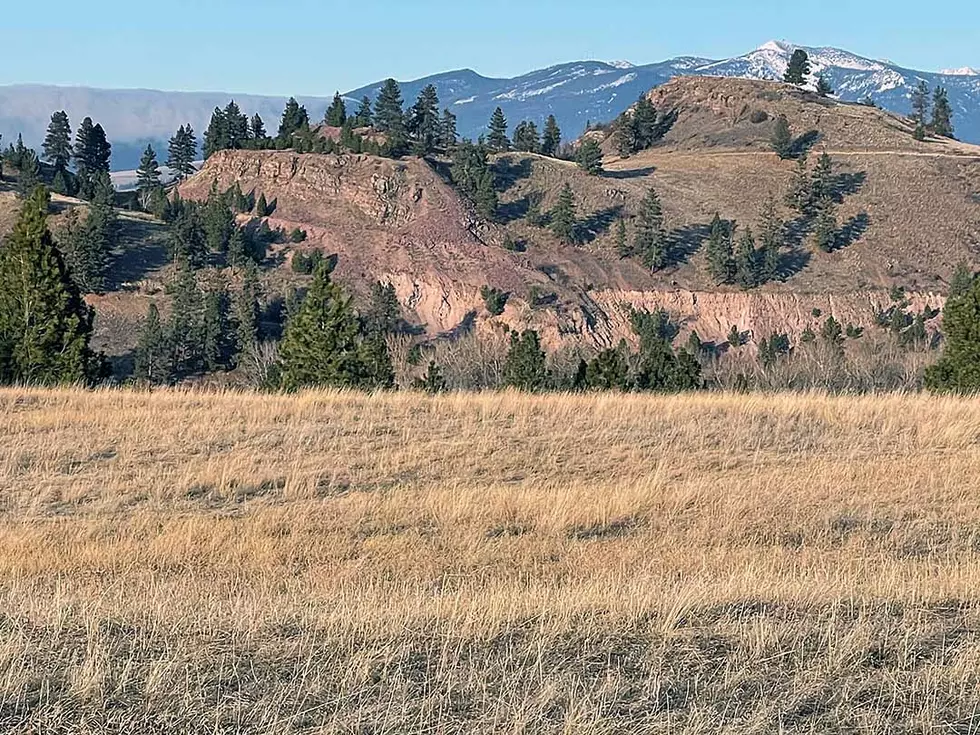 Target Range subdivision near protected butte continues to face uphill climb
The south side of McCauley Butte, as seen from the Blue Mountain recreation area in January. A team of developers has proposed a small subdivision on the butte's north side. (Martin Kidston/Missoula Current)
The developers behind a proposed Target Range subdivision have asked for additional time to review comments offered in opposition to their project, thus extending a county decision several more weeks.
The McCauley Meadows subdivision, proposed by Tia Tam LLC, was unanimously denied by the Consolidated Planning Board in early October. Missoula County commissioners were set to deny the project in November, but agreed to postpone their vote in light of "new information."
The county also denied an earlier version of the project two years ago.
As proposed, the project would partially sit on level ground prized for its agricultural soils at the base of McCauley Butte. A number of lots also would sit on the slope at the base of the butte, requiring road work and grading.
The subdivision would abut a 278-acre conservation easement placed on McCauley Butte several years ago. It would also occupy what opponents described as important bird habitat.
Add it all up and the project continues to face stiff opposition, despite Missoula's dire need for housing.
"We don't believe any home sites are appropriate on McCauley Butte itself," said Jim Brown with the Five Valleys Audubon Society. "McCauley Butte is a grassland habitat and has been much diminished in many places."
Brown said the butte is part of the Clark Fork River-Grass Valley Important Bird Area. It's also a cornerstone of the city's open space plan and a prominent valley landmark.
The butte's designation isn't accidental, he said. It plays a key role in continental bird migration.
"There's a lot of songbird species that migrate through this valley," he said. "The important thing is, come daylight, they sit down to avoid predators and to rest and catch up a little on their eating before they take off again on their route."
Allowing home construction on the grassy slopes of the butte would lead to direct loss of quality bird habitat, Brown said. It would also displace those birds and lead to greater disturbance – something many migrant song birds are sensitive to, he said.
"I've been a student of bird ecology for 66 years," Brown said. "I've seen a definite reduction in habitat, but also, some bird species that were once fairly easy to find and common are now very unusual. There's an incremental loss of habitat in the Missoula Valley, and that incremental loss is substantial and significant."
The developers have criticized the county for its lack of clarity on certain subdivision policies. When the project was denied two years ago, the development team reconfigured the project to address what they believed to be the county's concerns.
However, the county in November still wasn't swayed and was set to deny the project a second time. New information delayed the vote and continues to do so.
Part of that new information relates to a change in ownership of 140 acres that includes most of the butte neighboring the proposed subdivision. Anne Graham purchased the property in October from Stuart Goldberg.
Goldberg told the county that he had numerous opportunities to sell the 140 acres to various developers over the years. He declined, holding a different vision for the property.
Graham wants to use the property as an outdoor learning center.
"We plan to develop this property minimally, and to use it as an educational resource that can enhance the lives of Missoulians of all ages," Graham said. "Our purchase and intended use of this property as an educational resource came about because of the efforts of Northern Lights LLC, (which) placed the majority of the butte in conservation easement, preserving its scenic beauty for our entire community."
https://missoulacurrent.com/business/2016/07/unique-missoula-valley-wetland-provides-habitat-rare-endangered-birds/