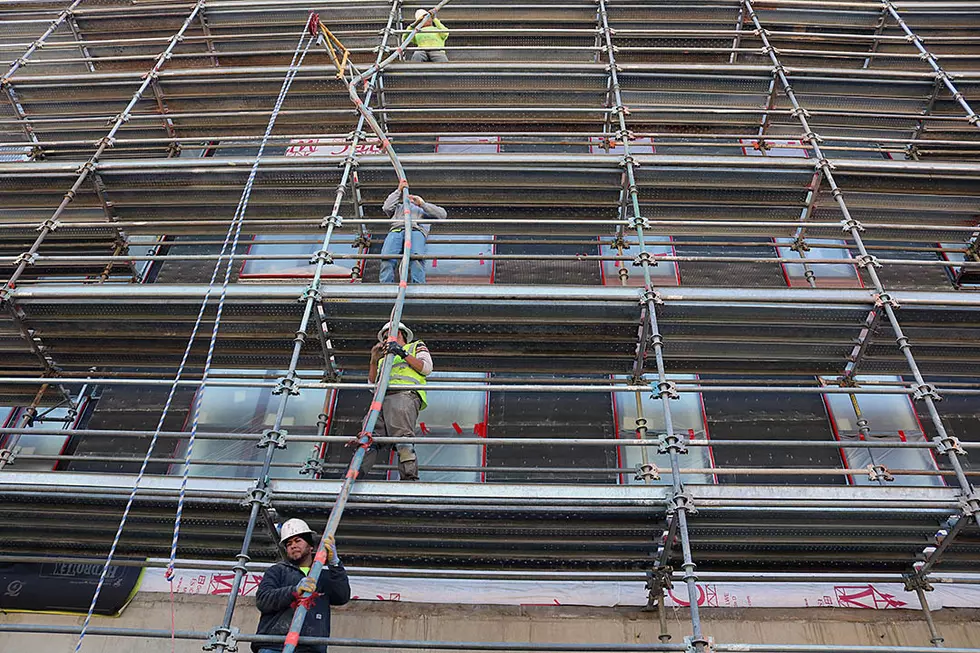 Taxable values released by DOR have Missoula city, county seeking answers
Construction crews work recently on the ROAM student housing project in downtown Missoula. Despite new construction across the city, taxable values released this week by the Montana Department of Revenue came in lower than expected, leaving the city and county questioning the figures. (Martin Kidston/Missoula Current)
Despite new construction across Missoula, taxable values released this week by the Montana Department of Revenue came in lower than expected, leaving the city and county questioning the figures.
The city on Wednesday canceled scheduled budget hearings as the administration works to interpret the figures. County officials also began a deeper look, saying DOR's numbers were lower than expected.
Both governments have requested a meeting with revenue officials.
"We're looking at all kinds of possibilities as to why," said Andrew Czorny, the county's chief financial officer. "It just doesn't smell right. It just doesn't add up."
Czorny had projected that a countywide mill would be valued at $224,587 this year. That would have marked a 2.4 percent increase over last year, when the same mill was valued at $219,323.
But instead of coming in at $224,587 as anticipated, the new mills came in at $220,300. That presents a $693,657 shortfall in the upcoming county budget.
It may also force the county to levy more mills to generate the same amount of revenue.
"We were going to levy 192.4 mills," Czorny said. "But to get the same amount of revenue, I'm going to have to levy 195.82 mills, or a 2 percent increase."
But while the figures caught the county by surprise, it may be able to absorb some of the difference due to changes in the Sheriff's Retirement System. County employees covered by the plan voted last month to discontinue paying into Social Security.
That reduces the amount of money owed by the county to match Social Security by $757,619.
"This reduction in the personnel line of the Sheriff's budget reduces the budget increase presented in the preliminary Fiscal Year 19 budget by 2.2 mills," said Anne Hughes, the county's communications director. "The commissioners could reject some of the pending budget requests from departments to further reduce the amount of property tax revenue needed to balance the budget."
DOR figures related to the city suggest an increase of $1.9 million in newly taxable property, though that figure couldn't be confirmed.
Regardless, officials said Wednesday, the figures were less than expected – a surprise given the amount of development that's taken place across Missoula the past couple of years.
"They came in less than what we expected, but we're still trying to make sense of them," said Dale Bickell, the city's chief administrative officer. "Some of the numbers just aren't adding up correctly. They were less than what we're seeing in our building permit data. That's what we're trying to reconcile with DOR."
In past years, Bickell said, there have been corrections in certified values. The city has requested a meeting with DOR to investigate the newly released figures.
"We've been reviewing our certified taxable values from the Montana Department of Revenue, which reflect far less revenue than anticipated, despite fairly conservative estimates in our budget preparation to date," Mayor John Engen stated in an email to City Council.
"I need more time to understand those numbers and will be meeting with DOR to review what is to me a counter-intuitive decrease in taxable value citywide. And, based on those numbers we've received, I need to work with our team to approach FY 19 much differently."
Council member Jesse Ramos, a frequent critic of the current administration, said real property increased $577,765 over 2017. He said the city shouldn't have expected a substantial increase, given it was the second year of the DOR's two-year valuation cycle.
"Why in the world were we assuming valuations would rise more?" he quipped in an email sent to the mayor and the City Council. "We currently have TWO year valuation periods."
Most others were left scratching their head over the DOR's figures, including Czorny.
"The value of a mill inside the city actually decreased," he said in disbelief. "Great Falls has twice the newly taxable property that the city of Missoula had. I can't imagine that kind of growth going on."