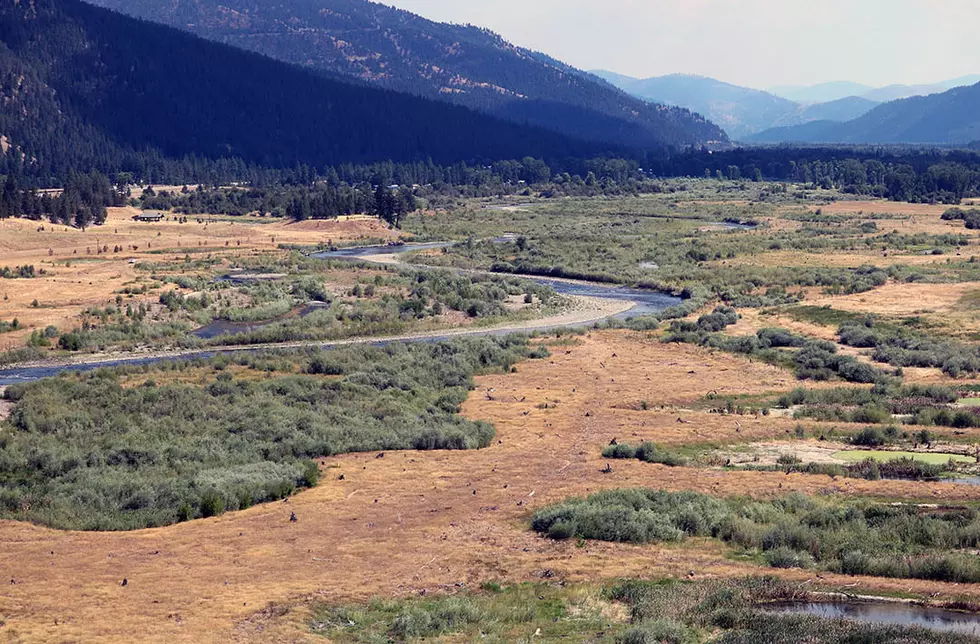 Tester to EPA: Stop slow-rolling Superfund work
The Clark Fork River above Missoula. (Martin Kidston/Missoula Current)
Laura Lundquist
(Missoula Current) The Environmental Protection Agency has sometimes balked at granting requests for more sampling on Superfund sites, and Montana's senior senator wants to see more effort.
This week during a Senate Appropriations Interior, Environment, and Related Agencies subcommittee hearing on the President's Fiscal Year 2024 budget request for the Environmental Protection Agency, Sen. Jon Tester grilled EPA Administrator Michael Regan about the EPA's slow response or lack of action on Montana's Superfund sites, particularly those dealing with "waste-in-place" remedies.
Montana has 17 active Superfund sites that still need a lot of work, the largest being Butte and the upper Clark Fork River basin. Nationwide, almost a quarter of Americans live within 3 miles of a Superfund site.
Tester asked why the Biden administration's budget request for the EPA was only a quarter of what Congress gave the EPA in the last fiscal year, 2023. The fiscal year 2023 funding included funds from the Bipartisan Infrastructure Act along with regular Congressional allocations.
Regan said the EPA was initiating an expired funding program that allows it to collect taxes on chemicals.
Under the Superfund law, parties responsible for contaminated sites must either conduct cleanups or reimburse the government for an EPA-led cleanup work. The law also created the Superfund trust, funded primarily through excise taxes imposed on the chemical and petroleum industries, which funded the EPA's clean-up efforts when responsible parties could not be identified.
These excise taxes expired in 1995 and the Superfund cleanup slowed considerably. The Infrastructure Investment and Jobs Act (the "Infrastructure Act")—signed into law in November 2021—reinstated the Superfund excise taxes. The two reinstated excise taxes are imposed on the sales of toxic chemicals, such as butane, arsenic and mercury, and chemical importers and will remain in effect through 2031.
Regan said the U.S. Treasury forecast a collection of $2.5 billion in Superfund taxes in fiscal year 2023 that could be used in 2024. So the Biden budget was asking for an additional 25% to fund a few more employees.
With the funding question answered, Tester focused on Montanans' dissatisfaction with waste-in-place remedies that are being considered in places like Butte and the Smurfit Stone mill site.
"Last year when you testified in front of this committee, I discussed this issue with you, I sent you a letter with detailed concerns. Guess what? I didn't get a response," Tester said. "We're going to start again. How can community members concerned about waste-in-place remedies receive honest answers and answers that don't come from the corporation that's responsible for the waste in the first place?"
Regan started explaining about the EPA's community engagement, but Tester cut him off and asked again how citizens are supposed to get a straight answer if a Senator can't get an answer.
Regan said the EPA has beefed up its community engagement so that it can explain the science and each remedy on a case-by-case basis.
Tester asked where the science for each case comes from; does the EPA engage with universities or neutral third parties?
For example, with the Smurfit Stone mill site, Missoula County has conducted some of its own floodplain analysis and referenced studies conducted by University of Montana graduate students. But the EPA hasn't given those much consideration.
Regan said the EPA considers various pieces of information but has some of the best remedial experts in the world.
"No, we don't take everybody's advice 100% because we're the experts," Regan said.
Tester pressed Regan asking if verification of the science included test wells being drilled, sampling being done and how flood mitigation was planned for, because most of Montana's sites are near water.
"Let me get back to you because the answer, from my vantage point, is it should be. And I believe it is," Regan said. "Because we have to do all these things to ensure that when you store waste in place for hundreds of years that is it safe for every community."
Tester concluded his round of questioning by returning to Regan's claims about the EPA's beefed-up community engagement. He pointed to a EPA meeting in Butte on Monday where residents voiced many concerns about the Superfund cleanup there. Many residents complained that little progress had been made since Butte signed a consent decree three years ago.
"Folks in Butte are frustrated with the process. And that is being kind, saying they're frustrated. I'll be blunt - you need to fix it. You need to make sure this agency is listening to folks on the ground. If it's happening in Butte, it's happening everywhere," Tester said.
It appears to be happening with the Smurfit Stone mill site. The Frenchtown Smurfit Stone Community Advisory Group and Missoula County have fought for years to get the EPA to do more groundwater, soil and river water sampling. Now the EPA has agreed to do more, but in two recent meetings, EPA employees have questioned and resisted country requests. Unfortunately, the responsible parties, not the EPA, are responsible for paying for the cleanup.
Regan told Tester that up until this year, his agency had been underfunded so it couldn't do the work it should have. Tester said that's no longer the case so Regan should do something.
"There are two ways to listen: You can listen and ignore or you can listen and take that feedback and try to do something positive for the community. That's what I want you to do," Tester said.
Contact reporter Laura Lundquist at lundquist@missoulacurrent.com.