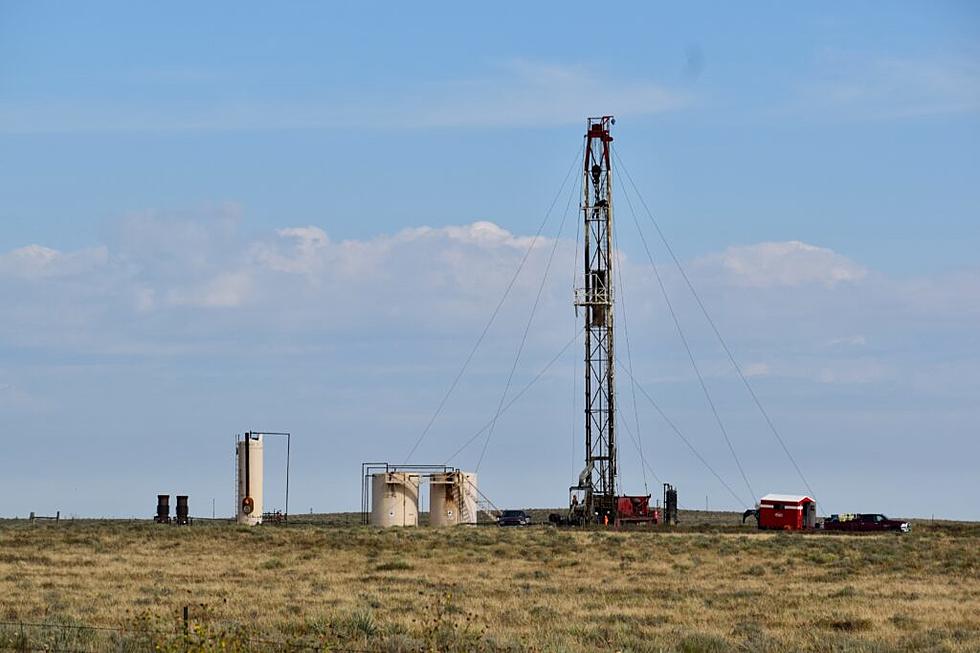 Bill to curb utility-bill volatility awaits Colorado gov's signature
A drilling rig at an oil and gas site is pictured in Bent County on Oct. 5, 2022. (Chase Woodruff/Colorado Newsline)
Chase Woodruff
(Colorado Newsline) A proposal to more strictly regulate Colorado utilities in the wake of last year's widespread sticker shock caused by spiking natural gas prices is headed to Gov. Jared Polis' desk.
Lawmakers in the General Assembly gave final approval to Senate Bill 23-291 on Monday, the last day of the 2023 legislative session. The Democratic-backed bill, which would make a variety of changes to proceedings at the state's Public Utilities Commission, was approved along party lines in both chambers of the Legislature.
The legislation was the product of hearings held earlier this year by the Joint Select Committee on Rising Utility Rates, convened by Democratic leadership following sharp increases in many Coloradans' utility bills in 2022. The average monthly payment for customers of Xcel Energy, Colorado's largest utility, rose from $115 in December 2021 to $177 a year later, even as the company reported record profits.
SB-291 would require utilities to file "gas price risk management plans" outlining strategies for addressing volatility in the natural gas market. It also directs state energy officials to study the long-term future of natural gas, and the potential risks of "stranded or underutilized" gas infrastructure as Colorado transitions away from fossil fuels.
"Coloradans are counting on us to address rising and erratic utility costs, and we're proud to move forward with this solution," said state Rep. Chris deGruy Kennedy, a Lakewood Democrat, following the bill's House passage. "This important legislation sets in motion both short- and long-term, cost-saving solutions that increase transparency and accountability to protect Coloradans from rate spikes that leave them choosing between heating their home and putting food on the table while utilities rake in record profits."
The bill would also direct the PUC to enact rules that would better incentivize utilities to keep fuel costs down. Sponsors of SB-291 argued that because privately-owned utilities pass on the full amount of spikes in commodity prices to ratepayers, they lack "skin in the game" to manage costs more effectively.
For-profit businesses
Xcel, which serves 1.5 million Colorado ratepayers, and Black Hills Energy, which serves 300,000 customers in the Pueblo area and other parts of the state, are Colorado's only two investor-owned utilities. Unlike municipally-owned utilities or rural cooperatives, investor-owned utilities are for-profit businesses that aim to deliver returns for their shareholders, and in turn are subject to close scrutiny from the PUC, a three-member panel of state regulators.
SB-291 also addresses what Democrats called "asymmetry" in the process by which the PUC approves the rates that customers pay for electricity and natural gas service, barring utilities from passing on to their customers the legal costs they incur in lobbying for rate hikes before the commission.
Xcel, Black Hills and other business groups lobbied in opposition to SB-291, which Xcel Colorado president Robert Kenney called "fatally flawed." But environmental groups cheered lawmakers' efforts to steer utilities and customers away from continued investments in natural gas.
"This historic measure will help shield Coloradans from volatile fossil gas prices and lays the foundation for a long-term transition to cleaner energy," Meera Fickling, a climate policy analyst for Western Resource Advocates, said in a statement. "(SB-291) helps ensure that the resource investments that utilities make are strategic and forward-looking, and that ratepayers won't be saddled with paying off fossil-fuel infrastructure for decades to come as our state works to decarbonize."