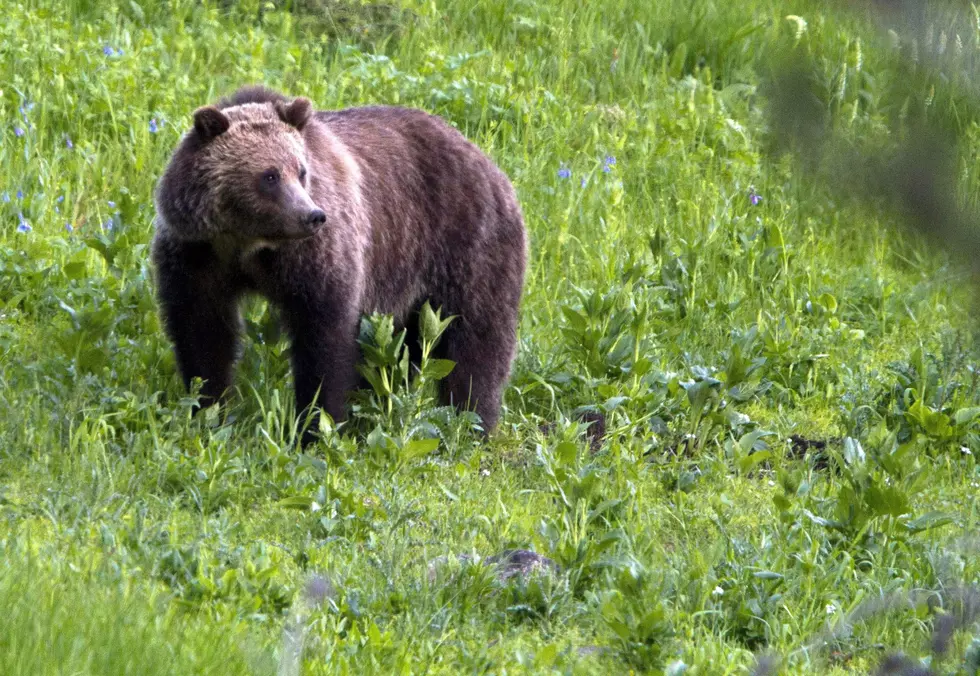 Viewpoint: A coordinated political attack against grizzlies, science
A grizzly bear roams near Beaver Lake in Yellowstone National Park, Wyo. (Jim Urquhart, File/via Courthouse News)
Dave Stalling
Attacks against grizzly bears and science is underway by state and federal lawmakers to remove federal protections, turn management over to states, circumvent the Endangered Species Act (ESA), establish trophy-hunting, and reverse years of successful efforts to restore grizzly populations in the Continental United States.
There are four bills under consideration in Congress that would remove grizzly bears from ESA protections in Montana, Wyoming, and Idaho. In addition, the governors of those states are pushing the U.S. Fish and Wildlife Service to prematurely delist grizzlies from the ESA and turn management over to the states. The reason? They claim that grizzly bear populations have reached recovery goals.
But there is more to recovery than population numbers. The ESA also requires states to establish adequate assurances that they will protect grizzly bear habitat and minimize mortality to maintain a healthy, sustainable population. Instead, the states of Montana, Wyoming, and Idaho – where the state wildlife agencies are largely funded and controlled by hunters and overseen by governor-appointed wildlife committees made up of hunters, hunting outfitters, and representatives of the agricultural industry – have exhibited a deep contempt for predators and a desire to kill as many as they can.
"It's not far-fetched to predict that if grizzly bears were delisted by congressional action at this time and turned over to state management, that legislatures and governors would do the same thing to grizzlies that they are currently trying to do to wolves: legislatively reduce grizzly numbers inside recovery zones and eliminate most grizzlies outside recovery zones," says Chris Servheen, a recently retired grizzly bear biologist for the U.S. Fish and Wildlife Service who headed up the Interagency Grizzly Bear Committee for 35 years and wrote the Grizzly Bear Recovery Plan.
Servheen previously supported the delisting of grizzlies, until state legislators – in what he referred to as "a clown car of absurdities" – began passing laws to increase the killing of wolves. In Montana, people can now annually kill up to 20 wolves (10 by trapping, and 10 by hunting) through baiting, snaring, and shooting, day and night, with the aid of night-vision optics. In most of Wyoming, wolves are classified as "varmints" and can be shot on sight with no limits.
In a recent notice of intent to sue the U.S. Fish and Wildlife Service over its "failure" to remove grizzly bears from the ESA, Idaho Governor Brad Little wrote, "Idaho's entire congressional delegation and the State of Idaho are lockstep in efforts to delist grizzly bears. Idaho has continually demonstrated leadership in species management." Attorney General Raúl Labrador added, "In their desire to stop Idahoans from hunting or managing our own destiny, they pretend Idaho cannot handle the management of species."
Yet, Idaho hired a bounty hunter to eliminate two packs of wolves on federal land in the Frank Church River of No Return Wilderness; organized wolf-killing competitions and killer co-ops to pay trappers to kill wolves; declared wolves a "disaster emergency" and allocated $2 million to killing wolves; conducted secretive aerial shooting of wolves from helicopters with no public knowledge or input, and spent $30,000 to kill 23 wolves – all as part of ongoing efforts to appease agricultural interests and hunters.
"My opinion and the opinions of many wildlife professionals have changed over the past two years," Servheen wrote in a recent opinion piece. "Science-based state wildlife management was replaced by legislation entirely founded on anti-predator misinformation and emotion."
An estimated 50,000 grizzlies once inhabited the Continental United States, from the Mexican border to Canada and from the Pacific Ocean to Hudson Bay. Those numbers dropped to about 135 by the time grizzlies were first listed under the ESA in 1975. The population size has slowly climbed in two of the six designated Recovery Zones.
There are an estimated 700-1,000 grizzlies in the Yellowstone Recovery Zone and an additional 1,000 or so bears in the Northern Continental Divide Recovery Zone. Although grizzly sightings are becoming more common in the Selway Bitterroot Recovery Zone along the Montana and Idaho border, there is not a sustainable population, yet. There are less than 50 bears in the Cabinet Yaak Recovery Zone in northwest Montana, fewer than 30 in the Selkirks of northern Idaho, and perhaps a handful, if any, in the North Cascade Recovery Zone of Washington.
Not only do grizzlies occupy less than two percent of their historic range in the lower 48, but they exist in isolated populations. Many biologists, including David Mattson, a former member of the Interagency Grizzly Bear Study Team, say that connectivity between populations is critical to long-term genetic health of the overall population.
"Yellowstone's population of 700-1,000 grizzly bears is completely isolated from all other grizzly populations and much smaller than the 2,000-plus animals widely considered necessary for long term viability," Mattson says. In addition, grizzlies face increasing challenges resulting in changes in their habitat from climate change, related loss of traditional food sources, and increased conflict with humans as the bears expand in search of alternative food sources.
"Nothing good will come from delisting grizzly bears," Mattson says. "Either for the bears themselves, or for the national constituency that cares about these animals, or for the health of our democracy. Why? Because the bears will be turned over to managers in the states of Wyoming, Montana and Idaho, who are not only the antithesis of diverse, but also slaved to the narrow special interests of hunters."
Although Mattson and Servheen have not always agreed on turning grizzly management over to the states, they both agree on this: Delisting should be based on science, not on politics driven by a disdain for predators.
"Congress is attempting to circumvent the ESA and force grizzly bear delisting through Congressional action," Servheen says. "This attempt disregards the ongoing erosion of grizzly bear regulatory mechanisms by state legislatures, as well as threats to habitat security posed by increased private land development and recreation on public lands as more people move into grizzly habitat. The ESA works because it is based on science and facts. It specifically requires that delisting decisions must be judged solely on the best available scientific data, not on the political interests of members of Congress."
An avid hunter, angler and former Force Recon Marine, David Stalling is the Director of Communications for LargeCarnivoreFund.org, and also serves on the Advisory Committee for Wildlife For All, working to reform wildlife management. He lives in Missoula, Montana.