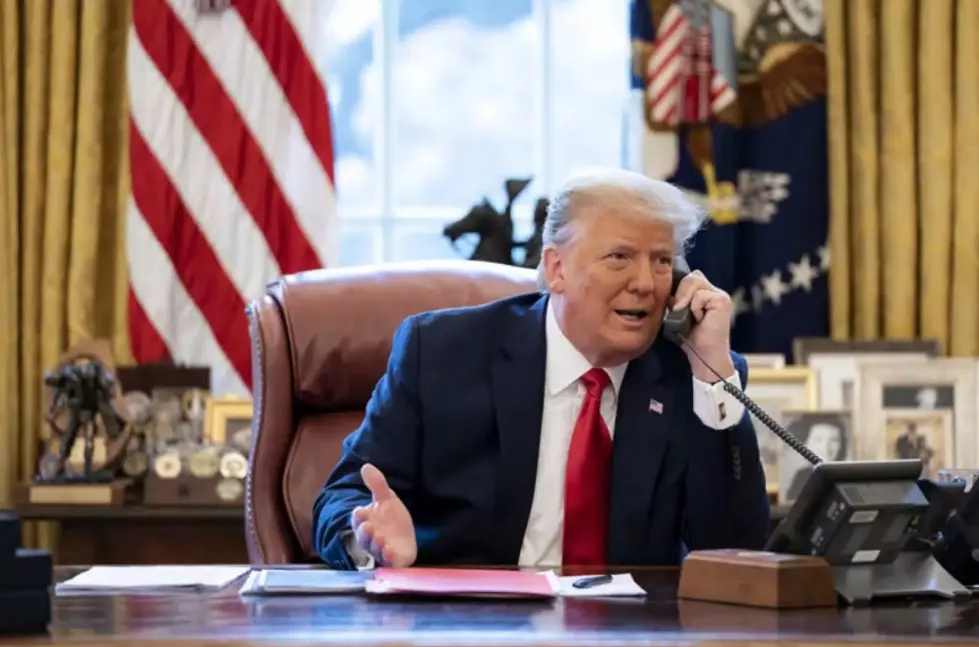 Montana Viewpoint: Malice, lies and market share
Former President Donald Trump talks on the phone to Vice President Mike Pence from the Oval Office of the White House on the morning of Jan. 6, 2021. (House Select Committee via Courthouse News)
Jim Elliott
In a Montana Viewpoint© article a month ago called "Marketing Anger," I wrote about the prevalence of anger as an economic force as well as a political force, saying "There is also the economic aspect of anger such as increasing a show's TV ratings and market share, not to mention increasing the salaries of individual anger merchants."
I was engaging in speculation, I have to admit, but that speculation now seems to have some teeth, as a document filed in a defamation lawsuit against Fox News Network makes clear.
Shortly after the 2020 election stories began circulating that the election had been manipulated and one of the alleged manipulators was an outfit named Dominion Voting Systems, whose voting machines and software were widely used in the 2020 election. It was claimed that their software made it possible to switch individual votes from one candidate to another.
It was stated also that Dominion offered kickbacks to states that used their election equipment. Faced with these accusations, Dominion took the principal disseminator of this allegation, Fox News Network, to court, stating that Fox News knew the allegations were false, but still willingly and willfully promoted them as true, and promoted them to gain back viewers who were angry at Fox because of their election coverage.
Remember that Fox News' highly respected Decision Desk was the first to call the race in Arizona for Biden in the 2020 election, thereby angering President Trump and Trump supporters alike. Even though the decision by the Decision Desk was correct, Fox began to lose viewer share to more conservative news outlets like Newsmax and OAN almost immediately.
Between the week before and the week after the election, the number of Newsmax viewers went from 58,000 to 568,000. Further, Fox News' Neilsen ratings went from first to third in the period between the election and the inauguration, according to an Associated Press story of February 23, 2023.
A defamation case against a news organization is incredibly difficult to win because of First Amendment rights. It has to be proved that the media acted with malice toward the plaintiff, and that they promoted a story even though they knew it was false.
Dominion thinks they have a pretty good case as they made clear in a recent filing in the Superior Court of Delaware, where the case is being tried. The 178-page filing, made on February 16, 2023, cites statements in emails made by Fox News executives obtained in the process of discovery as well as from depositions of Fox personnel. Fox disputes the claims and statements and will file a response soon.
[You can access the redacted version of the document at: www.documentcloud.org/documents/23684885-230216-dominion-fox ]
On November 12, according to the Dominion filing, Fox reporter Jacqui Heinrich fact-checked an election fraud tweet from President Trump and said that there was no evidence of election fraud. In response, Fox personality Tucker Carlson wrote, "Please get her fired," and then "It needs to stop immediately, like tonight. It's measurably hurting the company. The stock price is down. Not a joke."
One of the main accusers of Dominion was Trump attorney Sidney Powell who went to Fox with the story, which she claimed was revealed to her in an email from a person who wrote, "Who am I? And how do I know all of this? ... I've had the strangest dreams since I was a little girl, I was internally decapitated, and yet, I live."
After hearing of Powell's story, Carlson wrote an email to Fox Host Laura Ingraham on Nov. 18, 2020 saying, "Sidney Powell is lying by the way. I caught her. It's insane,"
Nonetheless, according to Dominion, Fox went all out to promote the election fraud issue against Dominion, thereby defaming the company. Dominion is asking $1.6 billion in damages.
"It's remarkable how weak ratings make good journalists do bad things," the filing quotes Fox executive Bill Sammons as saying.