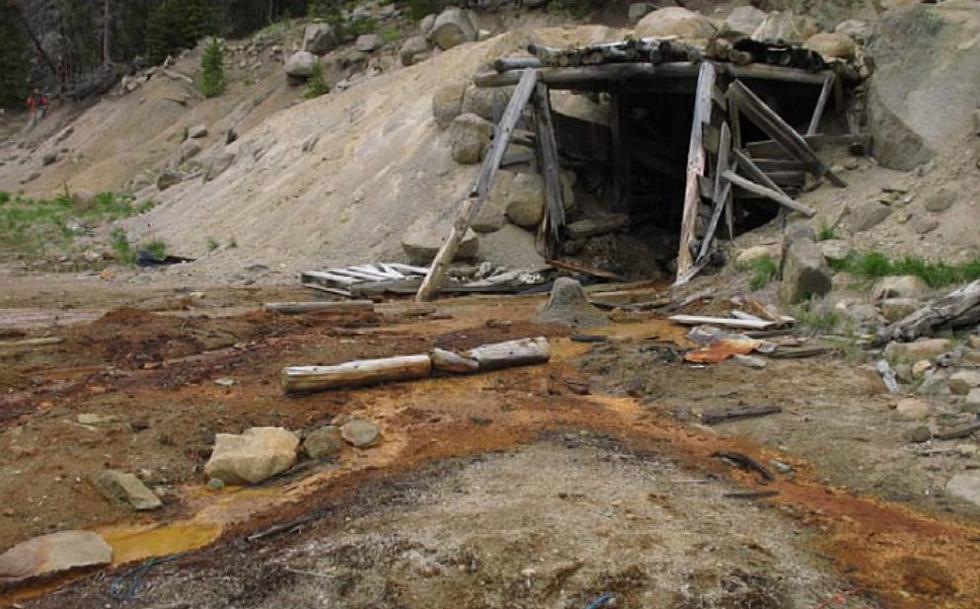 Viewpoint: New Mining push threatens Bitterroot, Salmon rivers
Acid mine drainage at the Crystal Mine within the Basin Mining Area. (U.S. Environmental Protection Agency)
Mike Bader
Rising tensions between the US and China have led the Biden Administration to announce a campaign for production of rare earth minerals used for production of electric vehicle batteries, parts for jet engines, computer chips and more.
Securing a Made in America Supply Chain for Critical Minerals is touted as "Breaking Dependence on China and Boosting Sustainable Practices." However, ramping up production of rare earths has ramifications for some of America's most iconic wildlands and rivers.
For example, existing and projected cobalt mining in the Panther Creek area in Idaho affects roadless wildlife and fish habitat just outside of the Frank Church-River of No Return Wilderness near the Main Fork of the Salmon River. In another area a special mining district was grandfathered inside the Frank and now this vast Wilderness and its salmon and bull trout populations are threatened by potential mining.
The Idaho Cobalt Belt is approximately 35 miles long. A legacy of cobalt mining, the defunct Blackbird Mine toxic waste site has nearly 7 million tons of waste rock and tailings. Copper is often found in the same places as cobalt and has resulted in fish kills.
Just east of the Frank, US Critical Materials Corp. (USCMC) recently announced that rare earth samples from the Bitterroot Mountains report grades exceeding any other domestic rare earth resource. They hold mining leases on about 4,700 acres within the Bitterroot National Forest near Sheep Creek, a tributary to the West Fork Bitterroot River. USCMC said supplies of 12 of the most essential critical minerals needed to establish a domestic supply chain are present. They estimate the deposits are worth $43 billion but that could be hype and dazzle.
The usual claims "we'll use the most environmentally responsible practices," and "this could create good local jobs" are here. That doesn't mean there can't be impacts. All energy sources harm the environment to varying degrees. Even regulators make mistakes as we saw when they breached a holding pond, releasing more than 3 million gallons of toxic mining waste that turned the Animas River in Colorado bright orange, impacting four states.
The Sheep Creek site is about the worst place for extensive mining operations. It's at the headwaters of the West Fork of the Bitterroot River partly within the 150,000 acre Allan Mountain Roadless Area spanning the Montana-Idaho border. Grizzly bear presence is verified and it is the nexus between grizzly bear movements between the Northern Continental Divide, Bitterroot and Yellowstone ecosystems. It is adjacent to the Bluejoint Wilderness Study Area.
Drilling exploration of the prospect could result in very high road density. Chemical leaching uses holding ponds or chemicals are pumped through pipes directly into the ore. The Harvard International Review found these methods "produce mountains of toxic waste with high risk of environmental and health hazards."
USCMC claims the site is far away from people. Don't believe it. Just downstream the West Fork has numerous residences, a State Park, a reservoir for agriculture and recreational boating, several campgrounds and is a fly-fishing destination. Mining is an industrial activity and there would likely be frequent truck traffic on the West Fork Road which is used by residents, school children and recreationists.
The Bitterroot River is designated as one of Montana's premier trout fisheries and with the West Fork is designated critical habitat for bull trout. Guiding and fly shops support numerous jobs. Any mine pollution could spread throughout the Bitterroot River, through Missoula and on to the Clark Fork, affecting agriculture as well as recreation.
The Bitterroot National Forest and USCMC must realize they will be held to the highest possible scrutiny on every aspect of this process. Fast-tracking is unacceptable, even for "green energy" projects.
Additional info: friendsofthebitterroot.net
Mike Bader, Missoula, is an independent consultant and researcher with emphasis on grizzly bears, a conservationist and former seasonal Yellowstone ranger and firefighter.