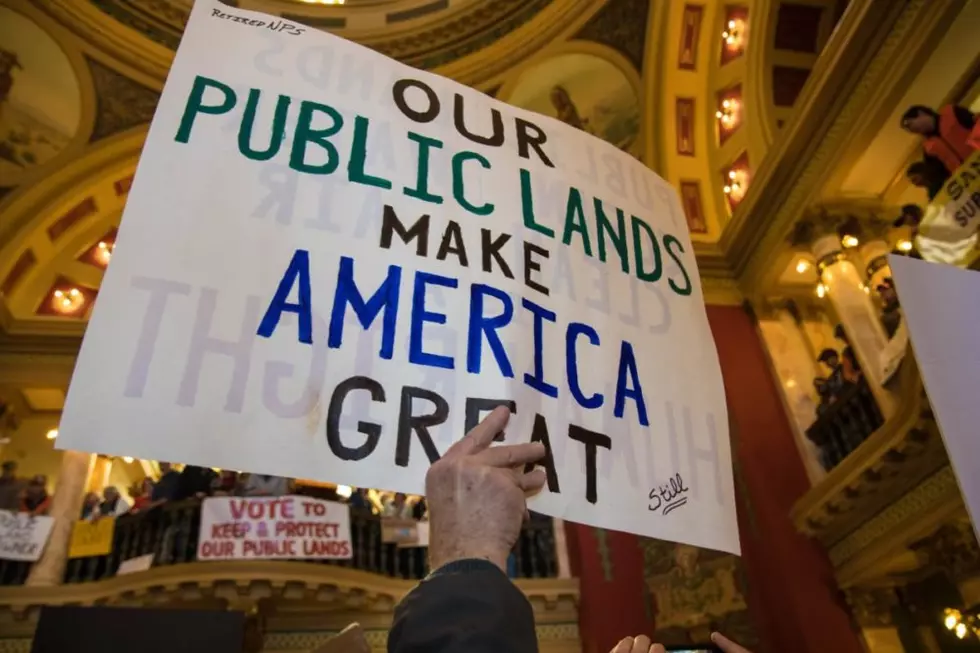 Viewpoint: Slap in the face to Montana's public land users
(Cole Grant/UM Legislative News Service)
John Todd
Governor Gianforte's veto of Senate Bill 442 hurts hunters, anglers, trail users, and wildlife. It's also unconstitutional.
130 of 150 state legislators supported SB 442. It was a lifeline for everyone who enjoys our outdoors. It was a boon for wildlife and for the activities and way of life that make Montana so special, a testament to our love for the outdoors and our commitment to preserving them for generations to come. It was crafted by a bipartisan group of legislators, local governments, and Montana organizations that put aside political differences to benefit people across Montana.
The governor's decision to veto SB 442 and put public lands on the chopping block is a slap in the face to every Montanan who has built a life on the opportunities and freedoms our outdoors provide.
The governor's veto hurts hunters and anglers. Montana's hunters and anglers rely on vast and diverse public land habitats. SB 442 would have restored $30 million to Habitat Montana, a program dedicated to enhancing public access and conserving wildlife habitat. Last fall, just months before Gianforte vetoed SB 442, Montana Fish, Wildlife & Parks – with the governor's support – used Habitat Montana funds to open access to 100,000 acres of prime elk and pronghorn hunting grounds in the Big Snowy Mountains. Now, the governor has made funding for future access projects uncertain.
His veto also slashed funding for maintaining essential county roads. Neglecting these roads makes it harder to access public lands and waters, threatening hunters' chances to experience the thrill of the hunt and anglers' to wet their lines.
The governor's veto hurts hikers and trail users. Getting out on the trails is a way of life for many Montanans. Our public land trails lead to breathtaking vistas, blue-ribbon streams, wildflower meadows, and rugged badlands. They're the arteries that connect us to the places we find solace, adventure, and connection. By choosing not to invest in public lands, the governor has shown he isn't interested in maintaining the infrastructure that lets us all enjoy our shared lands.
That decision is especially out of touch now, when historic numbers of users and record growth have pushed our public land infrastructure up to, and sometimes past, its limit. As with county roads, failing to invest in maintaining what we have threatens the access we enjoy, and allowing infrastructure to deteriorate makes it easier to justify even deeper cuts. Those few who can afford to buy or pay for access, like the governor, may not notice. But the rest of us depend on this infrastructure to experience the Montana we know and love.
The governor's veto hurts wildlife. Senate Bill 442 was poised to restore $30 million to Habitat Montana for vital game and nongame habitat conservation. It would also have secured millions for the Wildlife Habitat Improvement and Legacy Program, which supports landowners' efforts to remove noxious weeds, improve drought resiliency, and restore native plants in critical wildlife habitat on private property.
The governor's decision to kneecap investments in our outdoors is happening when our public lands and waters need more thoughtful stewardship than ever. Legislators hashed out a common-sense compromise to support access, wildlife, and public land users, but the governor sent a clear message that he thinks he is a better steward of our tax dollars and public lands than we are.
The governor's veto is unconstitutional. The Montana constitution requires that the governor and secretary of state give legislators the chance to override any veto of a bill passed with a majority exceeding two-thirds, as SB 442 was. The governor has repeatedly refused to allow that veto override process to take place. Accordingly, our organizations were left with no choice but to file suit against the governor and secretary of state, to compel them to do their duty as set out by the Montana Constitution.
Montana's public lands have always been a source of unity, a place where Montanans from all walks of life can come together to appreciate the natural beauty that surrounds us. The veto of SB 442 threatens to erode this unity and undermine the values that Montanans hold dear – a deep love for our public lands and a commitment to preserving them for future generations.
It's a shame our governor doesn't share this perspective.
John Todd is executive director of Wild Montana. Christopher Servheen is president and board chair of Montana Wildlife Federation.