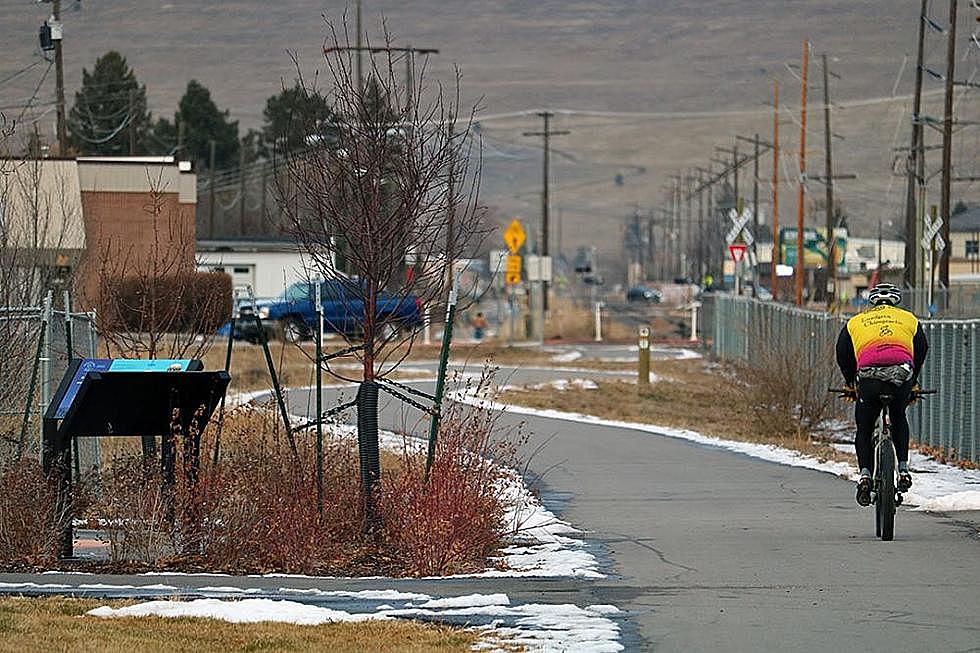 Water project to prepare city's Johnson Street property for sale, redevelopment
The Bitterroot Branch Trail runs alongside city property on Johnson Street. (Martin Kidston/Missoula Current file)
Martin Kidston
(Missoula Current) The City of Missoula will partner with a local engineering firm to design and eventually install a water main on Johnson Street to serve what's expected to be a redevelopment project down the road.
The city owns several acres of property adjacent to the proposed main and by providing adequate water flow, it's setting the stage for the sale and redevelopment of the parcel.
Instillation of the main will be funded by the Missoula Redevelopment Agency using tax increment from Urban Renewal District III.
"We worked with MRA staff to identify areas within that district that were underserved by water with the goal of removing barriers to redevelopment by providing access to municipal water and fire flow," said utilities engineer Andy Schultz.
The city purchased several acres of property off Johnson Street from Montana Rail Link in 2017. It redeveloped the property's southern half into a park and completed a gap in the Bitterroot Branch Trail.
MRA also contributed to soil remediation to remove contaminants from the site stemming from past industrial use. The agency also funded the deconstruction of a vacant building on the property's northern half, which is the section poised for redevelopment.
Schultz said the water main will provide the flows needed to meet high-density redevelopment as called for in the city's growth policy, in the event that's what lands on the site.
"The driving factor for most of these developments is the fire flow," said Schultz. "It's so much greater of a need than any domestic demand. We've got more than adequate fire flow to serve redevelopment of the Johnson Street properties."
The property is just one many acquired by the city as part of its land-banking strategy. The city also owns the old library block downtown, a parcel in the Riverfront Triangle and land off Scott Street, which is currently poised for redevelopment into a range of housing and commercial options in partnership with Ravara.
The Sleepy Inn site is also owned by the city and is being cleared of asbestos for sale and redevelopment. The city is asking $890,000 for the property, and proceeds will help feed the Affordable Housing Trust Fund.
While no particular project has been announced for the Johnson Street parcel, in the past city officials have suggested some form of mixed-use with ground-floor retail and housing above.
Once the water main is installed this summer, city crews will also repave Johnson Street. Once the work is completed this fall, the property will be set for redevelopment.
"This is one more investment from MRA that can help alleviate some of the costs associated with providing infrastructure for potential development," said city council member Mirtha Becerra. "I'm glad to see this collaboration take place."