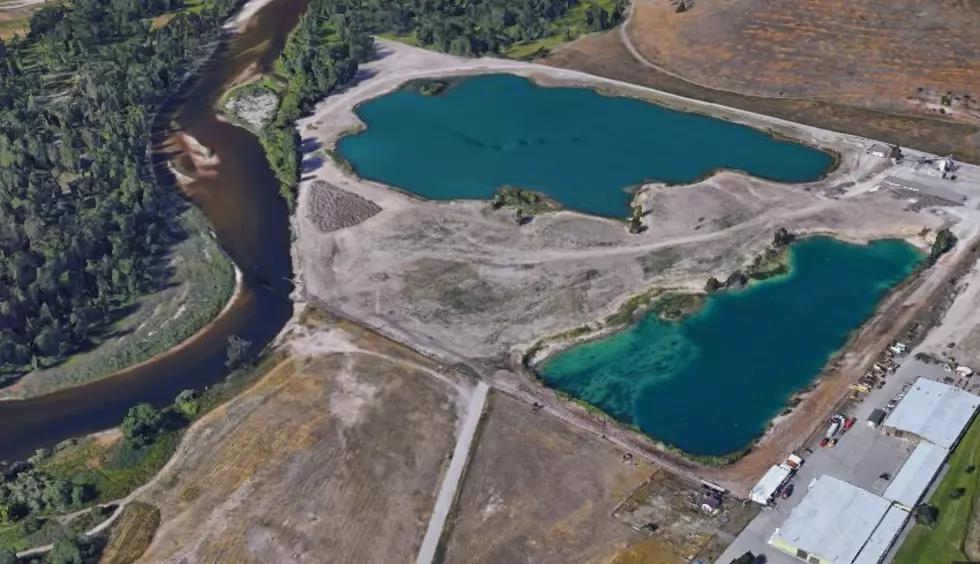 Swimming hole: Missoula to acquire former gravel quarry-turned ponds
A 77-acre property that includes the Knife River Ponds will come under city ownership. The ponds accommodate various species of birds and other wildlife. (Google Earth)
A 77-acre property formerly owned by Knife River that is home to two of the few stillwater ponds in the Missoula Valley will come under city ownership, the Parks and Conservation committee voted Wednesday.
The plan dates back to 2002 when Knife River (formerly JTL Group) pledged to give the property for development of further parklands as a good-faith gift. Knife River previously used the property as a gravel mine.
"The ecological value of this location is just incredible," said council member Bryan von Lossberg. "It's an incredibly exciting opportunity from a restoration standpoint and all ecological factors moving forward. And I have every confidence in the restoration and the planning process going forward. I'm one of the council members that has been out there several times and in conference rooms talking about this for years. It's just a great opportunity for the community."
The ecological value exists in the stillwater ponds on the property which provides valuable habitat for over migratory birds. The property itself is part of the Audubon Society's Important Bird Area.
According to Grant Carlton, Missoula Open Space Program manager, there's been over 32 species of geese, ducks and grebes on the property.
The parcel's location also contributes to its value, according to Carlton. The parcel is bounded by the Bitterroot River, along with other protected lands owned by the University of Montana and the U.S. Forest Service. It's southwest of Fort Missoula Regional Park.
The City's preliminary vision is "a publicly accessible parkland preserve that will ultimately afford the public the opportunity to enjoy the natural beauty of the ponds, the Bitterroot River, and the open space in general." A former gravel quarry in Helena similar to that in Missoula serves as a popular summer attraction, with beaches for kids, swimming for adults, paddle boarding and a nature trail.
Missoula Parks and Recreation Director Donna Gauckler said they're not making any commitments on what exactly the property will be used for regarding possibilities of fishing, kayaking or small boat sailing on the lakes. They plan on taking the open space project "through study and public process" first.
One of those studies has already occurred. An EPA Phase 1 environmental site assessment concluded there were no issues of concern with the former gravel mining site.
"We wanted to do that primarily to make sure there weren't any major red flags, any sort of major public safety hazards or environmental hazards that we needed to address prior to taking ownership or something that would even preclude us from taking ownership," Carlton said.
While the city has access to the property currently the public does not. According to Carlton, they're working out a public access easement with UM. UM leaders have expressed support towards it, and the easement will go to the Board of Regents later this year.
Plans for the property will be developed in 2021. According to Carlton, they've been working with members of the Clark Fork Coalition, Audubon Society, Montana Natural Heritage Program and others to help work out plans for the property.
Council member Julie Merritt expressed concerns with differences of opinions by the groups hurting the planning process.
Morgan Valliant, Missoula Conservation Lands Manager, said it's "absolutely critical" to work with other entities on Grant Creek Ponds.
"I think that is something that is absolutely intended to have strong partnerships around this parcel. It's always been that way," Valliant said. "Having folks that are intimately involved with it that are willing to put some skin in the game and help make this a great thing for local habitats in the community is definitely in everybody's interest."
The full City Council will vote on the item as a part of their consent agenda Oct. 26.