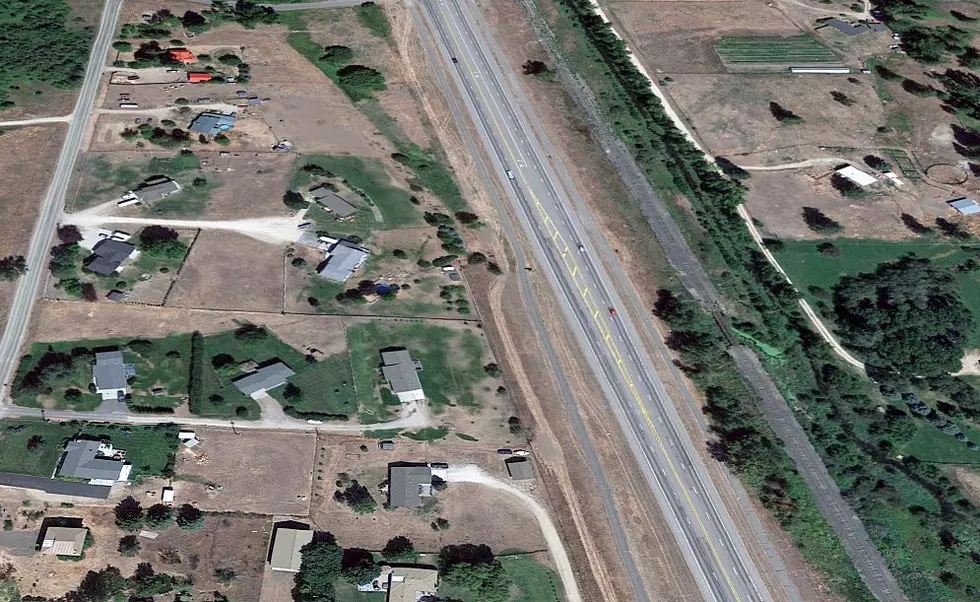 Safety, wildlife crossings emerge in Highway 93 study between Lolo and Florence
US Highway 93 between Lolo and Florence. (Googe Earth)
Martin Kidston
(Missoula Current) A transportation study on US Highway 93 between Lolo and Florence is entering its final stage and is expected to produce a number of recommendations to improve safety and reduce the number of wildlife collisions within the corridor.
Sarah Nikolai, a project engineer with Robert Peccia and Associates in Helena, said recommendations could include improved lighting, reduced speeds, intersection improvements, and potential wildlife crossings.
In the end, funding will dictate what the Montana Department of Transportation chooses to address, and when.
"A lot of residents and commuters are looking for safety and operational improvements in this area," said Nikolai. "Traffic volumes have definitely been increasing in the Missoula and Bitterroot areas."
An environmental impact study was completed back in 1997 and new lanes were added to the highway as a result starting in 2001. Another study was conducted in 2008 looking at more localized improvements and in 2020, MDT completed a targeted study looking at safety improvements at certain locations.
Crashes remain an issue within the corridor, according to an analysis of safety trends. From 2016 to 2020, it identified 198 crashes including two fatalities. Of the crashes, 55% were animal related and 42% occurred at night.
"We know there are a lot of wildlife-vehicle conflicts within the corridor," said Nikolai. "We recognize these numbers are just crashes reported in to law enforcement. There are other safety concerns that don't necessarily show up in these numbers."
The ongoing study also found that traffic is heavier as it nears Missoula, and some intersections make it difficult to enter or access the highway. The location of the Bitterroot Trail also causes conflict with motorists, they found.
At this point in the study, Nikolai said public feedback has called for additional traffic lights, reduced speeds, more law enforcement presence, roadway lighting, a physical barrier between the north and southbound lanes, and more accommodations for wildlife.
"Our study will be documenting the known usage and identifying ways to minimize conflicts between wildlife in the corridor," said Nikolai. "Our job now is to investigate these potential solutions for the corridor in more detail."
Nikolai said the highway can be difficult for animals to navigate, and several locations have been eyed for potential improvements. Portions of the Lolo Creek bridge are passable for large mammals, but rip-rap walls at its base are not ideal.
Two grizzly bears were also tracked crossing the highway last August and did so via a stockpass beneath the roadway, signaling another possible solution. McClain Creek was also identified in a previous study as a wildlife linkage between the Bitterroot and Sapphire ranges.
However, the McClain Creek culvert is too small for large mammals to use.
The study will continue this year with results expected in the fall. But Bob Vosen, the Missoula district manager for MDT, said construction will depend on funding.
"The challenge is all funding related," he said. "The challenging part is that we don't yet know what the potential solutions are. We're going to try and figure out if there are any additional low-hanging fruit, something that's easy and not expensive."

Vosen said district funding is committed for the next five years and that moving one project up could move another project back. However, he said safety is a property and a variety of funding sources may be available for certain projects.
One funding source intended to address wildlife crossings may be available in a new discretionary federal grant.
"We'll be looking at that," Vosen said. "There's also a group in the state interested in a public-private partnership, and we're trying to work with them to identify some starter projects just to get the (wildlife crossing) process in place. With the discretionary grants, we're excited to see what those look like as well."