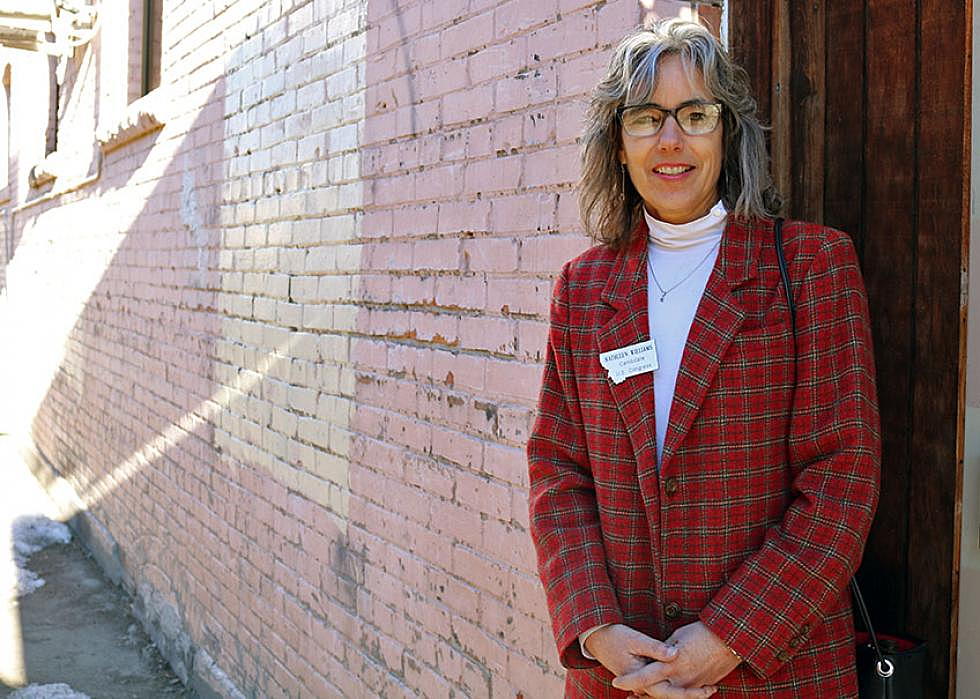 Williams gears up for Gianforte in November as women set sights on Congress
Kathleen Williams emerged as the top vote-getting Democrat in Montana's primary election on Tuesday and will now challenge freshman Rep. Greg Gianforte for the state's only seat in the U.S. House. (Missoula Current file photo)
It was shortly after 1:30 a.m. on Wednesday when Kathleen Williams felt the election returns were stacking up in her favor.
The Bozeman Democrat had emerged from a field of five other candidates as the victor, narrowly defeating Billings attorney John Heenan for the right to challenge freshman Rep. Greg Gianforte for the state's only seat in the U.S. House this November.
By daylight Wednesday, her phone began to ring and her inbox filled with accolades.
"It was a long night, but I'm feeling great and we're ramping up and will continue the good work that we're doing," Williams said. "I don't count my chickens. We were ahead most of the time except for a few moments."
In an interview back in March with the Missoula Current, Williams spoke about the success of Jeannette Rankin, the first woman to hold federal office in the United States.
Montana voters sent Rankin to Congress in 1917, and Williams is vying to become the second Montana woman to make her way to Washington, D.C., as an elected official.
Williams isn't alone, as a record number of women across the country are running for House seats this election cycle. Women on Tuesday won 16 of the 19 open House Democratic primaries, according to the Washington Post.
Now, they're placing their focus on November.
"I feel that's a big responsibility on my shoulders, to be successful," Williams said. "But I keep going back to the fact that in the primary, I was the most qualified candidate, both in life and career experience and policy experience, and I just happen to be a woman. It will add a little contrast to the race, but it's not my number one thing."
Of the three Democratic front runners in Tuesday's primary, Williams was the only candidate who had been elected to office. She served three terms in the state Legislature, including vice chair of the Agriculture and Taxation committees. She also served on the Governor's Drought Committee and the Reserved Water Rights Compact Commission.
While she advocates strongly for health care, equality and education, she's also connected to the state's agricultural sector and the Chamber of Commerce. It's an eclectic mix that Williams believes represents her ability to work across political divisions.
"I was the only candidate with policy-making experience, and when I was talking to people, I think they really appreciated that," Williams said. "Congress is so broken. We have to send someone with experience who can hit the ground running."
While Montana remains a purple state, it has trended toward red in recent years, and Democrats running for the state's lone seat in the House haven't been able to break through.
Montanan voters last sent a Democrat to the House in 1995 by reelecting Pat Williams to his ninth term. Republicans have held that seat for the past 11 elections, a run that has included Rick Hill, Dennis Rehberg, Steve Daines, Ryan Zinke and now Gianforte.
But Williams believes the right Democrat – or what she calls a "qualified Democrat" – can take the seat.
"I had progressives, Independents and moderate Republicans behind me in the primary," Williams said. "That's exactly what we need to win. I don't know how many Republicans I talked to who are tired of the dysfunction and tone in Congress and the lack of service and results, and they're ready to make a change."
Williams, who lost her husband two years ago and has two adult stepchildren, gained an interest in politics early in college. While her father – a World War II veteran – steered her toward business, she diverted to resource economics after taking a forestry class.
Years later, she continues to serve in the field, both in her political function as well as her "day job" as associate director of the Western Landowners Alliance, where she works on water and policy issues. Her work in the field has help her build diverse alliances, adding fuel to her campaign.
"When people ask if I'm progressive or moderate, I always say 'yes,'" Williams said. "My background spans a broad and deep scope. With connection to the ag community and my work with business, it's a unique background that will resonate well in general."