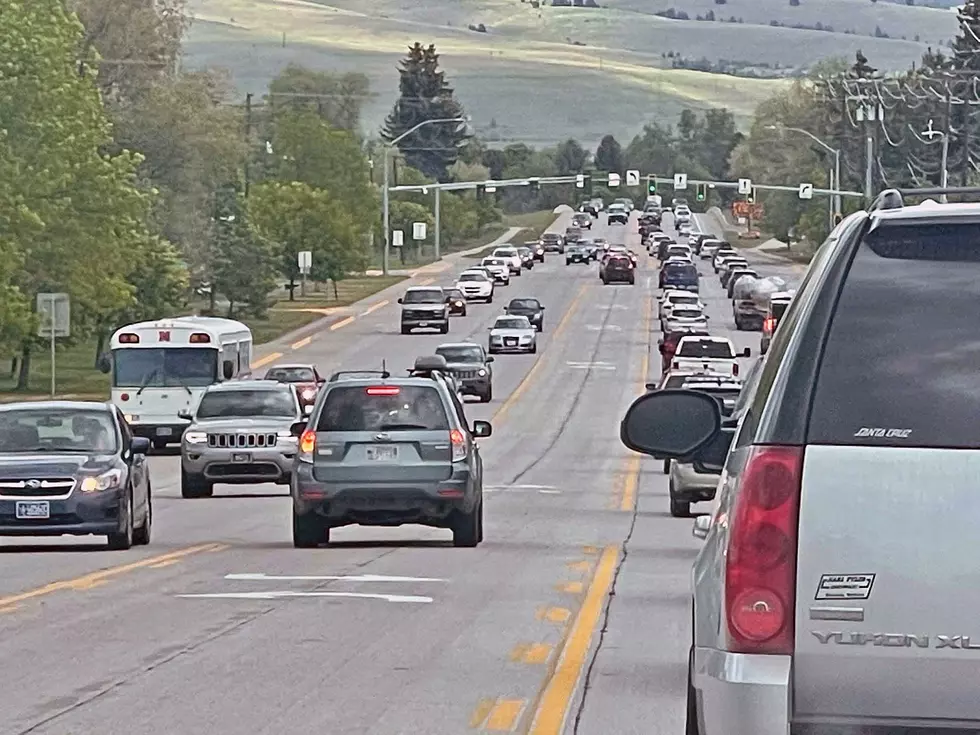 DEQ considers Missoula request to cut winter ethanol use
Reserve Street in Missoula. (Missoula Current file)
Laura Lundquist
(Missoula Current) Missoula wants to eliminate the use of ethanol-augmented gasoline after computer modeling showed it doesn't make much difference when it comes to overall carbon emissions.
On Thursday, the Montana Department of Environmental Quality announced the Missoula City-County Air Pollution Control Program wants to formalize a few rule changes in the Montana State Implementation Plan for Air Quality and is asking the public for comment.
Specifically, the Air Pollution Control Program wants to eliminate the winter requirement created in the 1990s that gas stations in the Missoula Valley sell gasoline blended with 10% ethanol to produce oxygenated fuel. However, the City-County would still revert to oxygenated fuels if air quality deteriorated.
On July 31, Missoula City-County Air Quality Specialist Benjamin Schmidt wrote DEQ explaining why Missoula was making the request.
"If oxygenated fuels were still needed to meet the standard, we would not ask for this measure to be discontinued. However, as we've shown, that is not the case, and the cost and level of effort to comply with and enforce the requirement to use oxygenated fuels exceeds any air quality benefit," Schmidt wrote.
In the past, Missoula's air quality has suffered partly due to being in a mountain valley where inversions develop, allowing air contaminants to accumulate above the city. It often exceeded standards for particulate matter produced by wood burning, dust or vehicle emissions.
The Clean Air Act requires urban areas to meet national ambient air quality standards for six air pollutants harmful to public health. If air quality standards aren't met, controls have to be put in place. The State Implementation Plan details all the control methods used in various regions to bring air quality back into compliance. One of those methods is Missoula's ban on wood burning fireplaces and stoves in the city limits.
There have also been concerns about carbon monoxide pollution in the Missoula valley. The national ambient air quality standard for carbon monoxide is 9 parts per million averaged over an 8-hour period. The first recorded violations were in 1977 with readings hovering around 9.7 parts per million through the late '80s. That led to the adoption of oxygenated fuels. As a result, Missoula hasn't violated carbon monoxide standards since 1991.
To justify its recent request to stop using oxygenated fuels, the Air Pollution Control Program had to conduct a carbon-monoxide emissions inventory using the most up-to-date computer model and compare it to the previous inventory from 2010. However, the consulting company that conducted Missoula's 2010 emissions inventory used an older computer model and a database file that no longer exists.
That made comparison almost impossible because the newest computer model couldn't run the same old data. But employees at the Environmental Protection Agency went ahead and ran some 2010 data through the new model.
The results show Missoula produced 23.5 tons of carbon monoxide per day in 2010 and almost 28 tons a day in 2023. That's not surprising with Missoula's surging growth, but Schmidt doubts that vehicles account for all the increase - EPA measurements show carbon monoxide emissions have declined nationwide since the 1980s, thanks to national standards for tailpipe emissions, new vehicle technologies, and clean fuels programs.
"Even assuming Missoula (carbon monoxide) emissions are wholly influenced by tailpipe emissions, the model's 19% increase would give Missoula County an 8-hour average concentration of just 2.6 parts per million. This is well below the (national standard)," Schmidt said.
If Missoula ever exceeded the national standard again and it could be shown that vehicles accounted for more than 40% of the carbon monoxide produced, Missoula would go back to using oxygenated fuel.
DEQ has to approve Missoula's proposal for the state plan, so the public is allowed to comment until Oct. 9. Send comments to cory.mitchell2@mt.gov or mail to DEQ, Attn: Air Quality Bureau, P.O. Box 200901, Helena, 59620-0901.
Contact Laura Lundquist at lundquist@missoulacurrent.com.