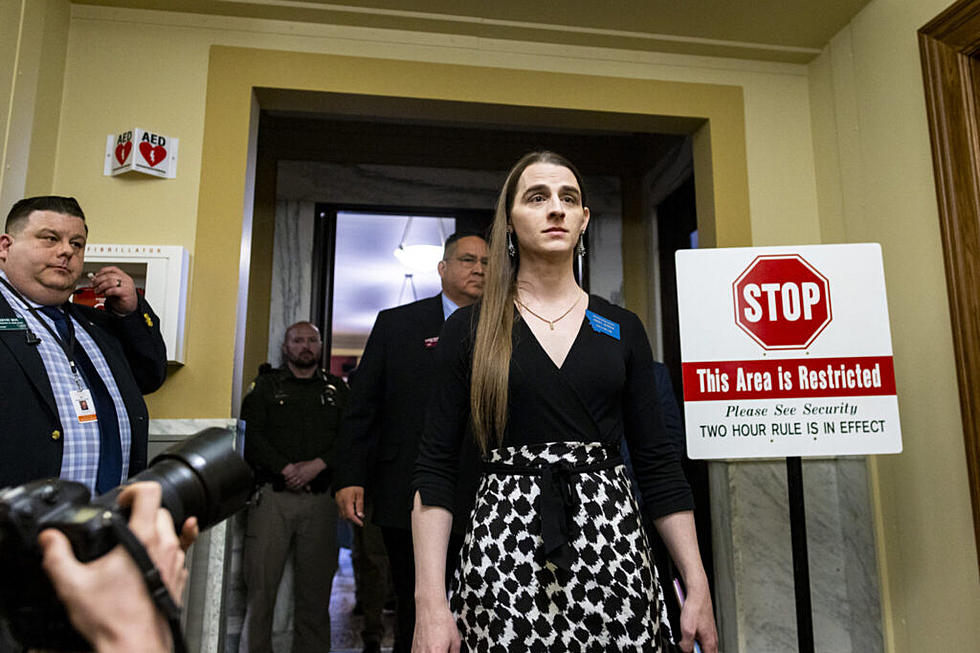 Rep. Zephyr's removal condemned by dozens of Colorado officials
Montana State Rep. Zooey Zephyr walks out of the Montana House chamber after a motion to bar Zephyr from the chamber passed, at the Montana State Capitol in Helena on April 26, 2023. (Mike Clark for the Daily Montanan)
William Oster
(Colorado Newsline) Democratic state Rep. Brianna Titone of Arvada led over 75 bipartisan Colorado elected officials in sending a letter to Montana lawmakers condemning the removal of Rep. Zooey Zephyr and calling for her to be allowed back in the Montana House chamber.
In the letter, Titone said the removal was an attempt to erase trans people amid growing violence against them and an increase in anti-trans laws being introduced.
"As elected officials, it is our responsibility to act with integrity and defend our democracy, and we are deeply concerned with erosion of democratic norms we see proliferating in statehouses across the country," she said. "Regardless of your personal stance on these issues, she is still a colleague and a duly elected and sworn representative of the people of Montana. Her voice is no less important than yours."
The letter was joined by two Republican lawmakers, state Reps. Ron Weinberg of Loveland and Rick Taggart of Grand Junction, in addition to various statewide and local officials, including Colorado Secretary of State Jena Griswold.
On Tuesday, Montana House Republicans posted a notice announcing they would take up disciplinary measures against Zephyr, Montana's first openly transgender representative, after she said that legislators who voted for a bill that bans gender-affirming care for minors would have blood on their hands, in reference to suicide rates among trans youth. The Montana House voted along party lines Wednesday to bar Zephyr from entering the House floor or gallery for the remainder of the legislative session, only allowing her to participate in votes via Zoom.
Titone made history in 2018 when she was elected the first openly transgender state legislator in Colorado. As chair of the Colorado Legislative LGBTQ caucus, she's worked alongside members of the House and Senate to expand and protect LGBTQ rights in the state.
In March, Titone encouraged her colleagues to treat trans people respectfully after a debate on a resolution urging Congress to ratify the Equal Rights Amendment. Rep. Scott Bottoms and other Republicans had pushed back against the resolution, suggesting the ERA would "redefine" what it means to be female.
"We have to put an end to this," Titone said regarding anti-trans hate in an interview with Newsline in March. "We have to do something differently. And, sadly, we're going to repeat history again, and a lot of people are going to get murdered."
In the letter, Titone applauded Zephyr for her efforts in the Montana Legislature, saying that she has, "placed a spotlight of truth on the very real damage proposed legislation could have on Montanans who are already struggling with discrimination and growing fear of physical harm."
Zephyr's censure echoes the expulsions of two Tennessee state representatives, Democratic Reps. Justin Jones of Nashville and Justin Pearson of Memphis, who joined protests by visitors in the Tennessee state House calling for gun reform after a mass shooting in Nashville killed six people and injured one. Rep. Gloria Johnson of Knoxville, who also participated in the protest, was not expelled.
The Montana state legislative session ends on May 10. Zephyr is unlikely to be reinstated in the House before the end of the session. Zephyr announced early Monday that she is suing the state of Montana, state Republican House Speaker Matt Reiger and the state House Sergeant at Arms Bradley Murfitt over her censure.