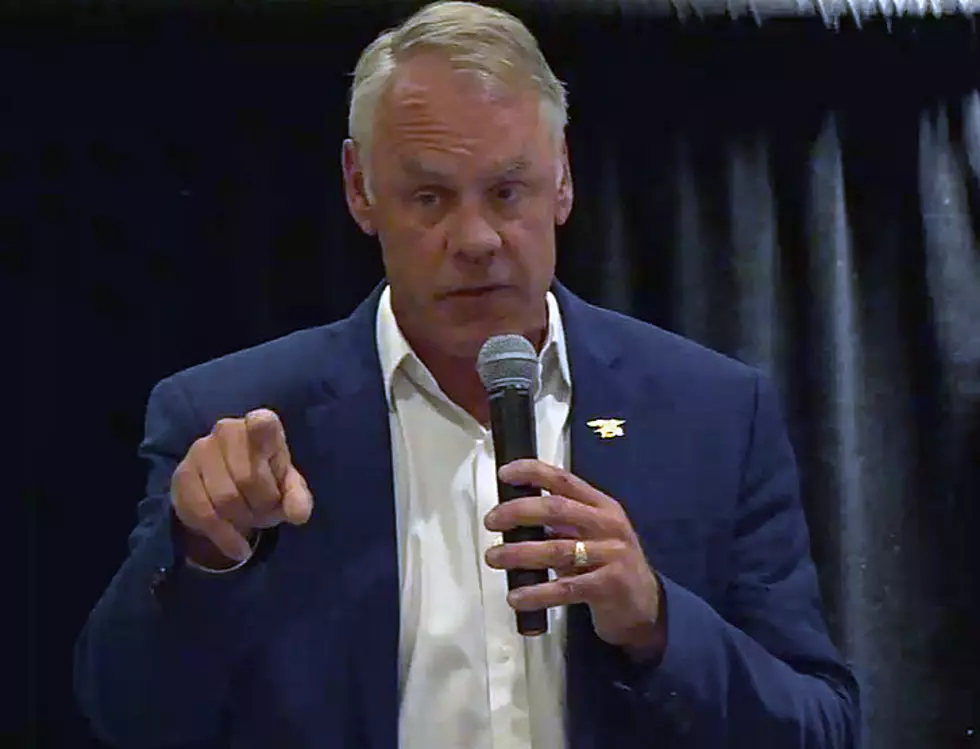 Zinke among the first to support Homeland Security Secretary impeachment
Ryan Zinke in Missoula. (Martin Kidston/Missoula Current file)
Darrell Ehrlick
In one of his first acts returning to Congress, Rep. Ryan Zinke signed on to the legislation that calls for the impeachment of Homeland Security Secretary Alejandro Mayorkas.
House Resolution 8, introduced as one of the first pieces of legislation on Jan. 9, after Rep. Kevin McCarthy, R-California, became Speaker, is a three-page bill that lists criticisms of the Biden Administration's handling of immigration and the southern United States border, focusing on Mayorkas as the leader of the Department of Homeland Security.
Among the list of grievances and concerns are that "5,500,000 illegal aliens have crossed our southern border under the leadership of Secretary Mayorkas. There have now been 20 straight months with over 150,000 illegal border crossings."
The resolution could pass the Republican-controlled House of Representatives, but is almost certain to fail to convict him because of the Democratic-controlled U.S. Senate.
Requests to Zinke's office for more information about Zinke's support by the Daily Montanan went unanswered.
Zinke himself served as a member of former President Donald J. Trump's cabinet as the Secretary of The Interior, until he left the position under a gathering cloud of ethics investigations.
Forty-one other Republicans have signed on as cosponsors of the legislation, originally drafted by Rep. Pat Fallon, R-Texas. Those include some far-right notables such as Reps. Paul Gosar and Andy Biggs of Arizona, and even embattled Rep. George Santos, R-New York, himself facing a possible expulsion from the U.S. House.
Montana's other Congressman, Matt Rosendale, also a Republican, had not signed on as a cosponsor of the legislation as of Friday, but addressed the Mayorkas resolution on Friday on Twitter, noting he was part of a panel discussion about the topic.
Referendum on migration
The last time Congress impeached a sitting U.S. secretary was 1876 during the scandal-riddled presidency of Ulysses S. Grant, so the mechanics of how it would work, and even precedent is shallow.
However, when William Belknap was removed, it was for personal behavior and corruption.
This resolution is more like a broad list of complaints and concerns about the Biden Administration's immigration policies, rather than personal conduct, said Michelle Mittelstadt, the director of communications for the Migration Policy Center.
"This is much more about policy decisions," she said. "The question is really to what extent U.S. policy can resolve the issue because the Congressional Republicans view success on this topic as beginning and ending at the border."
However, the center, which tracks activity related to the border and migration, pointed to several huge demographic shifts that have largely been ignored by politicians and some media. While the controversial Title 42 program remains in place for now, as it was during the Trump administration, the demographics have shifted significantly.
"At a policy level, things have not changed at the border," Mittelstadt said. "But Title 42 has become a far less effective deterrent."
For example, Title 42 largely dealt with the return of Mexican nationals to Mexico and a few Central American countries. However, after the COVID-19 pandemic and the last few years of economic hardship, the number of migrants trying to cross into America is from a more broad range of countries.
"It's now hemispheric," Mittelstadt said, including immigrants from Ecuador, Cuba, Haiti, Russia, Ukraine and Afghanistan.
In 2017, just 5% of immigrants were coming from countries that were not Mexico or in Central America. Since then, Mittlestadt said, the number has shot up to 46%.
Because the countries covered under Title 42 can be immediately expelled, it's largely worked for Mexicans and other Central American immigrants, but the law doesn't apply so neatly to the other countries.
Mittelstadt said the figures can also be deceiving because immigration during the Trump era did dip significantly, something that conservative politicians point out. But that drop was also due to more than just U.S. policy. The drop in 2020 and 2021 were largely driven by countries shutting down borders, travel and even airline flights during the COVID-19 pandemic.
"Now, politicians who are upset with the Biden Administration are saying, 'Look how the numbers have exploded,' but they're not looking at chilled mobility," Mittelstadt said.
She said if Mayorkas and the Biden Administration can be faulted, it's because they haven't clearly communicated some of these changing situations and articulated a plan.
"Certainly they could be doing a better job messaging, not just to the American public, but to Congress, what the plan was," she said.
Mittelstadt points out that the U.S. spends three times more on immigration services than for all of its federal policing agencies, like the FBI, DEA, ATF and Marshal's service. So many experts in the field question if funding is really the issue.
"I think the real question for Democrats or Republicans is: Can you enforce your way out of it," she asked.
Instead, she's hopeful that some of the more recent efforts, including talks with many different countries, can help curb the pressure on the southern border. For example, many South American countries didn't have good immigration policies, but are developing better ones.
Mittelstadt also said that U.S. programs that target the root causes of immigration – crime and poverty – in other countries can have big effects on the immigration. For example, the Biden Administration this week announced that a group of U.S. and international companies would spend nearly $1 billion to develop businesses and opportunities in countries south of the American border.
"It's going to take Congress revisiting this issue in full, but there is no will to revisit this issue in a highly substantive way," she said, "So this impeachment resolution makes it look like they're doing something."