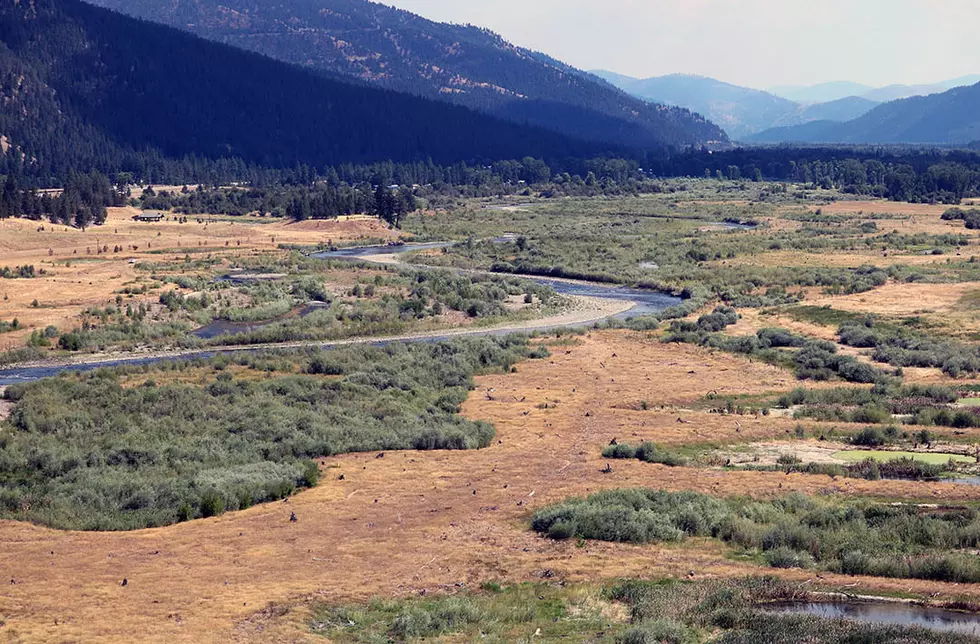 Clark Fork added to rivers with brown trout declines
The Clark Fork River above Missoula. (Martin Kidston/Missoula Current file)
Laura Lundquist
(Missoula Current) Brown trout populations have declined in several southwest Montana rivers with the most recent reports coming from the upper Clark Fork River.
On Thursday, Montana Fish, Wildlife & Parks reported that four government agencies are going to work together to try to discover why brown trout numbers have declined in the Clark Fork River upstream from Deer Lodge. The agencies include FWP, the Montana Department of Environmental Quality, the Montana Natural Resource Damage Program and the U.S. Environmental Protection Agency.
In the past, brown trout have been the predominant species in the upper stretch of the Clark Fork River, but recent annual trout surveys have shown a population decline, especially near the Warm Springs area.
The partner agencies recently met in Missoula to identify the threats and possible solutions. They are reviewing existing data to better understand why juvenile fish aren't surviving well, since the surveys indicate that's a big driver for the decline. They are also trying to figure out what additional research might be informative.
"To find what factors are limiting recruitment and overall trout numbers, we all need to share our resources and knowledge," said Nathan Cook, Natural Resource Damage Program biologist, in a release. "Addressing issues currently impacting the trout population is part of Montana's overall restoration goals for the Upper Clark Fork."
Historically, the Clark Fork River has been polluted by runoff from mine tailings and smelting deposits from the Butte copper mines, which contributed heavy metals like arsenic and mercury to the water. Little by little, that's being cleaned up, thanks to an EPA Superfund designation. But the 2018 floods eroded the river banks, releasing more contamination, which showed up in the blood of nearby ospreys and nests have been empty of chicks since then.
In recent years, the river has suffered from warm water and low flows due to drought worsened by climate change. Being nonnative, brown trout can tolerate warmer water than natives such as westslope cutthroat trout. So if brown trout are struggling, the situation is usually worse for native trout.
Finally, this June, while upgrading the Montana State Hospital wastewater treatment plant, a contractor, Missouri River Contractors, released more than 3 million gallons of partially treated wastewater into Warm Springs Creek, vastly increasing the amount of silt and organic matter such as algae. Since the treatment plant required an upgrade, it may have had some issues to begin with.
To offset some of these threats, the partners have worked on projects to provide some short-term streambank improvements while allowing longer-term natural recovery to play out. Additionally, the Natural Resource Damage Program continues to fund projects in Upper Clark Fork tributaries that have the capacity to increase juvenile fish survival so they can bolster the mainstem population.
But the upper Clark Fork isn't the only stream where trout are in trouble. Some of the most popular fishing streams in Montana, such as the Big Hole, Beaverhead, Jefferson and Madison are also experiencing population declines.
"Trout populations in many streams in southwest Montana have seen decline in recent years, and research continues to point to perennially low streamflows and high water temperatures as contributing factors," said Eileen Ryce, FWP fisheries chief, during a June FWP commission meeting. "Though we don't yet know all we'd like to about what's happening in some of our most iconic rivers in southwest Montana, we can say that it starts with the amount of water in the river over the course of a year, and how warm that water is."
Fisheries biologists have already placed hoot-owl fishing restrictions on the Clark Fork, Big Hole, Beaverhead and Madison rivers due to daytime water temperatures warming above 73 degrees.
In particular, brown trout numbers have been declining in the Big Hole River for several years, with the decrease being more noticeable in the upper reaches of the river.
In a January 2022 presentation, former FWP Region 3 fisheries manager Travis Horton presented data from annual trout surveys showing that declines in the upper stretch near Jenny Creek started about 20 years ago.
"The peak time-frame was in the early 2000s, and our numbers now are a quarter of what they were back then," Horton said in January 2022. Data gathered in 2022 and 2023 show numbers have worsened.
Farther downstream in the mid-section near Melrose, the decline started in 2014. In 2015, there was a big brown trout die-off that coincided with a high incidence of a fungus, saprolegnia. Horton didn't think it was the cause of the die-off, because fungal growth on fish is usually a secondary response to other stressors.
The section farthest downstream on the Big Hole River near Twin Bridges is sampled only biennially but doesn't show as much of a population decline as upstream sections, as of 2021.
The one thing biologists have seen is an increase in the ulceration of fishes' heads, a condition called ulcerative dermal necrosis, originally common in Europe and now being found on brown and rainbow trout and mountain whitefish in Montana.
Horton said the condition has popped up especially since 2020 when it was found in the Clark Fork River. In 2021, it was observed in the Big Hole River and has also been reported in the Madison, Beaverhead, Shields and Flathead rivers. Horton said he might have also seen a dead grayling with the condition but it was a little too decayed to know.
In 2021, FWP fisheries biologists worked with a focus group of anglers to explore closing sections of the Big Hole, Beaverhead, Ruby and Madison rivers that brown trout used for spawning. Otherwise, FWP did little to follow up.
So for the past two years, a coalition of guides, flyfishing businesses and conservation groups have lobbied Governor Greg Gianforte to create a multi-agency cold-water fisheries task force to develop meaningful policy changes and proactive agreements with landowners to pursue science-based long-term solutions to address the declining health of Montana's iconic cold-water fisheries. Their plea got no response.
After this year's surveys showed more population declines, the FWP commission finally put some of the fishing restrictions in place in early June. In addition, FWP promised to work with Montana State University to study fish mortality and health on the Big Hole, Beaverhead and Ruby rivers and to study juvenile fish in rivers and their spawning tributaries.
But those studies will take time, and some Montanans don't know that the trout have much time. In late June, anglers, guides and organizations - many of the same ones who've been lobbying the governor - got tired of waiting and formed Save Wild Trout.
According to a statement on their website, "It's time to identify key causes behind this region's population collapse, to think outside-the-box, and to ensure we quickly implement targeted solutions critical to restoring and protecting (southwest) Montana's cold-water fisheries."
On Monday, Save Wild Trout announced they'd hired Kyle Flynn, a Helena hydrologist, engineer and Montana native, to lead their independent investigations into what is causing the trout populations to collapse in the Big Hole, Beaverhead, Ruby and Jefferson rivers.
In its release, Save Wild Trout said FWP still hasn't identified the diseases killing wild trout and mountain whitefish throughout southwestern Montana. Understanding these diseases would help identify the contributing factors and suggest science-based management solutions.
"The lack of urgency and coordination among federal, state, and local governments, and state agencies, particularly FWP, DEQ, and DNRC, is also concerning," the group said.
On Thursday, the Governor's Office announced that Gianforte had convened a roundtable discussion in Wise River with fishing guides, anglers, irrigators, and agricultural producers, who discussed the trout populations and FWP's upcoming fish studies.
Wade Fellin, Save Wild Trout founder and Big Hole Lodge co-owner, was at the table and urged the governor and his agencies to collaborate in finding the problems and solutions. But the roundtable was just for comment and no decisions were reached.
Contact reporter Laura Lundquist at lundquist@missoulacurrent.com.