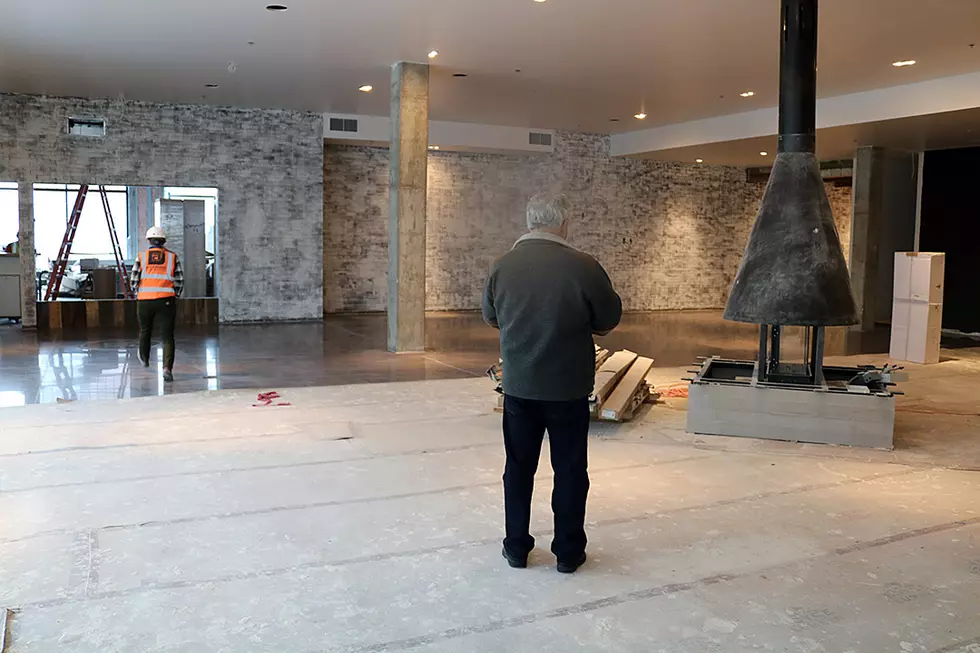 Mercantile set for February opening with plenty of bustle; shops, restaurants to follow
The lobby and Mews of the new Mercantile hotel is finely appointed and include a number of historic features pulled from the old building that occupied the site before construction began more than a year ago. (Martin Kidston/Missoula Current)
With touches of history scattered throughout, the lobby of the Mercantile hotel in downtown Missoula is taking shape, with a grand opening slated for early February.
HomeBase LLC, the Bozeman-based developer, led members of the City Council and economic leaders on a tour of the facility Monday, revealing a finely appointed project that represents a $40 million investment in Missoula's downtown core.
"To finally see this come to life is so gratifying," said HomeBase developer Andy Holloran. "Now we're seeing other people invest in these other restaurants and retail businesses. At the end of the day, this building will represent more than 100 employees."
Aside from a hotel staff of roughly 40 employees, the ground floor fronting Higgins Avenue and Front Street includes nine commercial spaces. As of Monday, Holloran said, seven are under signed leases.
That includes the Montana Scene and Basil, and Olive and Iron – an existing retailer that will relocate to the hotel, gaining more exposure and foot traffic.
The corner space will house a new restaurant dubbed 1889, launched by the same family that owns The Keep on Missoula's south side. The new eatery will offer "contemporary American dining," including steaks and seafood.
Two other restaurants, including Teton Tai from Jackson Hole, and the Camino with its Mexican cuisine, have also laid claim to the revitalized corner. The new attractions are expected to open this spring, along with an "art bar."
"They'll all be in that April timeline," Holloran said. "They want to open just before summer. They've got their plans into the city for review."
While two months of work remains before the Mercantile opens its doors, the progress made so far has been years in the making. The project was first unveiled as a proposal in March 2016 and was approved by the City Council more than a year later.
That approval came with a controversial deconstruction permit for the historic Mercantile, a structure cobbled together over decades with portions dating back to the 19th century. The new hotel retains elements of that past, including heavy timbers and wooden planks salvaged from the older structure.
While most of those present Monday acknowledged the property's past, they also saw optimism in the future. The project broke ground in July 2017.
"It's going to bring a lot more activity to a very key block of downtown," said Linda McCarthy, executive director of the Missoula Downtown Partnership. "You'll see more commerce taking place, and you've got a boatload of new jobs available. As our community grows a little more mature, these are people who will be buying homes and raising their families in our community."
With nearly 200 rooms and nine retail and restaurant spaces, McCarthy believes the new Mercantile will restore what was lost as the old Mercantile sat vacant and fell into disrepair after Macy's closed.
"This is much more vibrant and active than that historic building had been, especially as it had stood vacant for seven years," McCarthy said. "But even at its peak, I don't think Macy's was as active as this property is going to be. We're happy to see this block back into action."
The new hotel includes an expansive lobby with a fireplace set in the center. The long-promised "Mews," cast in whitewashed brick, extends down the length of the hotel to an entry off Higgins Avenue.
It's there where the old copper crown taken from the Mercantile will hang. The Mews will also showcase a robust collection of permanent art and historic images through a partnership with the Radius Gallery (that story coming Tuesday).
"There was a lot of pain in getting to this point, but now is a time to take pleasure," said City Council member John DiBari. "It's been a huge investment in both time and money. It's clear there will be folks invested in the community as a result of this."
Lacy Dequatrro, hired as the hotel's new director of sales, and Kerry O'Kelly, the general manager, joined Monday's tour with plans to have the hotel up and running the first week of February.
"There will be around 30 jobs, going up heading into the busy summer season," said O'Kelly. "That's from myself on down to other management staff, hourly staff, part-time staff, seasonal staff, housekeepers, front desk and breakfast attendants. All the pieces are falling into place and everyone is working together."
The new development showcases the work of a number of local contractors, from the salvaging of old construction items to the audio-video components slated for the lobby.
But it's the opportunity to restore energy to the downtown corner that has Holloran most proud of the project.
"It's an amazing collection of bars and restaurants and retailers that will do what we hoped it would do, and that's revitalize the bullseye of our downtown," he said. "It's a great complement to the Wilma, the Florence and the First Interstate Bank building next door."