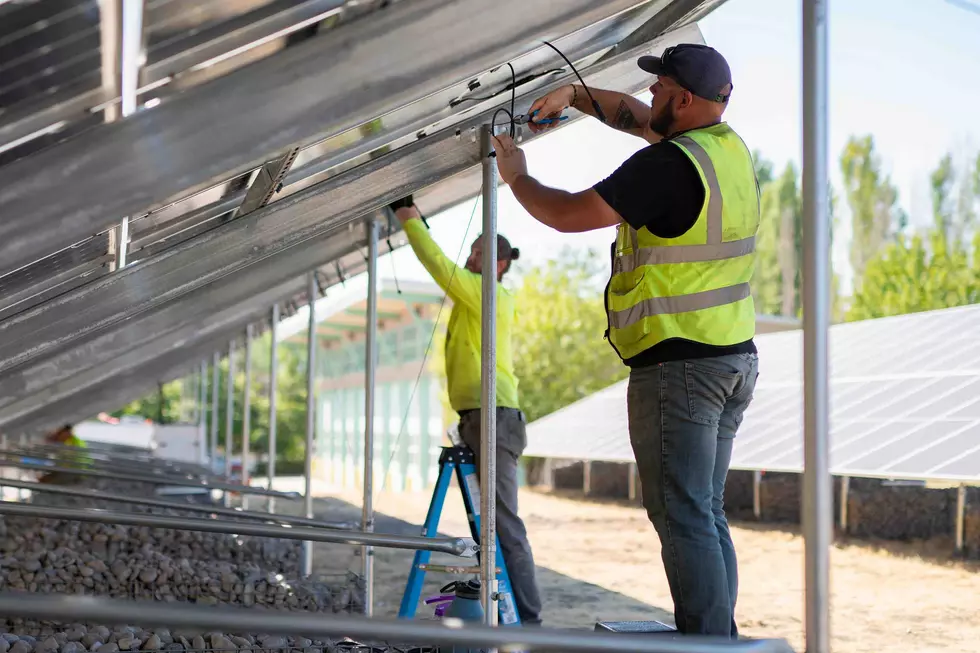 Missoula County earns national designation for solar energy efforts
Crews install a solar array for Missoula County. (Kevin Moriarty/Missoula Current file)
(Missoula Current) An effort to go green and reduce its carbon footprint has earned Missoula County a top designation from SolSmart for encouraging solar energy at the local level.
The award makes the county Montana's only gold designee and improves upon its silver designation in 2019 – recognition given for the county's efforts to prioritize solar energy in permitting and zoning.
Caroline Bean, the county's climate action coordinator, said the county averages a turnaround time for residential solar permits of three days or fewer. The County also codified zoning language to ensure there aren't any unnecessary barriers to solar energy use.
These and other initiatives make it faster, easier and more affordable for residents and businesses to install solar in this community, she said.
"Encouraging solar energy is a key strategy in the pursuit of our 100% clean electricity by 2030 goal, and it requires cross-department and community-wide collaboration," said Bean.
In addition to permitting and zoning changes, Bean said the county has pursued large-scale solar development on county-owned buildings, including the rooftop solar array installed at the detention center two years ago.
It remains the largest rooftop solar array in Montana. In the future, Bean said the county hopes to track and measure metrics on the number of solar projects installed in the community.
"We're proud of the work we've done to make it easier to go solar, and we're excited to be recognized as a SolSmart Gold community," Bean said. "This achievement would not have been possible without dedicated staff in the building division and planning department."
Nearly 500 cities, towns, counties and regional organizations across the United States have achieved SolSmart designation since the program launched in 2016. Local governments achieve SolSmart designation by meeting established criteria based on national best practices for building solar-friendly communities.
The program is funded by the U.S. Department of Energy Solar Energy Technologies Office.