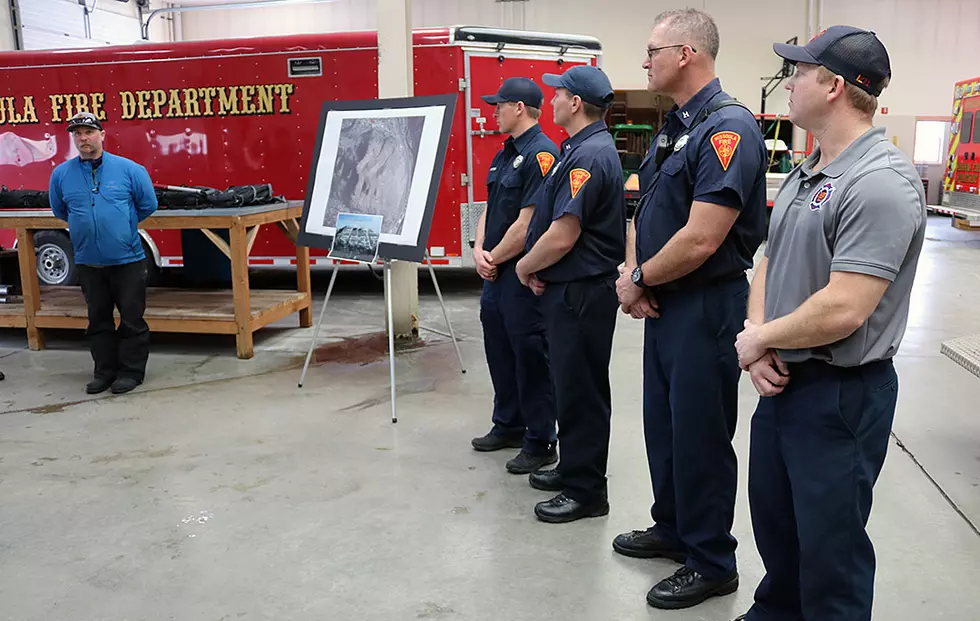 Missoula City Council to place fire department's 40-mill levy request on ballot
Martin Kidston
(Missoula Current) Voters in Missoula this November will consider a request by the fire department to levy up to 40 mills to fund a new fire company, a new station, the Mobile Support Team, equipment and costs over time.
The City Council on Wednesday unanimously approved the department's request to place the levy on the ballot. If approved by voters, it would raise around $7 million annually and address a number of growing concerns within the fire department.
"You can't add one firefighter at a time. You have to add an entire engine company," said Mayor Jordan Hess. "We haven't done that in over a decade and it's high time we do so. This is something we need to do as a growing community."
The needs within the department were noted during its budget presentation to the City Council two weeks ago and reiterated on Wednesday. The department hasn't added any new firefighters since 2008 though its call volume has nearly doubled, stretching the department thin.
The number of multiple calls also have increased and now represent 51% of the department's responses. As a result, the response time has slowly slipped and stands more than 2 minutes behind national standards, according to Fire Chief Gordy Hughes.
"Currently we're 2:24 seconds over the standards. We don't have the back fill. We flat out need more people," said Hughes. "Inevitably, lives will be lost if we're not able to respond. If we're not quick on a response and actively engaging a structure fire early on, more damage occurs and more damage relates to more costs."
The levy and what it funds
The fire department is largely funded from the city's general fund, and city leaders said it doesn't have the resources to prop up a new fire company and its related costs. Hughes added that federal funds are running out and grant funding is a moving target.
He said the only sustainable solution is the passage of the levy to maintain operations at the Missoula Fire Department, not only through a new station in the Mullan area but across the city.
The 40 mills would translate to $54 annually for every $100,000 in a home's assessed value. A median priced home would pay $223 a year, or roughly $18.60 a month.
"We're looking for an investment in public safety from the community. I realize the implications to the tax payers are quite large," said Hughes. "In a year of reassessments where people are gulping at the mere fact of what can be realized within their tax burden, the last thing I want to do is hit the taxpayers up with this ask. But I don't see any other way out of this situation."
The addition of a sixth engine company was identified as a critical need back in 2019. The revenue would cover the $2.2 million cost of adding 20 new firefighters, $1.3 million in recruitment and retention, and $930,000 to permanently fund the Mobile Support Team.
The costs would also include $558,000 to cover the annual debt of building a new $7 million fire station, and $311,000 to cover the annual debt to purchase $2.2 million in new fire apparatus.
"I understand the urgency. We're at a tipping point in our community," said council member Stacie Anderson. "I think it's important for the entire community to understand that this sixth engine company will help the entire system. Six minutes when you're calling 911 because a loved one is having a medical emergency or the home that contains all your memories is on fire can seem like a lifetime. But response times save lives."
A tough ask
Hughes said the department's call volume could be becoming untenable without an investment into the equipment and personnel needed to meet the needs of Missoula, which expanded its footprint by 10 square miles after annexing land in the greater Mullan area. Also, the city's population has grown from 64,000 in 2008 to roughly 90,000 today.
Of the fire departments five existing stations, all but one are failing to meet the national standards for station reliability. Fire calls have increased from 6,500 in 2012 to more than 10,430 last year, Hughes said.
The Mobile Support Team, launched by the city two years ago using ARPA funding, has also seen its call volume increase. In 2021 it responded to 1,300 calls though last year, that figure had climbed to more than 2,100.
"We've got to identify some solid funding for the Mobile Support Team. We can't live year-to-year on grant funding or one-time funds," Hughes said. "We need that unit on the street. It relieves pressure off the big red trucks. Not only do we relieve pressure on our big red trucks, but time and pressure on the Missoula Police Department with the utilization of that resource."
Hess said he's aware of at least five public safety levies heading to the ballot this year in Montana cities. Among them, Great Falls is seeking a $10.5 million public safety levy and with a tax base that's far smaller than Missoula's.
He said it was a function of the state's tax system.
"This is just a function of our property tax system statewide," said Hess. "Our property tax system is fundamentally broken, and this is how we have to fund public safety across the state, unfortunately."