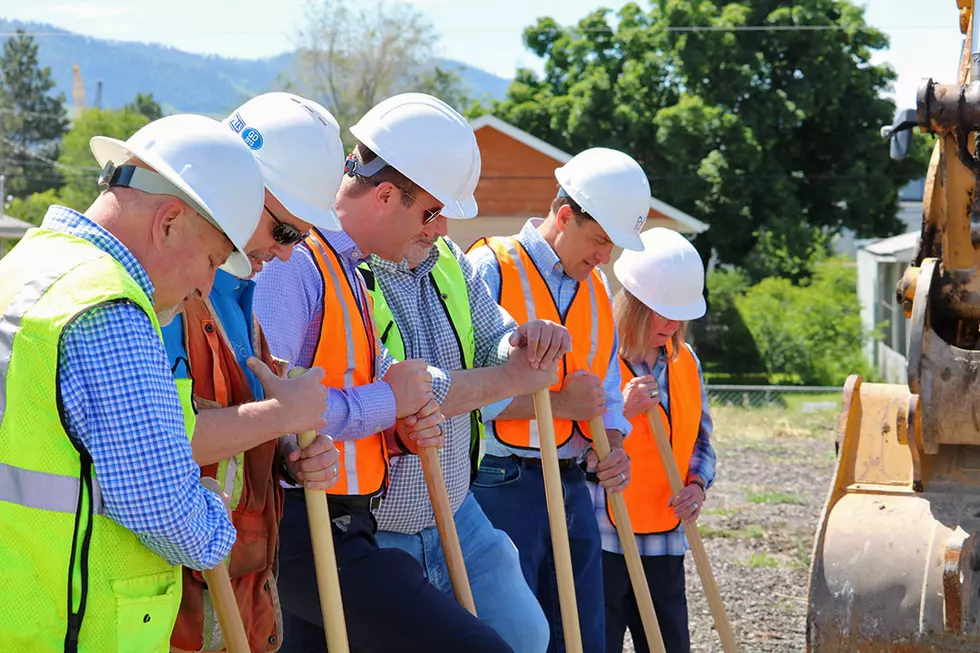 MEP organizing investor showcase to highlight Missoula's opportunity zone
City officials and economic leaders joined DJ&A in a groundbreaking ceremony in June, marking the official start to the company's new $3.5 million office building in the West Broadway corridor and the first project created in the city's new opportunity zone. (Martin Kidston/Missoula Current)
The Missoula Economic Partnership plans to showcase several pieces of property within the city's new opportunity zone next spring in hopes of attracting new investment that could help achieve a number of community goals around housing, retail and office development.
MEP, long viewed as a business recruiter and jobs builder, has developed a number of new initiatives that it believes will have broader community impacts. It found success in recent years by growing revenue guarantees to attract new air service to Missoula, and it's deploying a similar effort to attract investment to the city's new opportunity zone.
"It's hard to get big capital to invest in anything in Missoula because it's such a tiny market," said Grant Kier, executive director at MEP.
"But what we think we can do – and what we're trying to do – is to create a portfolio with a number of compelling projects that include smart investment strategies that take advantage of our opportunity zone and other incentives to help further some of the goals we have."
Opportunity zones were included in the federal Tax Cuts and Jobs Act of 2017 to encourage long-term private investment in low-income communities. The program provides tax incentives for taxpayers who reinvest capital gains into "Opportunity Funds," a specialized investment tool dedicated to certain low-income areas, or opportunity zones.
Gov. Steve Bullock nominated 25 areas in Montana as opportunity zones last year, including much of the West Broadway corridor in Missoula. Loosely defined, it runs from Scott Street to North Reserve, and from Interstate 90 to the Clark Fork River.
The district has already landed investment from at least one opportunity fund, which led to the construction of a new office building for DJ&A, a Missoula-based architecture and engineering firm. The property is owned by Engineering and Support Services LLC, which has embarked on a second project with a team of Missoula doctors who plan to build a $7 million medical center on the site.
MEP looks to expand such investments in designated areas, and will launch an investor's showcase next spring. That effort resulted in part from a University of Montana conference earlier this year, where opportunity zones played center stage.
"Out of that, we felt the need to go into more specifics and to designate how these funds could be executed on a short-term basis, but utilizing more of the long-term strategies that are already in place in Missoula," said Julie Lacey, economic development director at MEP. "There are other incentives already available to them, so how do we make it even easier for them to land in Missoula and align with those community needs?"
MEP launched the initiative earlier this year and is now working with the city and other local experts to identify properties that offer the highest potential for development. The inventory assessment includes vacant lots and properties already on the market within the opportunity zone.
"We're working with partners on one to three potential sites that really align with those community needs, and how to take it one step further to engage partners in a more strategic way to really layer those incentives, with the end result being a developer showcase in June 2020," said Lacey.
MEP plans to invite both regional and local investors to the showcase. It's also eyeing progress and strategies laid out by like-minded communities that look to direct opportunity fund investment toward local goals.
In Missoula, those goals include mixed-use development with retail and housing, and Class A office space, among others. MEP has developed a steering committee to move the effort forward and is working with the city, the Missoula Redevelopment Agency, legal advisers and other experts.
"We're trying to identify best-fit communities that really align with what we're trying to do, and we're going to go and visit them this quarter," Lacey said. "There's a lot of momentum happening right now in opportunity zones. Now that it's being utilized more, communities are coming together and doing what we're doing by aligning with local partners."
The showcase is planned over two or three days in June. By then, MEP will have identified several sites and have developed marketable materials to suggest the properties' potential uses and how they meet identified goals within Missoula.
"We really believe the opportunity zones are creating buzz and energy, and we want to use that to get people excited about coming to see this place," said Kier. "They're going to ask who else is investing in this community, who else is here. When we show them things, like what's happening downtown, it gives them confidence and maybe it gets them thinking about investing elsewhere in the city."