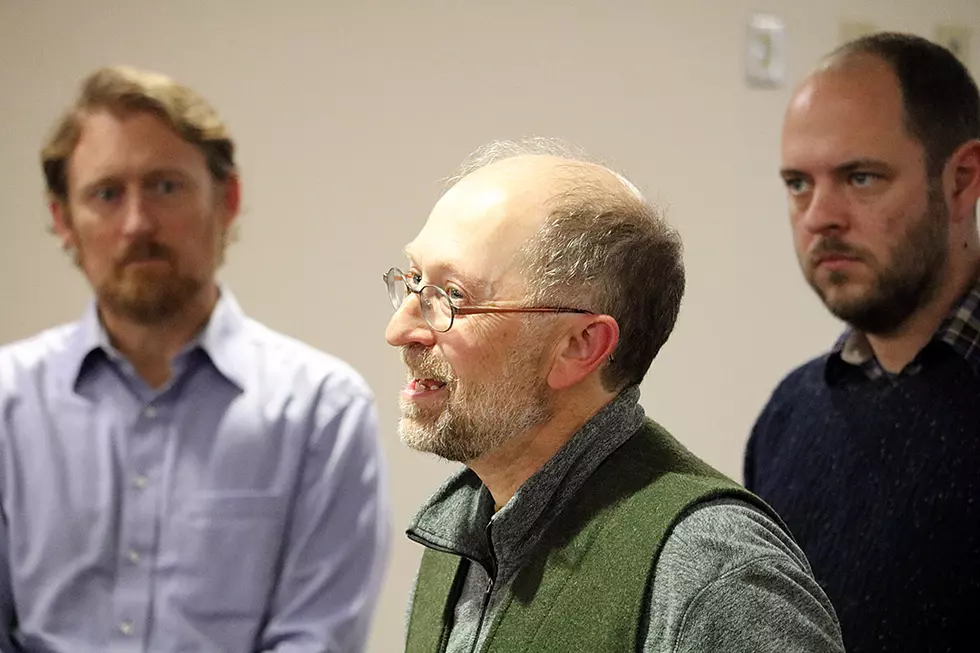 Missoula County, city ready to roll on Mullan grid project with $13M federal grant
Missoula County Commissioner Dave Strohmaier, center, is joined by Missoula City Council member Jordan Hess, right, and Jeremy Keene, director of Public Works, in discussing the impacts of a $13 million federal grant announced on Wednesday, Nov. 6, 2019. (Martin Kidston/Missoula Current)
City and county officials received a landmark opportunity Wednesday in the form of a $13 million federal grant to shape the future of development in one of Missoula's rapidly growing areas.
From housing and transportation to economic development, the highly anticipated BUILD grant, announced by Sens. Jon Tester and Steve Daines, will go far in meeting both immediate and future needs as the west side of Missoula continues to grow.
The city and county now have the opportunity to intercept that growth and guide it by laying the infrastructure needed to support it.
"This is a transformative project," said Missoula County Commissioner Dave Strohmaier. "Investing in infrastructure falls behind the pressures of development, but this is an opportunity for us to get out ahead of the development we see coming over the next two decades in the Missoula Valley."
The greater Missoula region is growing at roughly 2.5% annually, a pace that demands roughly 800 new housing units each year. Where to place that housing while also dealing with transportation needs has been hotly debated in recent years.
While areas west of Reserve Street aren't alone in facing growth, residents who live there have been most vocal in their concerns. The grant announced Wednesday provides local government a new opportunity to address some of those frustrations.
"This is a road grid network that's been contemplated by the city and county for a couple of decades," said City Council member Jordan Hess. "It builds out a street grid that allows us to have orderly development on that side of town. We can get out ahead of development, shape development, and have the type of development that suits Missoula."
The proposed project would establish a grid west of Reserve Street where it doesn't currently exist. It would extend George Elmer Drive and Mary Jane Boulevard to both Mullan Road and West Broadway, creating two north-south connections.
It would also extend England Boulevard further west and create new signalized intersections on Mullan and Broadway. All told, the project would create 3 miles of collector roads, 3.7 miles of trails and restore one-half mile of Grant Creek.
Once built, the project will provide what Hess described as a "pressure relief valve" for what most would agree is a strained transportation system. The intersection at Mullan and Reserve is among the busiest in the state, serving 48,000 vehicles a day.
"This will build out a grid so commuters have other options to get around that part of town," said Hess. "It will result in meaningful air pollution reductions as vehicles spend less time idling at the intersection."
The project carries an estimated cost of roughly $40 million, and while city and county officials had planned to tackle the work in increments by partnering with developers, doing so without the grant would have taken years.
But with the funding in place, work could begin within 18 months.
"The clock starts now, and we have until 2026 to deliver the whole project," said Jeremy Keene, director of Public Works for the city. "That's a fairly tight timeline for a transportation project. Over the next year, we'll work out the final funding agreements with the Department of Transportation. But this will make a huge impact in our ability to deliver infrastructure in that area."
The county twice has applied for the grant unsuccessfully. This time around, it honed its application and mustered a robust group of advocates to lobby on the project's behalf. As many as 19 delegates traveled to Washington, D.C., in September to argue for the project's importance.
The Mullan project also won the support of Sens. Jon Tester and Steve Daines, who met last month with U.S. Transportation Secretary Elaine Chao. The bipartisan collaboration and wide community support proved successful in the end.
"The biggest role we played as a chamber of commerce was to emphasis the role of collaboration," said chamber CEO Kim Latrielle. "For the first time, and in the very best way, we came together as a community to achieve one thing, and that was this BUILD grant."
While the county initially sought $23 million, it wasn't disappointed with the $13 million windfall announced Wednesday. Daines' office told the Missoula Current earlier in the day that other funding could be made available down the road as the project advances.
The city, county and its partners will look at other ways to leverage funding, whether it's additional grants or contributions from developers. But the most difficult portions of the project would likely lean on the grant.
"There are some other components down the road that could have some other funding streams available to them, and it might be an easier lift," said Strohmaier. "We will be seeking other means to fund the balance of the project, but the city and county are committed to this project as a whole."