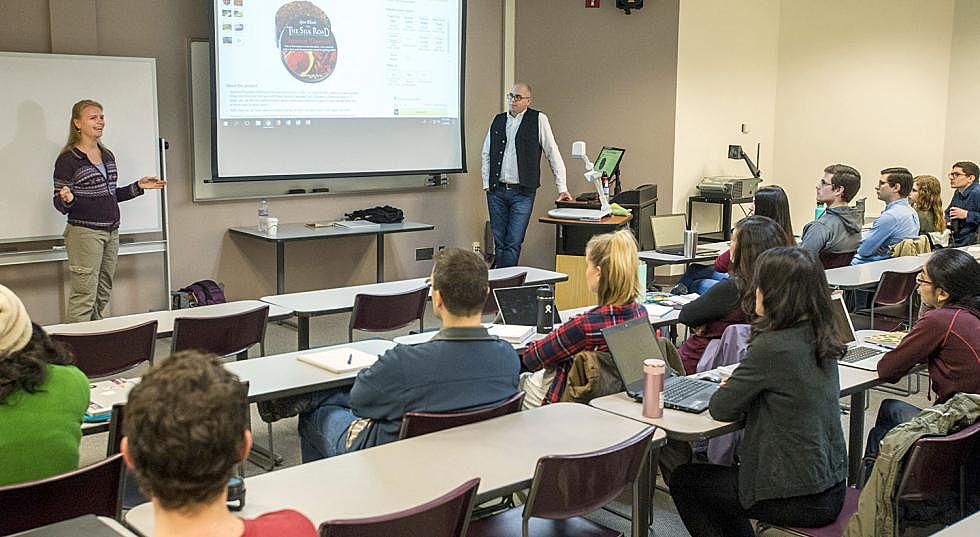 UM accounting program ranked among the nation's best; job placement high
Elise Risho, a UM business college graduate and co-owner of Silk Road Catering, speaks to Josh Herbold's Accounting Data Analytics class. (UM photo)
Every time she sees new graduates struggling to pass the certified public accountant exam, Sara Campbell is reminded of a distinct advantage she had early in her career.
Even before she entered the workforce, the 2012 graduate of the University of Montana's Master of Accountancy Program took – and passed – the exam that challenges so many inspiring accountants.
"Perhaps the most invaluable part of the (accounting) program is the in-depth and advanced coursework, which thoroughly prepared me for taking the CPA exam," said Campbell, who's now a manager at Larson Gross CPAs and Consultants in Washington. "Having the exam completed before starting a new job with a steep learning curve set me ahead of my peers."
The 36th annual Professors Survey released last month by the Public Accounting Report ranked UM 16th in the country among accounting programs with less than 17 full-time faculty members. UM placed 19th when compared to programs of all sizes in the West.
The new rankings place UM alongside Cornell and Rice universities, and the universities of Colorado and Oregon. Nearly 1,000 accounting professors from 200 colleges and universities participated in the survey.
"This reputation carries forward with our alums throughout their careers," said Terri Herron, director of the UM program and a professor of accounting. "Our students come out very technically ready."
Harron said around 50 firms work to recruit potential accountants from UM each year. The program's 10-year average for alumni who have jobs within three months of graduation is nearly 95 percent.
About half of all graduates work out of state, Herron said.
"Employers love our students," he said. "They're willing to work hard. They're not entitled. When it comes down to it, employers like to come here because they're successful in hiring."