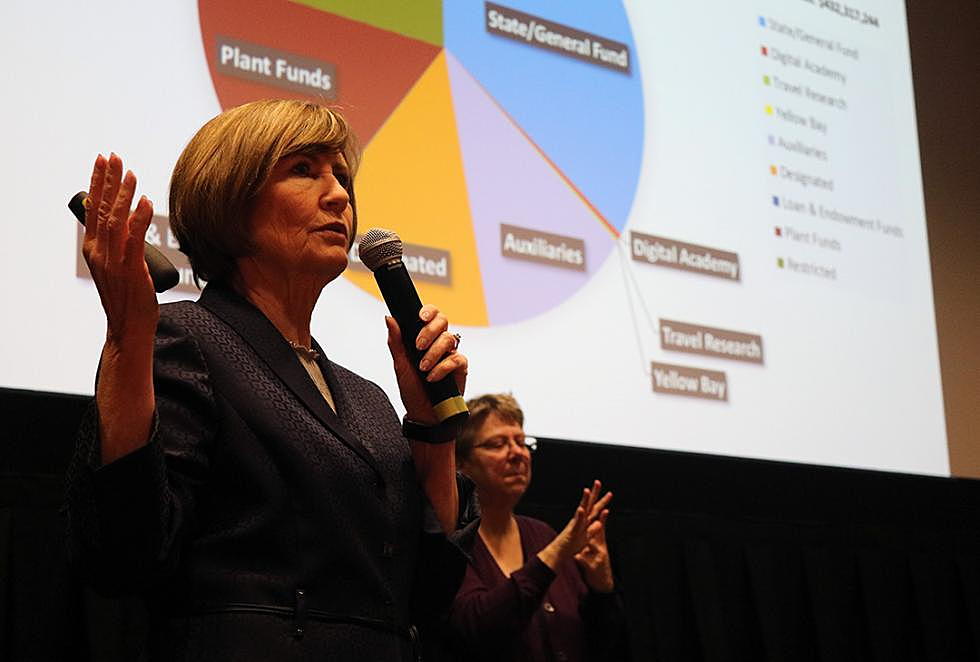 Buyout package: UM offers 6 months pay, 12 months health care to employees
University of Montana President Sheila Stearns discusses the buyout package offered to qualified non-faculty employees during an employee presentation held Wednesday. (Martin Kidston/Missoula Current)
The University of Montana on Wednesday rolled out the details of a voluntary severance package being offered to qualified non-faculty employees in an effort to align the school's expenses with its general fund budget.
President Sheila Stearns and Rosi Keller, interim vice president of administration and finance, answered questions from employees during two mid-day presentations where details of the buyout were unveiled.
"The context is the University of Montana's budget, and it's one of the reasons why we need to align the proportion of our personnel within our expenditures," said Stearns. "Our focus right now – our set of strategies – is on the general fund."
School administrators in recent years have pared down the number of faculty and staff, from 1,415 in fiscal year 2014 to 1,260 this fiscal year. Over that time, school enrollment had seen a steady decline up until this fall, when the freshman class grew for the first time in several years.
Stearns said personnel costs currently account for more than 81 percent of the university's general fund budget. Administrators are working to reduce that to around 75 percent.
"We've been working at this and making good progress by taking advantage of attrition and, yes, some layoffs," Stearns said, adding that their was no "magic number" on how many employees must accept a buyout to help the school achieve its goal.
"We don't have a specific number, we just know we need to bring this down," she said. "It's a piece of the puzzle we need to put together to allow us to continue our academic excellence and our great service to students, all delivered with and through a balanced budget."
Under the offer unveiled Wednesday, qualified employees who accept the package will see their employment with the university end on Dec. 31. In return, they will receive a lump-sum payment in January that covers six months of wages.
"In addition to wages, they will also remain on medical and health insurance for one full year," said Keller. "We tried really hard to make this offer something that's attractive and that helps these individuals make these choices based on what we heard from them."
To qualify for the package, Keller said, employees must work full time and have done so for two contiguous years. Their position must also be paid through the general fund.
Keller said faculty members do not qualify for the current severance package. The school made similar offers to them earlier this year.
"One of the reasons this is being offered is, the more people who voluntarily take this offer, it reduces the number that would be laid off involuntarily," Keller said. "It's a more compassionate way of doing this, but either way you look at it, it's painful."
Employees, estimated at several hundred over the two presentations, asked questions ranging from health care to retirement. The latter issue came up several times, though Keller was consistent in her answer.
"If you take this package, you are terminating your employment with the university, but that does not exclude you from deciding to retire," she said. "Retiring is a separate issue. That's handled through whoever your retirement plan is with.
"But the important piece is, if you do choose this plan, you're not eligible for UM retirement benefits. You make that choice as an individual."