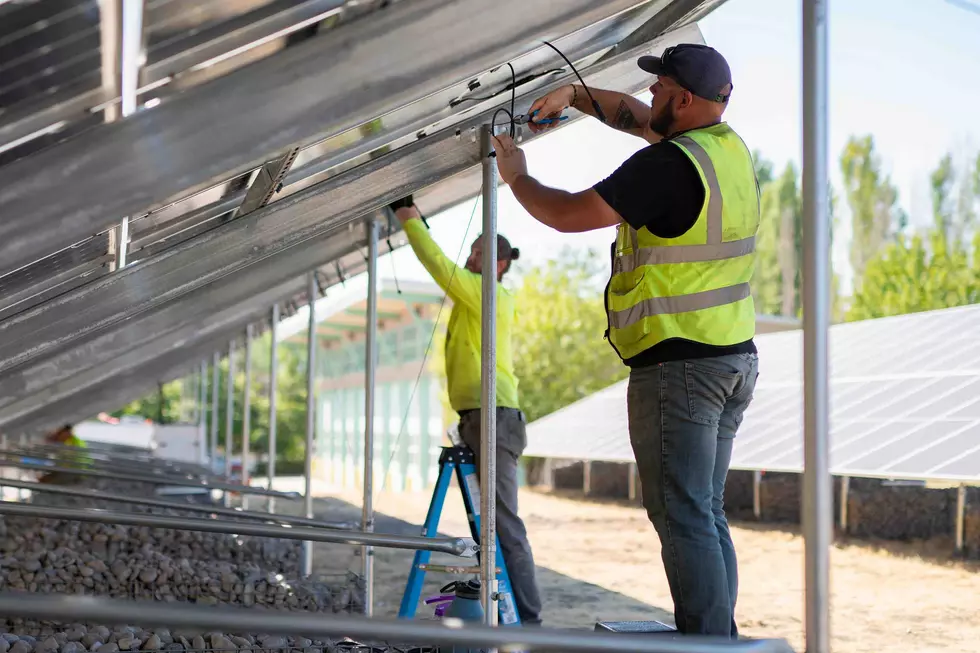 Viewpoint: Renewables now cheaper than proposed gas plants
(Kevin Moriarty/Missoula Current file)
MTCARES
Gas-fired electric plants are less competitive now than before the August 2022 federal Inflation Reduction Act. The IRA's tax incentives will accelerate deployment of cleaner, cheaper electricity.
So, the decision by retiring Yellowstone County Judge Michael Moses requiring reevaluation of NorthWestern Energy's attempt to build 175 megawatts (MW) of gas-fueled electric generation in Laurel should save Montanans money.
Colorado's premier Rocky Mountain Institute (RMI) identified "the lowest cost portfolio of wind, solar, battery energy storage, energy efficiency, and demand flexibility that can provide the same estimated services as a proposed fossil gas plant.."
Evaluating 76 gigawatts proposed before 2035 -- 434 times more than sought for Laurel -- RMI found clean energy now "outcompetes 93 percent of proposed fossil gas plants"—an increase of 20% since August 2022.
When taking additional advantage of IRA's bonuses provisions RMI also concluded: For investment in energy communities, use of domestically sourced resources, or siting in low-income communities, in nearly every instance, clean energy beats gas on cost alone. That means that when taking full advantage of the tax credits in the IRA, clean, renewable sources will be cheaper than 99 percent of proposed gas plants — [that now contribute to price volatility in our energy bills].
Lazard's 2023 mean unsubsidized Levelized Cost of Energy (LCOE) for combined cycle natural gas was $117/MWh (natural gas peaking was at $168/MWh), well above the $50/MWh mean for onshore wind and $60/MWh mean for utility scale solar Photovoltaic (PV). Utility scale solar PV's $60/MWh was down from $359/MWh in 2009 (demonstrating the tremendous drop in solar prices), but up from $38/MWh in 2021 (reflecting war and demand issues).
RMI notes that most renewable cost forecasts fall below the go-forward cost of a combined cycle gas plant of at least $30–$40/MWh. So, building new wind and solar will be cheaper on a per megawatt hour basis than continuing to operate existing gas-fired electric generation.
Credit Suisse projects $5/MWh wind and solar by 2029. Others forecast $10/MWh solar in 2030 falling to $5/MWh by 2035.
Utilities, regulators,[4] and legislators should facilitate Montana's share ($861,739) of the IRA's projected $5 billion in savings for our taxpayers by the start of 2025. New resource plans can include updated costs that accurately represent new tax credits, deliver ratepayer savings with cleaner options, and demonstrate how IRA funding sources such as the Energy Infrastructure Reinvestment program can revitalize coal communities like Colstrip and Sidney while also reducing the federal deficit by $300 billion in its first nine years, and six times that in 20 years.
Updated forecasting is showing results:
·        Minnesota Public Utilities Commission approved Xcel Energy's request to build 460 MW of solar at a retiring (Sherco) coal plant site — avoiding a new gas plant and anticipating ratepayer savings of 30 percent over Xcel's reported initial estimate of project costs.
·        Duke Energy is refunding $56 million to its Florida customers to reflect solar tax credits.
The IRA's (6417 & 6418) direct payment sections cover 30% of the solar, and other conservation costs for installations undertaken by churches, school districts, local governments, rural electric cooperatives, and non-profits.
For example, the IRA direct payment to the Greeley, Colorado, First United Church of Christ will be ~$107,000, equal to the 30% investment tax credit that businesses and individuals have been able to write off for solar installations.
Prior to the IRA, non-profits and others without a tax liability could not use the tax credit. So, they had to pay 30% more for their solar. Now, the Greeley project with 102 MW of solar panels and 12 backup batteries will be paid for in seven years.
Unfortunately, Montana's customer-owned solar 50 MW limit reduces maximum IRA funding to ~$53,000 per limited project.
Nevertheless, board members of MTCARES, will help create an immediate positive cash flow in church, and other non-profit electricity budgets through the IRA's direct payments.
Russ Doty is a former Montana legislator from Great Falls, counsel for the Montana Public Service Commission & retired Montana, Minnesota, and Colorado lawyer living in Greeley, CO. Rev. Ken Crouch, is a retired UCC minister and former Billings city councilman. Dodie Andersen, Missoula, Karen Stears, Billings, and Rev. Su Kidder DeBree, Helena are Board Members of MTCARES, a non-profit fostering renewable energy.